The many steps, molting pets, food crumbs, and spilled drinks, can take a toll on our carpets. And it's not surprising to see old stains on them no matter how well we care for our carpets! So, as helpful as vacuuming is in keeping them clean, there's only so much it can do. For a thorough clean, you need the best carpet cleaner for old stains—removing the toughest set-in stains.
I've tested and reviewed a range of famous carpet cleaners in busy households with aging carpets riddled with old stains to pinpoint the six best to consider. These guarantee a deep and thoroughly clean, lifting old stains in no time!
---
What's the Best Carpet Cleaner for Old Stains?
OUR #1 CHOICE
OUR TOP PICK: Carbona Oxy-Powered (2-in-1 Stain Removal) Liquid Carpet Cleaner with Active Foam Technology
Carbona's Oxy Powered carpet cleaner is the best carpet cleaner for old stains.
It uses powerful oxy-powered formula combined with active foam properties. As a result, this carpet cleaner can work into the most stubborn stains without issues. With this, you'll be able to restore your carpet to a pristine condition in no time.
Aside from its innovative formula, this carpet cleaner has a clever design. The 2-in-1 stain remover sports an application head made from a sturdy sponge. With this, you'll be able to scrub off surface stains and stenches straight from the bottle. And you don't need to worry about leaving any stains over as its bristles guarantee a thorough, deep clean.
What makes this carpet cleaner stand out is its impressive waiting period. Its formula allows it to lift stains in as fast as 6 minutes.
But my issue is that since the carpet cleaner uses such a potent formula, it doesn't work well on all materials. And you can't use it on delicate carpets made from silk, Haitian cotton, or velvet. If you do, you're risking discoloration and fraying.
I recommend testing out the carpet cleaner on a small spot on your carpet to avoid those.
Summary
Carbona's Oxy Powered carpet cleaner has many key features making it one of the best in the market. From having a built-in scrubber to using an advanced formula for deep cleaning — Carbona has it all! Aside from that, it's also easy to use thanks to the brush, activating foam technology minus the mess.
But the best feature of this carpet cleaner is that it can remove fresh and old stains as fast as 6 minutes! And it worked well on most carpet materials, but it's not the safest for silk, velvet, or cotton. Still, it's an excellent cleaner, lifting stains fast for a fresher carpet!
| Pros | Cons |
| --- | --- |
| It comes with a built-in brush. | The built-in brush requires regular cleaning and maintenance.  |
| The carpet cleaner's easy to use.  | This carpet cleaner doesn't work well on dried or hardened stains. |
| It uses an advanced oxy-powered formula for a deeper clean. | |
| Non-toxic and is safe to use around pets and kids. | |
| It lifts stains fast, boasting a short waiting period than most. | |
---
RUNNERS-UP
Puracy Fresh Citrus Liquid Natural Shampoo and Carpet Cleaner

Stay eco-friendly and keep your carpets pristine with Puracy. Its fresh citrus liquid carpet cleaner contains over 99% of natural ingredients. And these include grapefruit essential oils and zinc ricinolate, a mineral-based odor absorber.
Thanks to its enzyme-based formula, it works well in cleaning and deodorizing carpets. And it also works on other materials such as upholstery and washable surfaces. Best of all, it can address pet messes and other organic stains like blood.
Although its concentrated liquid form might be harder to apply, it can last you for a while. You can dilute the carpet cleaner with water and get the most bang for your buck.
Despite being labeled as a "shampoo," this carpet cleaner also works in carpet-cleaning machines.
But this carpet cleaner stands out because it doesn't have a waiting period! It can lift old and fresh stains ASAP after blotting and several applications.
My only issue with the stain removal product is its application method. At most, you'll need to dilute the carpet cleaner with water to avoid leaving more stains!
| Pros | Cons |
| --- | --- |
| Its concentrated formula can work into the most stubborn stains.  | Since it's a liquid formula, this carpet cleaner isn't as convenient as the others. |
| This carpet cleaner doubles as a spot cleaner.  | A little pricy. |
| It uses over 99% natural ingredients.  | |
| Flexible, usable with or without a machine. | |
| Although the carpet cleaner's enzyme-based, its formula sets in fast. | |
---
BISSELL Professional Pet Stain and Odor Remover Liquid Carpet Cleaner
Are you struggling to keep your carpets stain-free and smell nice with a dog, cat, or any other pet at home? Look no further than Bissell's Pet Liquid Carpet Cleaner.
This carpet cleaner uses an enzymatic formula with a patented odor removal technology. As a result, you get a powerful cleaner strong enough to remove most pungent stains. And you'll get to enjoy a cleaner and fresher carpet over time.
Aside from pet accidents, this carpet cleaner works for stains like motor oil or blood. And despite being rough on messes, it doesn't contain dyes, phosphates, or heavy metals!
Moreover, the application has never been more straightforward, thanks to the carpet cleaner's design. It has a built-in spray, ensuring fast and easy stain removal.
But as convenient as this carpet cleaner is, it has one of the most prolonged waiting periods on the market! Instructions say you need to let the solution sit on the stains between 12 and 72 hours. Your carpets are likely prone to getting more pet accidents at this moment!
Still, this carpet cleaner has become a favorite among pet owners thanks to its affordable price and potent formula.
| Pros | Cons |
| --- | --- |
| This carpet cleaner addresses pet accidents well. | It emanates an unpleasant odor when applied wet. |
| Flexible, and it can remove acidic stains. | This carpet cleaner has a lengthy waiting period.  |
| It comes in a convenient spray bottle for easy application.  | It doesn't work well on darker stains like those from chocolate. |
| Affordable. | |
| Its patented odor removal technology helps remove the most pungent smells. | |
---
OxiClean Spray Carpet and Area Rug Cleaner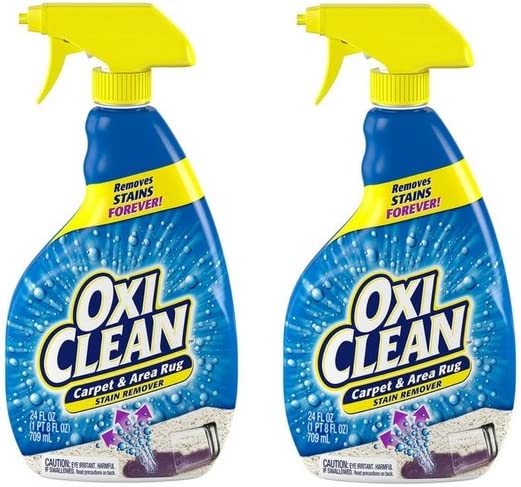 OxiClean is your best bet if you're looking for the best carpet cleaner for old stains that have dried up. Its carpet cleaner use oxygenation to remove the stain's source.
Aside from removing old and fresh stains deep within your carpet's fibers, this carpet cleaner also leaves a fresh scent behind. It resembles a laundry-like smell, ideal for rugs. And its formula is so potent it can also eliminate pungent odors from sources such as pet urine.
On top of those, this carpet cleaner boasts incredible flexibility. And though it works best on dried stains, it also works for fresh spills and other sources,
But as flexible and potent as this carpet cleaner is, its waiting period is a little troublesome. After all, it lifts stains on an average of 21 minutes, which is longer than most on this list.
If you don't mind waiting, this carpet cleaner promises a stain-free carpet over time. You can get this in packs of two or three, saving you money over time. After all, one bottle can last you for a couple of months.
| Pros | Cons |
| --- | --- |
| Affordable. | It has a lengthy waiting period. |
| It works well on dried stains and pungent odors. | |
| Its spray bottle design guarantees easy application. | |
| It comes in packs of two or three. | |
| This carpet cleaner has a fresh scent. | |
---
Woolite Advanced Formula Stain and Odor Remover, Sanitize Liquid Carpet Cleaner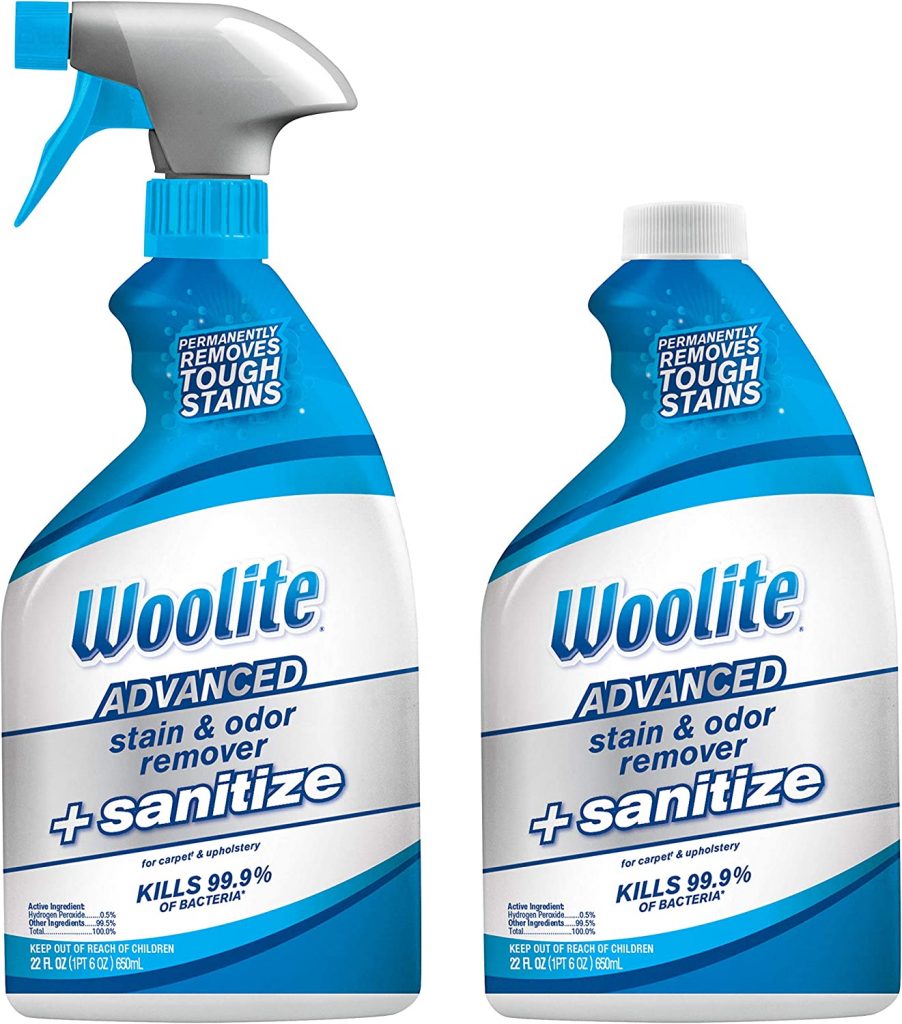 Aside from unsightly looks and foul odors, carpet stains can also become a haven for germs! And if this has become an issue due to an active pet, neverending guests, and energetic kids, go with Woolite.
Woolite's Sanitize Liquid Carpet Cleaner can remove up to 99.9% of bacteria. So aside from attacking stains, its peroxide-based formula can also kill off germs. Whether on your carpets, bath mats, or car floors, as long as it has a soft surface, Woolite has your back.
Although this cleaner uses peroxide as its base ingredient, it doesn't cause bleaching. And it's safe to use on most carpet materials, leaving you not to worry about discoloration.
Unique formula aside, this carpet cleaner also has a convenient design. Its built-in spray guarantees flawless and fast application.
But as quick as the carpet cleaner's application is, its waiting period isn't.
| Pros | Cons |
| --- | --- |
| Flexible, it can also work on upholstery and other washable surfaces. | This carpet cleaner has a 1-hour waiting period.  |
| Affordable. | It's not safe to use on wool and other delicate materials. |
| It sanitizes your carpet fibers, keeping them germ-free. | |
| This carpet cleaner won't discolor most materials. | |
| It deodorizes as well. | |
---
Nature's Miracle Advanced (Severe Mess Enzymatic Formula) Foam Carpet Cleaner
Nature's Miracle is my last pick for the best carpet cleaner for old stains. Its Severe Mess Enzymatic Formula Foam Carpet Cleaner works best for pet messes.
If you have a cat or two, this carpet cleaner is the one for you as it addresses odors and the stains themselves. And this is especially crucial among felines since their urine and feces tend to smell more potent than other common household pets. Not to mention, they're tough to remove!
Nature's Miracle does the hard work for you, eliminating all stains and their intact odors without issues.
Uniquely, this carpet cleaner sprays out foam for a deeper clean. And with this, you'll be able to cover more extensive areas, perfect for larger carpets. But as convenient as this is, its foam consistency made it difficult to apply accurately.
| Pros | Cons |
| --- | --- |
| This carpet cleaner works best for pet stains.  | An accurate application can be tricky. |
| Its foaming spray design guarantees easy application. | It isn't the best for removing hardened stains. |
| The carpet cleaner addresses fresh and old set-in stains well. | |
| Available in several sizes, including 17 ounces and 17.5 ounces. | |
| Affordable. | |
---
What to Consider When Buying the Best Carpet Cleaner for Old Stains?
As many carpet cleaners claim to have potent stain removal properties, the ideal formula must be gentle enough not to harm users and the environment. Moreover, some have the added benefits of being safe to use on car interiors or upholstery.
So, to pinpoint the best carpet cleaner for old stains, keep the following in mind:
💦 Stain Type
Finding the properties of the stains on your carpet can help you find the best formula in no time. After all, each has varying effects, with some fading over time while others don't at all.
For better insight, here are the three most common old stains on carpets:
Oil or Grease Stains
These contain water-insoluble lipids, making them invincible against water alone. Because of the fat, the stains won't budge with mere H2O. And the best carpet cleaner for them would be ones containing surfactants.
They let the cleaning agent penetrate the grime, removing oil or grease stains within the dense fibers.
Dark Red Stains
Among all the colors, dark red is the most problematic for carpets as they last a long time. And they never go away unless you scrub them off ASAP. These dark red stains often come from wine, beets, or berries, which all contain high tannin levels.
Tannins are dark-hued organic molecules that people often use as natural dyes. But regardless, dark red stains can have unintended effects on carpets. And noticing these too late will force you to bleach your carpet since it's the only way to remove each one. So, once your spot the red stains, clean them ASAP.
Pet Accident (Mess) Stains
Pet stains won't only remove gross parts on your carpet but can also be harmful to your health over time. After all, aside from the foul stench, pet accidents also serve as a haven for bacteria.
The best cleaner for this is one with a formula specializing in breaking down urine and feces.
💦 Carpet Cleaner's Active Ingredients
Carpet cleaners generally have two primary compounds and bioactive agents. And these powerful surfactants help remove grease and oil stains with ease. After all, they can lower the water's surface tension, making them more slippery.
As a result, they should be able to stick to grease and oil better, lifting them from your carpet. And no matter how old these stains are, the cleaner should be able to handle them with ease.
These active ingredients can come from natural substances or artificial means. And the former is becoming more famous among the masses as it's gentler and eco-friendy. So, choosing a carpet cleaner with plant-based surfactants only makes sense. You can identify the formula by checking if it's "non-toxic" or "biodegradable."
Aside from the surfactants, many carpet cleaners also use enzymes as active ingredients. They help break down old stains better, speeding up digestion and decay. And these are especially handy for organic pigments, such as blood, waste, or food.
Generally, enzyme-based carpet cleaners work best in cleaning or removing odors. Besides removing the old stains, they'll also work to make them smell better. You can identify enzyme-based carpet cleaners by the label "oxi" or "oxy."
💦 Chemical Content
Many carpet cleaners use artificial chemicals to tackle old stains. And generally, these include chlorine, peroxide, acid, VOCs, CFCs, aerosols, and more. Sometimes, carpet cleaners can also have synthetic deodorants or fragrances. As a result, you get some of the most efficient carpet cleaners that can remove old stains ASAP.
But the catch is that you're placing your surroundings in danger. These potent chemicals are dangerous for not only the environment but yourself! So, when looking for the best carpet cleaners for old stains, check the chemical content.
Luckily, many manufacturers are changing their ways are becoming greener. It's now possible to buy carpet cleaners with 0 chemicals and are 100% natural! And these often use plant-based cleaners, deodorants, and essential oils.
Due to consumer advocacy and sector research, these carpet cleaners are starting to replace heavy chemical solutions.
💦 Application Method
A carpet cleaner's application method helps determine how easy they are to use. And no one wants the hassle of cleaning up, so it only makes sense to choose the most straightforward application.
Here are two standard application methods of carpet cleaners for old stains:
Spray-on
If convenience is your wish, there's nothing better than spray-on carpet cleaners. These let you spot and treat specific stains, covering tighter areas better. And all you need to do is spray on the formula and let it sit on the problem areas for a few minutes.
Once the old stains start to fade, wipe them clean. But remember to double-check the product instructions! You must ensure it has a formula made for your carpet's specific material or fiber. After all, fragile materials like wool and cotton often need specialized procedures.
Liquid (Shampoo)
Also known as "carpet shampoo," liquid carpet cleaners are best for covering a large area. They're best for extensive application and cleaning. But most are only usable with carpet-cleaning machines or washing machines.
Again, double-check the product instructions to see the best way to apply the cleaner.
Regardless of the application method, I recommend testing the carpet cleaners first. Patch test a tiny portion of your carpet with the product to see if it's safe to use. Once confirmed, you can move on to a more extensive and visible area.
💦 Odor Elimination Capability
Most old stains like coffee spills, urine, and pet accidents come with foul stenches. So, to guarantee a deep clean, check how substantial the carpet cleaner's odor elimination is. Some formulas remove the scent entirely, while others mask it with a better fragrance.
Generally, formulas capable of removing foul smells are better. After all, they guarantee that those nasty odors won't return!
💦 Carpet Cleaner's Waiting Period
The faster the carpet cleaner removes the old stains, the better it is. Most manufacturers instruct users to saturate the problem areas first and let the solution set for a specific time and clean it up after. And these can last for a few minutes, while others need to stay on the stains overnight.
If you want a fast cleanup of stains, find a carpet cleaner capable of removing them in less than five minutes. But if you don't mind waiting, guarantee a more thorough clean with formulas requiring at least half an hour of setting.
---
Alternatives to Removing Old Stains from Carpet
As convenient as carpet cleaners are, sometimes they aren't enough to remove stubborn old stains. But don't worry since there are many alternatives to explore!
From dish soap to peroxide, here are the best alternatives to removing old stains from carpet:
Dish soap + Water Combo
Start it safe with the classic dish soap and water solution. And this is the best alternative if you're unsure where the old stains originate.
Here's how you can remove old stains with dish soap and water:
Mix a cup of water with three drops of your preferred dish soap.
Apply it to the old stains.
Let the dish soap solution sit on the old stains on your carpet for at least three minutes.
After the allotted time, grab a white microfiber or regular towel and scrub into the stain.
Let the dish soap mixture stay on the carpet for another five minutes.
Once the time's up, get a dry and clean cloth soaked with plain water and blot the stain to remove the remaining soap.
Club Soda
Club soda is a powerful cleaning agent that removes old stains on a carpet. And though it works best for fresh stains, it can also work well with set-ins.
Here's how to use club soda to remove old stains from a carpet:
Spray your preferred club soda onto the old stains and leave it based on its instructed time.
After the set time, work the solution in more with a brush.
Once the stains fade, grab a cloth soaked in plain water to blot the stain and club soda.
If there's still residue, sprinkle salt to lift the stain and club soda more.
When the stains are barely noticeable, let the club soda sit for an extra 30 minutes.
After half an hour, vacuum the remaining salt.
White Wine
Red wine spills are more common than you'd think, and they can leave an unsightly sight on your carpets. And if left long enough, red wine stains can smell bad – fast! If this is the case, grab your preferred white wine and start cleaning.
Here's the best way to remove red wine stains with white wine:
Pour enough white wine into the old red wine stains.
Leave it until the stains begin to fade visibly.
Once light, extract the white wine with a clean cloth.
When the old stains are no longer there, rinse the same spots with a steam vac and let them dry.
Borax
Borax is the best alternative for tough old set-in stains. But be careful since using too much of this cleaning agent can damage your carpets.
Here's how to use borax to remove old stains from your carpet:
Vacuum the old stains to remove loose debris.
Dab them with ice-cold water and add the borax shortly.
Remove the borax residue once the ice water dries up.
Vinegar + Dish soap Combo
It works best for old water-soluble stains such as food dye and juice spills.
Here's how to remove old stains on your carpets with the all-natural vinegar and dish soap mix:
Mix two cups of water with one tablespoon of dish soap and vinegar.
Soak a clean white tower with the vinegar and dish soap mixture and scrub it onto the old stains on your carpet.
Let it sit for a couple of minutes and once the old stains visibly fade, blot with plain water.
Hydrogen Peroxide
Light-colored carpets can be a hassle to clean since they're more prone to stains. So, aside from the old stains, you also need to worry about staining them with the cleaning product. And among the best alternatives for that is hydrogen peroxide.
But before you grab your hydrogen peroxide, remember to test it on a small area on your carpet. After all, the cleaning agent contains bleaching properties, which can damage lighter carpets.
Vacuum the old stains to remove remaining debris and particles.
Spray the potent cleaning agent onto the problem areas on your carpet.
Saturate the old stains to loosen up their particles and let them sit for 15 minutes or until they fade a little.
Work into the stains more by scrubbing them with a stiff brush.
Once they're gone, dry your carpet with a steam vac, clean towels, or clothes.
Baking Soda + Vinegar Combo
Among the toughest old stains on carpets are oil or grease stains. And an excellent, all-natural alternative is baking soda and vinegar. But since this mixture is quite potent, test some of it out on a small area on your carpet.
Here's how to scrub off stubborn grease and oil stains from your carpet with baking soda and vinegar:
Sprinkle some dry baking soda on the old stains.
Dilute a cup of vinegar with water and at least three drops of your preferred dish soap to the mix.
Once you've mixed the three, place the solution in a spray bottle.
Apply some of the diluted vinegar and dish soap to the mounds of baking soda placed.
Leave the foam for a couple of hours until it dissipates, and the baking soda hardens.
Once dry and hard, break up the mounds with a vacuum and clean up after the remaining debris.
Remember to work outside the old stains toward their cents regardless of the method. Doing this prevents you from spreading stubborn stains across your carpets. And don't leave any residue behind since it'll result in more stains.
---
Common Old Stains on Carpets and How to Deal with Each One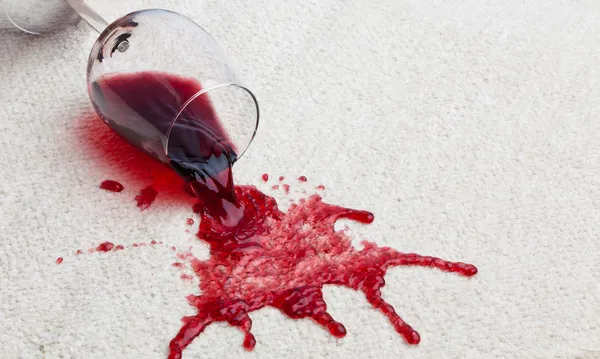 ☕ Coffee
Old coffee stains are among the toughest to get out of a carpet. As a result, they require more potent cleaning agents than others. And as much as we'd want to avoid this, coffee spills are more common than you think!
Pour some of your preferred beer on the old coffee stains and leave it for at least five minutes. And they should fade in no time!
✒️ Ink
Leaky pens can leave noticeable and problematic stains since they're hard to remove. But you can try scrubbing off ink stains with a homemade cornstarch milk paste. Like baking soda, all you need to do is apply the cornstarch paste onto the old stains and leave them dry.
Once the cornstarch paste hardens, scrub it off and vacuum the remaining debris.
💧 Oil and Grease Stains
Dealing with oil and grease stains is tough as they're hydrophobic. Water or water mixtures won't have any effect on them. And as problematic as that is, oil and grease stains are common, and you must find a way to cope with them.
As unusual as it may sound, shaving cream works well with oil and grease. It can lift the stains bit by bit without damaging your carpets.
🍬 Gum
Although not daily, gum stains can still be a pain to handle. Luckily, removing them is possible even when they dry up! And all you need to do is freeze the leftover gum until solid and scrub it off.
You can guarantee a more thorough clean by scrubbing your carpet with a dish soap solution after.
💅 Nail Polish
Nail polish stains are common and can be problematic on carpets. So, once you spot a spill, act fast! Grab your nail polish remover, let it soak on a clean rag, and treat the stains. Do this until they fade completely.
But remember not to use too much nail polish remover as it can damage your carpet.
---
How to Keep Your Carpet Stain-free?
Although removing old stains from a carpet is possible, thanks to carpet cleaners, there's nothing better than preventing them from appearing in the first place! Below are a few proven tips for exploring and keeping your carpets stain-free:
✔️ Apply Stain-resistant Carpet Treatment or Protectant
Adding a layer of stain-resistant carpet treatment stops stains from invading your carpet. Either way, this works well in stain prevention, protecting your carpet over time.
But remember, this doesn't prevent all stains. Even so, it makes it easier to remove them.
✔️ Keep Your Carpets Clean and Vacuumed
Vacuuming and cleaning your carpets help prevent stains while removing all debris. And this is crucial to do even if you don't spot visible dirt as it can seep deep into your carpets, causing stains. So, vacuum and clean your carpets often to avoid build-up and set-ins!
I recommend vacuuming weekly or more, depending on how much traffic your carpet takes. 
✔️ Never Allow People to Walk On Your Carpet with Shoes On
Establish a "no shoe" rule on your carpets to keep them stain-free and pristine. Doing so guarantees no outdoor mud or dirt will make it to your carpet.
✔️ Address All Spills ASAP
As careful as you are, accidents can happen, and most come with nasty stains. I recommend addressing all spills ASAP to avoid soiling your carpet more. Whether they come from coffee or food, clean them fast!
But take careful action and ensure to blot away the spills instead of scrubbing them. Doing the latter will only damage your carpet more, creating an uneven texture.
✔️ Avoid Eating Around Your Carpets
Even when you try to be careful when eating, crumbs are inevitable, which can be an issue on carpets. After all, they can leave nasty long-lasting stains that can be tough to handle. So, encourage guests and family members to eat and drink far from carpeted spots at home.
So, you'll be far from the carpet even if an accident happens! 
✔️ Opt for Plastic Mats or Rugs 
An excellent way to protect your carpet from stains long-term is by placing a plastic mat or rug over it. But since this can be an issue for your interior, I recommend doing it on high-traffic carpeted spots. Doing this protects your carpets from spills, heavy foot traffic, etc. 
Once the plastic mats or rugs get damaged, replace them.
✔️ Get Help from a Professional Carpet Cleaner
Finally, work with a professional carpet cleaner if you're struggling to prevent your carpet from getting stained. Having pros clean your carpets yearly is enough to keep them safe from spills, accidents, etc.
---
Frequently Asked Questions
Q: How do I remove old stains from my carpet without a cleaner?
A: If you don't have a carpet cleaner on hand, using the proven combo of baking soda and vinegar is the next best thing. Find the old stains and apply some dry baking soda on top. After a few minutes, spray diluted white vinegar on the powder until it foams. Leave them to dry for a couple of hours, and your carpet should be good as new!
Q: Is hiring a professional carpet cleaner better than DIY-ing to remove old stains?
A: Using carpet cleaner to remove old stains yourself is better than hiring a third party. After all, they should scrub right off and disappear after application. So, unless you're dealing with severe stains, save yourself some money and DIY!
Q: Does combining baking soda and vinegar work in removing old stains from a carpet?
A: Vinegar and baking soda are excellent alternative cleaning agents for old stains. Combining these two kitchen items helps you deal with the toughest stains on your carpet. From wine spills to grease stains — there's nothing this natural solution can't wipe off!
Q: What can remove old set-in stains from carpets best?
A: Combining white vinegar with your preferred laundry detergent should do well on old set-in stains. But remember, vinegar is incredibly acidic, which can harm most carpet materials.
Q: Why did my carpet look worse after cleaning and removing the old stains?
A: Your carpet might be experiencing wicking if it still looks disheveled, even without the old stains. "Wicking" happens due to over-wetting the carpet, backing, and pad, causing the problem areas to return once the surface dries up.
---
Final Words
Keeping our carpets pristine is impossible between the spilled drinks and heavy traffic. And due to our hectic life, we often forget to address these messes ASAP, leaving old and unsightly stains. When ready to clean up, using the best carpet cleaner for old stains can help you lift even the toughest set-ins without issues. Use this guide to help you find the best one for your carpet to keep it stain-free over time!