In my opinion, trees are among nature's most aesthetically pleasing creations. You can use them for shelter, and you get flowers and fruit from them. Furthermore, they enhance the visual appeal of your landscape. However, this will not come without discomfort. The annoyance of having to sweep up leaves every fall.
Cleaning up a large number of leaves with a rake can be a tiring task. If the leaves get damp and clump together, things get difficult. However, this is where a leaf blower that you can carry on your back can come in handy. It won't take much work to clear away the fallen leaves and rubbish.
So, if you are looking for a lawn cleaning buddy, check our list of the best backpack blower available in town!
What Is a Backpack Leaf Blower?
If you want to get rid of wet or dry leaves from your garden, you can use a leaf blower. It can be strong enough to dislodge small objects like twigs and pinecones. The leaf blower will make quick work of gathering the leaves into a manageable pile for disposal. Mulching with them or incorporating them into your compost pile.
The power plant for a backpack leaf blower is integrated into a wearable backpack. Since your hips and lower back will be better supported, you'll experience less pain. Long periods of time spent using the blower won't tire you out.
Leaf Blowers & Its Different Types
It's easy to find a leaf blower on the market that works for you because of the variety of models available. It might be carried in one's hands, dragged behind one, or worn on one's back. It's possible that the power is lower in the portable models because of their small size and lightweight nature. The power of the ones you can walk behind or carry in a backpack is greater.
On the other hand, walk-behind models are cumbersome and awkward to use. Those that can be carried like a backpack provide decent power and are convenient to take anywhere. They might require an electrical outlet, operate wirelessly, or run-on gasoline. Corded leaf blowers are easy to carry and use, but the length of the extension cord limits how far they can reach. 
Even though it is bigger and harder to move than its corded counterpart, the portable leaf blower is easy to use. Electric leaf blowers are not only quieter and easier to take care of, but they also do a better job. 
Do You Need a Backpack Leaf Blower?
The moist and dry leaves that fall from the trees in your tiny garden will need to be raked up. For this task, a rake and bag might be of great assistance. Assuming, of course, that your garden is sufficiently large. Or if your back is bothering you, you'll need a gadget that can adapt to your needs.
If you want to clear your garden of leaves and other waste with the least amount of effort, consider investing in a backpack leaf blower. In the garden, you can use it for extended periods of time without risking muscle fatigue.
Features to Look for Prior to Grabbing a Backpack Blower
In this article, we've highlighted our favorite leaf blowers and explained why they're the best. Selecting the best backpack leaf blower for your needs is the next step. How can I choose between the different variants of leaf blower?
The high-capacity battery leaf blower reportedly has a 60-minute run time; is this accurate? Before you go out and spend a ton of money, it's important to know the fundamentals of selecting the best backpack leaf blower.
1-Power Type
Powering your fans with gas: It's true that electrical fans can be more convenient, but gasoline-powered ones are much more effective.
Fans that are powered by electricity: Although electric blowers still can't match the power of their gas counterparts, they're making strides in that direction. They are more peaceful than their gas-powered equivalents and offer a host of other advantages.
2-Scale of Yard and Task
Before beginning, consider the dimensions of your yard and the extent of your job. If you have a little yard that only collects a few dead leaves each fall, you probably don't need a powerful leaf blower. If you have a tiny yard or are working on a modest project, a backpack leaf blower with a CFM of between 200 and 400 can do the trick.
In order to save time and energy while clearing the leaves from your lawn, a powerful leaf blower is a must-have if you own a big yard. If you need a leaf blower for more serious work, go for one with a CFM of 400 to 700.
3-Engine Type
Two-cycle: uses a combination of gas and oil. It is more efficient than a six-cylinder engine and twice as powerful as a four-cycle one
Four-cycle: Gas and oil are both useful, yet they have different applications. In comparison to a two-cycle engine, this one uses less fuel. Moreover, it possesses superior torque to that of a two-stroke engine
4-Battery vs. Gas
We've included both cordless and corded backpack leaf blowers that run on gas or electricity on our list. Both backpack and portable blowers have pros and cons. When comparing gas and electric leaf blowers, the gas-powered models have the overwhelming advantage due to their higher speed and volume output.
Gas leaf blowers are ideal for clearing heavy debris due to their excellent performance. Customers have more say over how long their fuel lasts because they can top off the tank whenever they like. Gas leaf blowers are hard to keep up with and give off gasses that are bad for both people and the environment. They are also typically significantly noisier than their battery-powered counterparts.
5-Weight
When shopping for a backpack, among the most crucial considerations should be the load it can carry. As irritating as it is to have to pull over and fill up with gasoline, it would be even more so if you were unable to lift the weight.
6-Noise Level
No one likes to be woken up by their neighbors' loud tools, but you don't have to worry. The same cannot be said for the several power tools you keep in close proximity to your ears. If your blower is louder than 85 dB, you should always have hearing protection handy.
7-Cruise Control
You may use your leaf blower's cruise control much like the one on your automobile. With the cruise control function on, you won't have to keep your finger on the throttle after you've gotten the fan up to the desired speed.
8-Warranty
Because they don't fold up, leaf blowers are more likely to get worn out and broken when they have to be stored in a small space. If anything breaks unexpectedly, knowing you have a guarantee in place might help ease your mind.
9-Run time
Keep in mind that when shopping for a new backpack leaf blower, the advertised run time may not be entirely accurate, especially for battery-powered models. Then why do certain commercials grossly overstate their claims? The advertised run time doesn't always make it clear how fast and how much air the leaf blower moves.
For instance, you could come across a high-powered leaf blower that claims to last for an entire hour. Is that 60 minutes of use at full power, or just at the lowest setting? It's not uncommon for advertisements to be vague.
10-Air Volume
CFM is the standard unit of measurement for air velocity. This is a crucial statistic for determining the machine's airflow rate. This is about as effective at raking leaves as it is. The higher it is, the more refined the machine is. The minimum CFM rating we suggest is 400C.
11-Comfort
If your backpack leaf blower is unpleasant, you'll labor all day in the hot afternoon sun. If you're looking for a leaf blower that won't strain your back, shoulders, or wrists, look for one that can be worn as a backpack and features ergonomic details like padded straps and a curved back.
Battery-operated backpack leaf blowers are more portable than their gas-powered equivalents. In contrast, if a gas-powered lawn mower is what you need, choosing one that is even a few pounds lighter can have a huge impact.
12-Sound 
Check the decibel rating (dB) of a leaf blower before you buy it. There are noise restrictions in place in a number of jurisdictions, including cities and counties. It's possible that your leaf blower is making more noise than is allowed in your area.
In order to cut down on noise pollution, some communities have noise limits, bans, or limited hours when leaf blowers can be used. Make sure the decibel level of your leaf blower is within the legal limits set by your municipality to avoid having to pay a fee.
List of the Best Backpack Blower
Hikers know that it's far easier to carry everything they need in a backpack than to try to hold it all in their arms the whole time. Similarly, leaf blowers are not recommended. Backpack models of blowers are the most powerful type. Having the motor on your back means you can use both hands for whatever you're doing.
OUR TOP PICK:
Husqvarna 350BT Two-Cycle Gas Pack Blower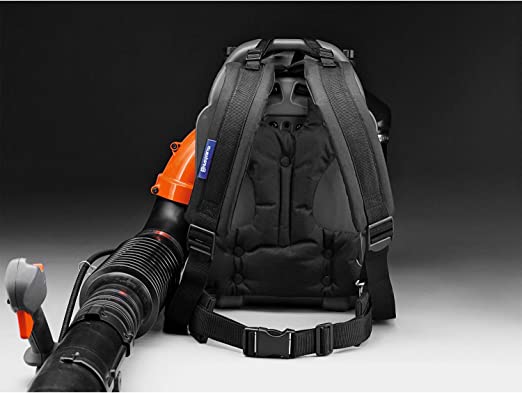 This backpack blower is the best on the market for many reasons. The X-Torq engine it uses reduces hazardous emissions by as much as 60% and improves fuel economy by as much as 20%. Also, it has a feature called "cruise control" that lets you set the speed at which the leaf blower works and then leave it alone to keep that speed.
The Husky's offset handle keeps your hand from being pulled down and gives you a better grip and more control. As a result of the vibration control, your arms are subjected to minimal shaking. This is all packed up in a backpack with a hip belt and ergonomic harness system that can be adjusted to suit a wide range of wearers. Having the weight dispersed more evenly like this makes wearing the whole thing a breeze.
This gas-powered backpack blower is a solid option for those who don't want to sacrifice performance for environmental friendliness, even if electric models will always be preferable. Depending on the exact numbers, this could reduce pollution by as much as 75%. In addition, its fuel efficiency has been increased by 20%.
It's simple to use the machine because all of the controls are in one convenient location. An extremely functional and ingenious layout. The ability to alter the length of the tube is a major convenience for many tasks that were previously quite inconvenient. There are instances when a longer solution is required, and other times when a shorter one will do.
PRODUCT SPECIFICATION:
The x-torque engine layout helps lessen the release of toxic gases.
Make use of your maximum strength while causing little stress to your arms.
Vibrations are successfully muffled by dampeners installed for both the engine and chassis.
A 2200 RPM idle is normal.
| PROS | CONS |
| --- | --- |
| Includes a robust engine powered by X-TORQ | Some parts may be challenging to assemble |
| Ease of controlling due to offset handle | |
| With hip belt and padded harness | |
| Features cruise control having different speed throttle | |
---
RUNNERS-UP
Husqvarna 150BT 2-Cycle Leaf Blower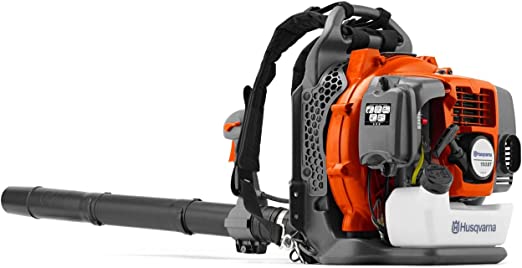 Trying to find a backpack leaf blower that runs on two cycles, in particular? Indeed, this is right up there with the very finest of them. The engine may be used by consumers and professionals alike, and it requires less maintenance than other engines because oil and fuel can be combined before being poured into the engine.
Husqvarna places great importance on making goods that have a minimal impact on the environment. It may run on gasoline, but this machine nonetheless cares about the planet. Up to 60% fewer hazardous pollutants are produced, and up to 20% higher fuel efficiency is achieved.
In any case, we can put that worry to rest. These vibrations are kept to a minimum by the "lowvib" technology used to isolate the engine from the chassis of this fan. The on/off switch is automatically returned to the on position by an integrated auto return stop switch. So next time you need to use the machine, you can get it going faster and more easily by doing this.
Some buyers felt that the price was excessively high in comparison to the value they received. Unfortunately, it isn't the most powerful option, and it takes a while to move particularly large or densely packed piles of leaves.
PRODUCT SPECIFICATION:
Gas-powered unit
Operating hours lasts for an hour and fifteen minutes
Has 434 CFM air volume
Displays speed of 251 MPH
22.5 overall weight capacity
| PROS | CONS |
| --- | --- |
| With the Inclusion of X-Torque Engine | Costly |
| Low Vibrations Technology | |
| Features Automatic Return Power Switch | |
---
PR48BT Poulan Pro Two-Cycle Blower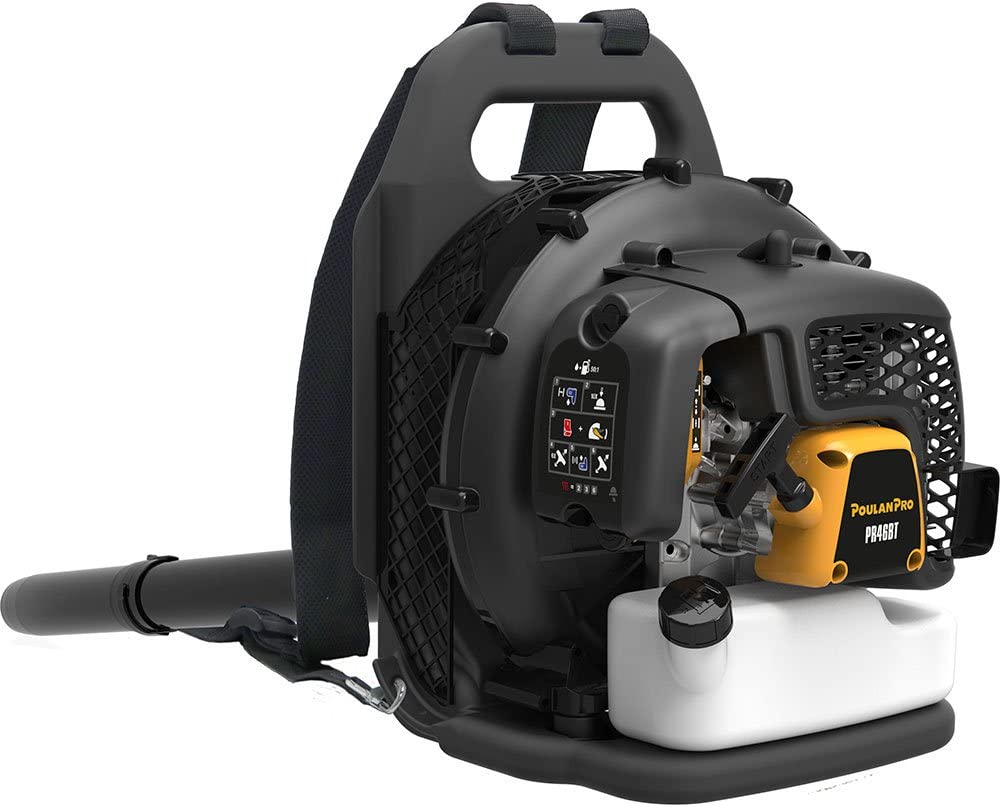 This lightweight backpack leaf blower comes at a cheaper price. It is the best leaf blower money can buy if money is really tight. Though its 48-cc two-stroke engine can be tricky to fire up, once it's up and running, you can tailor its pace to the task at hand with the help of the variable speed control.
This Poulan Pro version is built to withstand abuse and features a sturdy, impact-resistant frame. The frame is connected to shoulder straps that can be changed so that anyone can use it comfortably. But because of the huge hose, this blower is awkward and hard to carry on your back.
There are hills and valleys to both two- and four-cycle engines. The fact that it operates on a two-cycle principle is, however, something we appreciate. The key distinction is that, instead of just using gas to power the engine, oil is also used to keep it well lubricated. As a result, fewer repairs to the device will be necessary.
Depending on the workload at bay, you can customize the speed to fit into your needs with this. However, cruise control can be used to keep the vehicle moving at a constant rate, allowing you to focus on the task at hand rather than the speed at which you're traveling.
Among gas-powered backpack leaf blowers, this one is among the lightest at just 22 pounds. Additionally, a load-reducing harness has been integrated into the design to lessen stress on the body and maximize ease of use. In the end, you shouldn't feel drained after wearing this for an entire eight-hour workday.
PRODUCT SPECIFICATIONS:
A model powered through gas
Operating hours lasts for an hour
Has 475 CFM air volume
Displays speed of 200 MPH
22 pounds overall weight capacity
| PROS | CONS |
| --- | --- |
| High-powered 48cc gas engine with two cycles | Does not include a belt to hold it in place |
| With a cruising speed that can be adjusted, you can relax and enjoy the ride. | |
| Sturdy, long-lasting construction | |
| An easily grippable, ergonomically designed handle | |
| Warranty Period: Two (2) Years | |
---
Echo PB-9010T Backpack Blower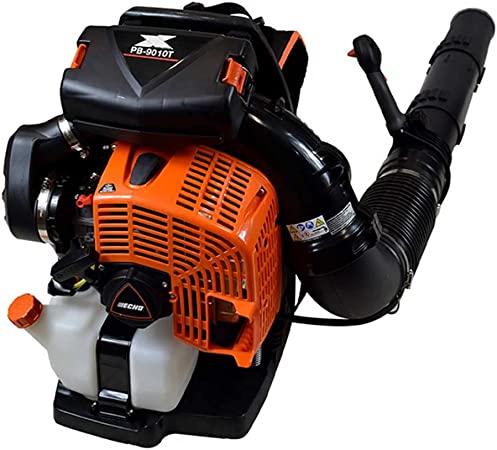 Professionals and businesses should look into purchasing a gas-powered leaf blower. If you're looking for a blower, we highly recommend the Echo. The maximum power it can reach is 1110 CFM, which is mind-blowing. This leaf blower can move air as fast as 220 miles per hour, which makes it great for cleaning up large areas and doing a lot of cleaning.
When compared to similar leaf blowers, this one just excels in every measurable way. Compared to similar commercial leaf blowers, this one is 18% more effective at clearing the air. Because of the 56% increase in fuel capacity, it can travel farther on a single fill-up.
The warranty covers your personal use for five years, while two years for commercial use. All things considered, this is really generous and guarantees excellent value.
Whatever the length of time you plan on wearing it, from a few of hours to a whole workday, you can rest assured that your comfort will not be compromised. The broad, padded straps make these an extremely suitable for all-day use due to its comfort. You'll enjoy it even in the hottest months of the year because the fan intake will keep your back from overheating.
PRODUCT SPECIFICATIONS:
A gas-powered model
Has 1100 CFM air volume
Displays speed of 220 MPH
35 pounds overall weight capacity
| PROS | CONS |
| --- | --- |
| Massive Tank and Force | It weighs 35 pounds. |
| Extensive Warranty | |
| Tolerable in Terms of Wearing Comfort | |
---
Greenworks 80V Cordless Backpack Leaf Blower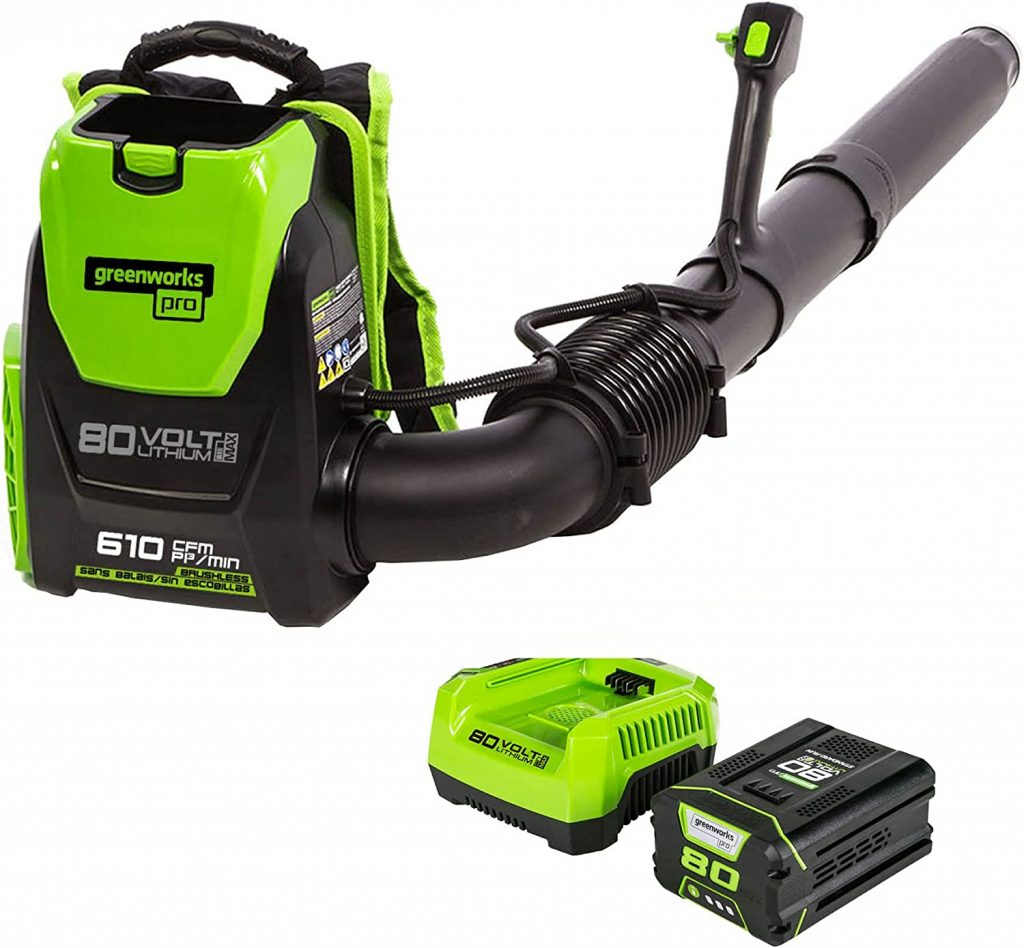 Most modern backpack leaf blowers are cordless because gas options no longer need to be plugged in. However, this option offers the best of all worlds, as it is cordless and does not use gas, reducing pollution. Even though it costs more than some other choices, you get a strong program with a lot of useful extras.
The leaf blower's cruise control is fantastic, as it allows you to keep going at a constant rate. When compared to similar gas-powered leaf blowers, this one is on par in terms of power. Everything, except the unpleasant odors. In terms of performance, the brushless motor puts it on level with similarly priced gas-powered alternatives.
Use this at speeds ranging from 0 to 145 mph (which is insanely fast). Choose a more manageable pace, set the cruise control, and have pleasure in the ride if you don't need the entire current.
PRODUCT SPECIFICATIONS:
A battery-powered model
Its operation lasts for 10-15 minutes
Has 580 CFM air volume
Displays speed of 145 MPH
14.64 pounds overall weight capacity
| PROS | CONS |
| --- | --- |
| Automatic Speed Control | A Source of Annoyance |
| Motor without Brushes | Problems with Battery Life |
| Changeable RPM Rates | |
---
Frequently Asked Questions
Q: Should you invest in a backpack leaf blower?
Surely. They're practical because you can easily control the spray nozzles with one hand. With so many choices available, it's safe to say that there's something suitable for any consumer's needs. However, you should weigh the cost (about $150–$700) against the potential benefits to your garden.
Q: CFM vs. MPH: Which is better for a leaf blower?
Even though they both have their uses, CFM deserves more attention. It's a measurement of strength relative to velocity. Cleanup times for particularly large messes are reduced if the CFM is high.
Q: What Does BT Mean for Leaf Blowers?
When you see "BT," you know the throttle is on the right side of the tube. If the symbol is BF, then the item is for the left hand.
Final Thoughts
An efficient backpack leaf blower may turn otherwise boring and time-consuming yard maintenance into something you actually look forward to doing. The strap-on design allows you to easily transport them to any region of your property, where they can quickly and efficiently kick away leaves and other debris, saving you time compared to raking or sweeping.
The backpack blowers can be used for wide range of purposes, is extremely handy, and can be maneuvered with great ease. With machines capable of blowing air at speeds of up to 250 miles per hour, you won't have to worry about a pile of leaves or other debris blocking your path.
Therefore, if you require a fuel-efficient and strong blower for yard cleaning, a backpack unit is suitable.
For the greatest results when looking for a backpack leaf blower, it's important to know what questions to ask. Hope our list above would be of big help in filtering down your choice!