These days, apartment balconies are ideal places to escape the noise and stress of everyday life. There's plenty of open space where you can stretch out in the sun, breathe in some fresh air, and take in a beautiful panorama of the city below.
However, with time, the balcony becomes a haven for dust, grime, and even bird poop. Maintaining a clean, sanitary, functional apartment balcony requires regular upkeep.
Cleaning the balcony at your apartment building is an uphill task. The elements, such as wind, rain, and snow, are continually buffering your balcony. It's also susceptible to the air pollution that comes with residing in a major city.
The accumulation of filth is exacerbated by living in a humid environment. Therefore, you must commit to maintaining a regular apartment balcony cleaning routine to avoid finding that your environment is deteriorating more quickly than anticipated.
But how can you clean an apartment balcony effectively? Here are some tips on how to clean your apartment balcony:
Tips On How To Clean Apartment Balcony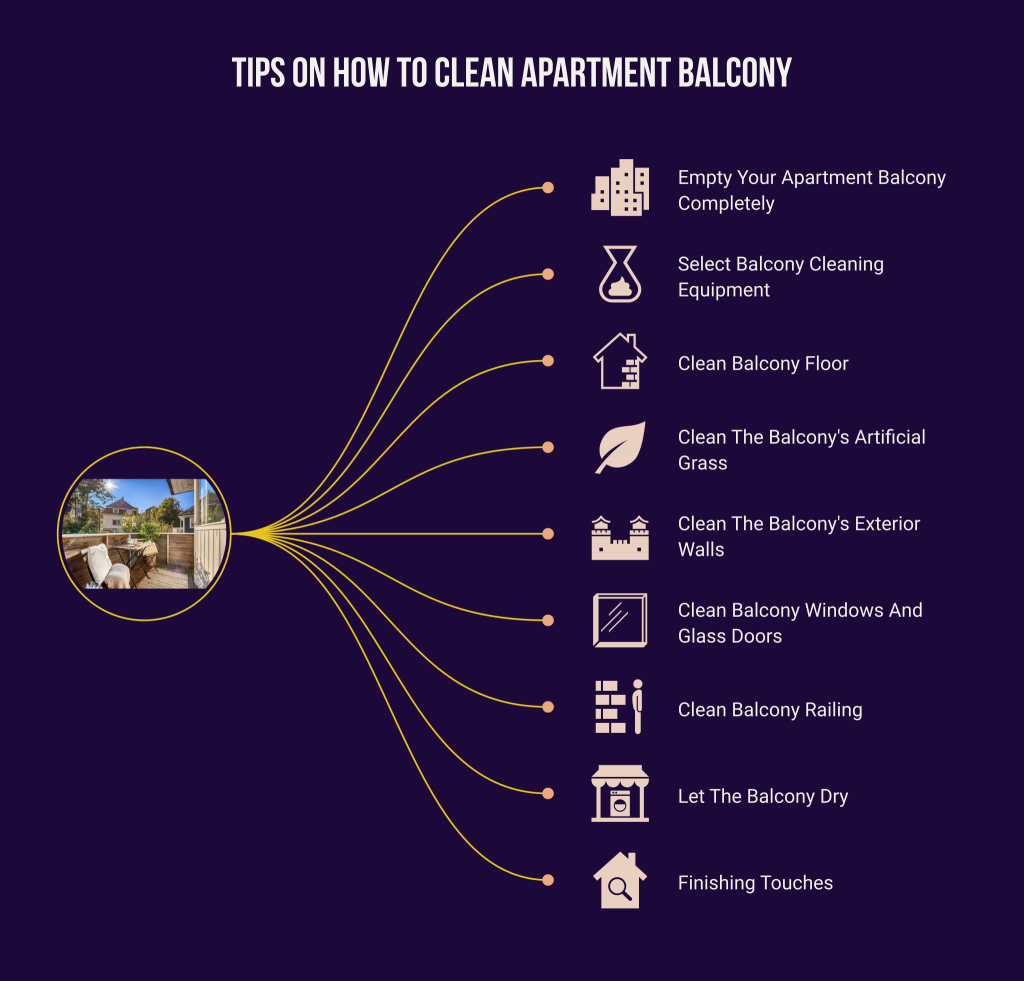 Maintaining your balcony's cleanliness is a lot less of a chore than you might think. Achieving success requires taking things slowly and carefully. Removing dust and dirt will make a huge difference, even if you don't see the changes as clearly as you would inside.
After you've cleaned your balcony, you may adorn it with a stylish layout, move your plants outside for the summer, and welcome guests in comfort.
The following are some suggestions for maintaining a spotless apartment patio, deck, or balcony.
🏠 Empty Your Apartment Balcony Completely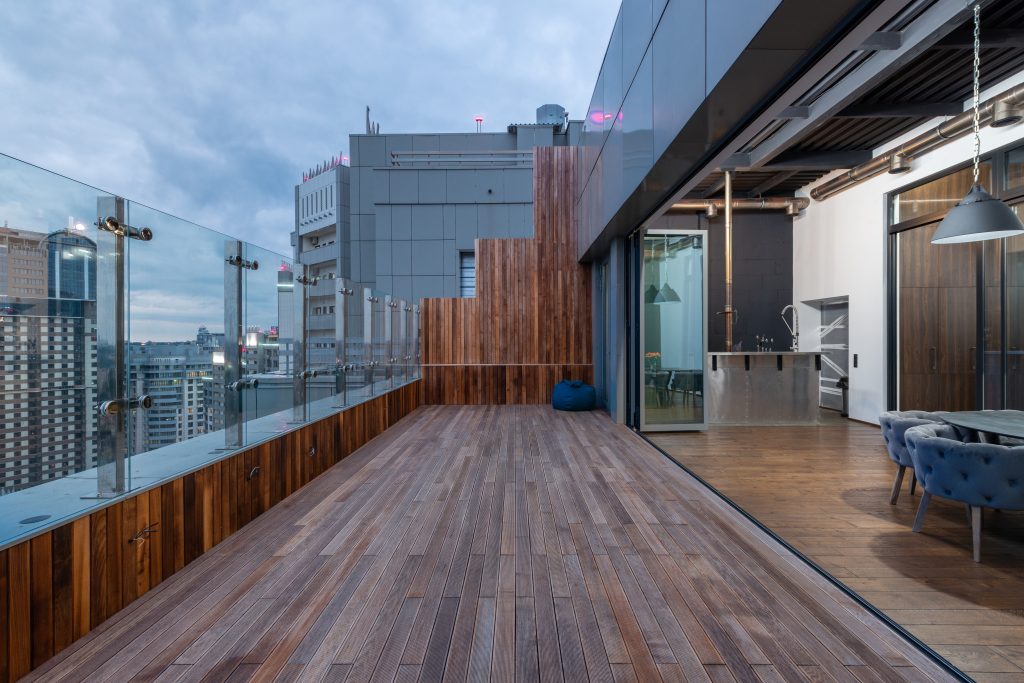 Most individuals decorate their balcony enclosures with outdoor furniture, plants, and other ornaments. These accents help make the apartment balcony feel more like home. However, these objects can make it more difficult to move around the room and clean it effectively.
Therefore, before the cleaning process starts, you should remove everything from the balcony. If you've put a lot of time and effort into your balcony's current design, you might be reluctant to take down the ornaments and start over.
On the other hand, you could look at this as a chance to spruce up your apartment's balcony. When you're done tidying up your apartment balcony, try out any number of fun and interesting design options. Once you've redecorated it, stepping out onto your apartment balcony can seem completely different.
Be sure to quickly wipe down each item before packing it away. Certain objects tend to gather dust and dirt, which you want to avoid bringing inside your apartment. Depending on how dirty the objects are, you can either use wet paper towels to scrub each item clean or move to microfiber towels.
If you notice that you are constantly picking up the same things, you may want to rearrange your balcony so there's less to pick up.
🏠 Select Balcony Cleaning Equipment
There are specific items that are required for the task of cleaning your balcony. Here are some considerations to keep in mind to help you select the best equipment for cleaning your balcony.
First, evaluate the type of flooring on your balcony. If you want to clean a concrete or stone surface, you'll need a degreaser and a brush with stiff bristles. However, if your balcony is made of wood, you only need a broom and dustpan to keep it clean.
Consider purchasing a vacuum with a HEPA filter if dust and pollen are constantly on your balcony since this will prevent the particles from being re-circulated inside your home.
Then, wipe down the balcony floor, walls, and railing with a mop or towel. Combine some water with a moderate organic solution. Be cautious when using water since you want to prevent water from dripping onto any neighbors below.
If you live in a condo building with other residents, you should avoid cleaning your condo balcony with a power washer.
In contrast, a pressure washer can be a lifesaver if you have a concrete patio or balcony and don't share walls with anyone.
🏠 Clean Balcony Floor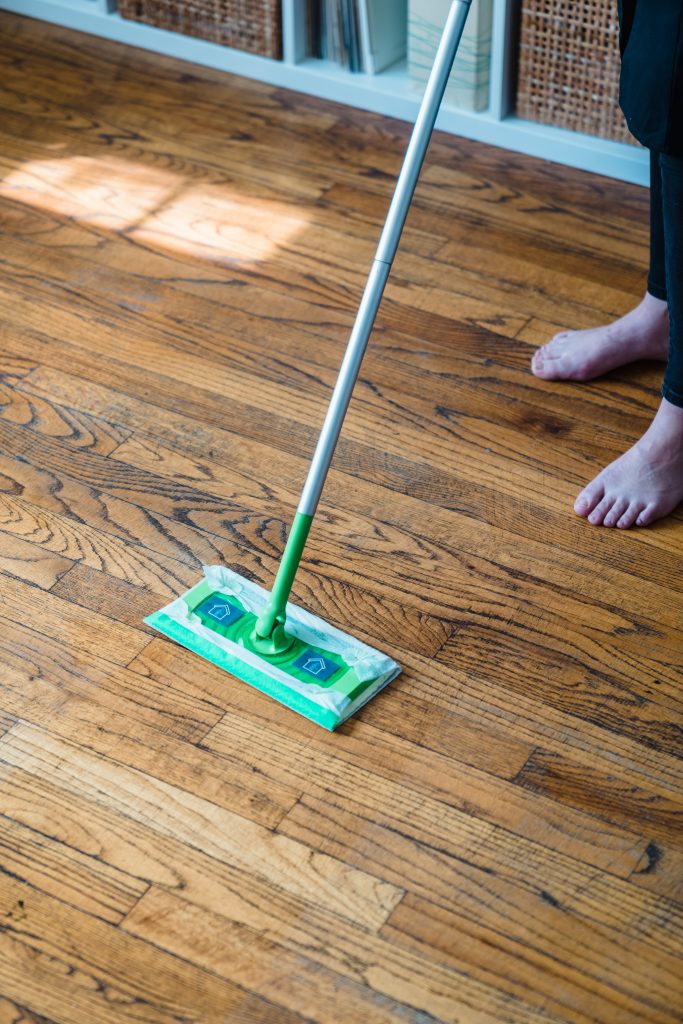 Once you've cleared your balcony, it's time to get down on the ground and scrub. You can use a broom or vacuum cleaner to remove any dirt, dust, and debris gathered in the nooks and crannies of your apartment balcony floor. This is also a good chance to sweep away cobwebs and bird nests. You may also want to use a brush or scrubbing pad to remove any tougher debris stuck in the nooks of the balcony floor.
Once you're finished sweeping, dampen a mop with some warm water and dish-washing liquid and scrub off any remaining dirt or stubborn stains. Depending on the severity of the mess, you may need to repeat this process several times.
Then, rinse your balcony floor with a garden hose or warm water.
🏠 Clean The Balcony's Artificial Grass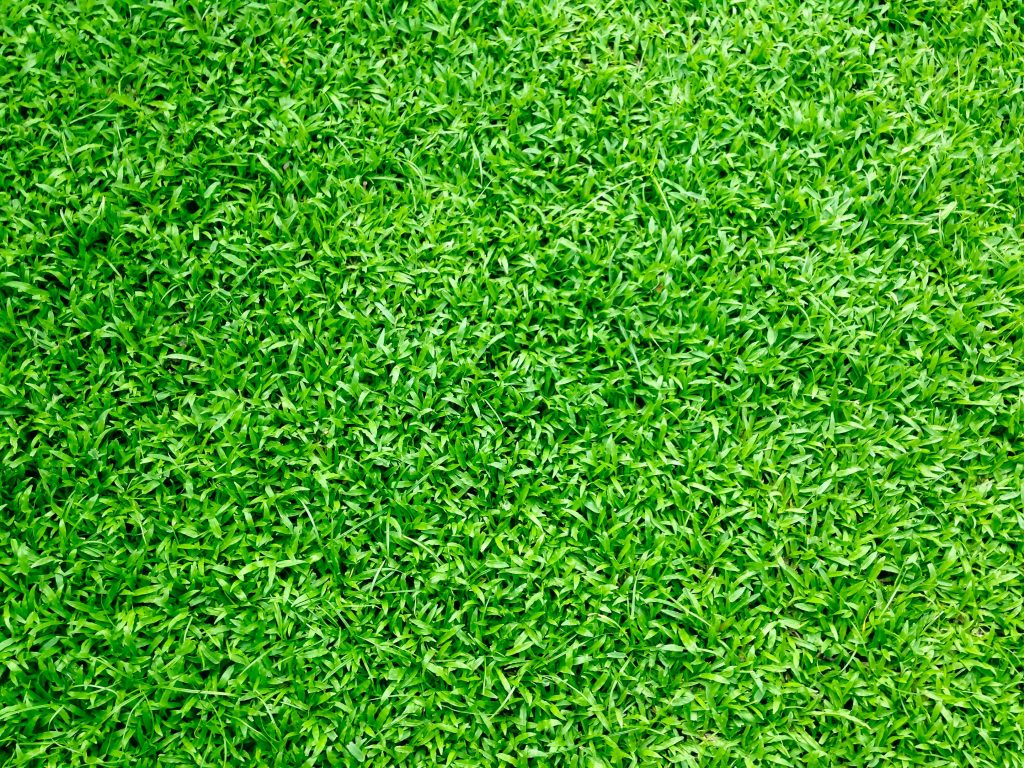 Do you have artificial grass on your apartment balcony? Keeping your artificial grass clean is incredibly important in preserving its original state while also ensuring it remains safe and free of dirt, dust, or other debris.
Whenever you notice visible dirt build-up, the most effective way to clean it's with a mild detergent solution mixed with warm water. Spray onto the grass and use a scrubbing brush to work the mixture into the synthetic fibers. This will help lift any dirt or stains away from the surface.
Vacuum up any residue released and finish off by rinsing with a hose pipe or cold water pressure cleaner to remove any lingering detergents.
🏠 Clean The Balcony's Exterior Walls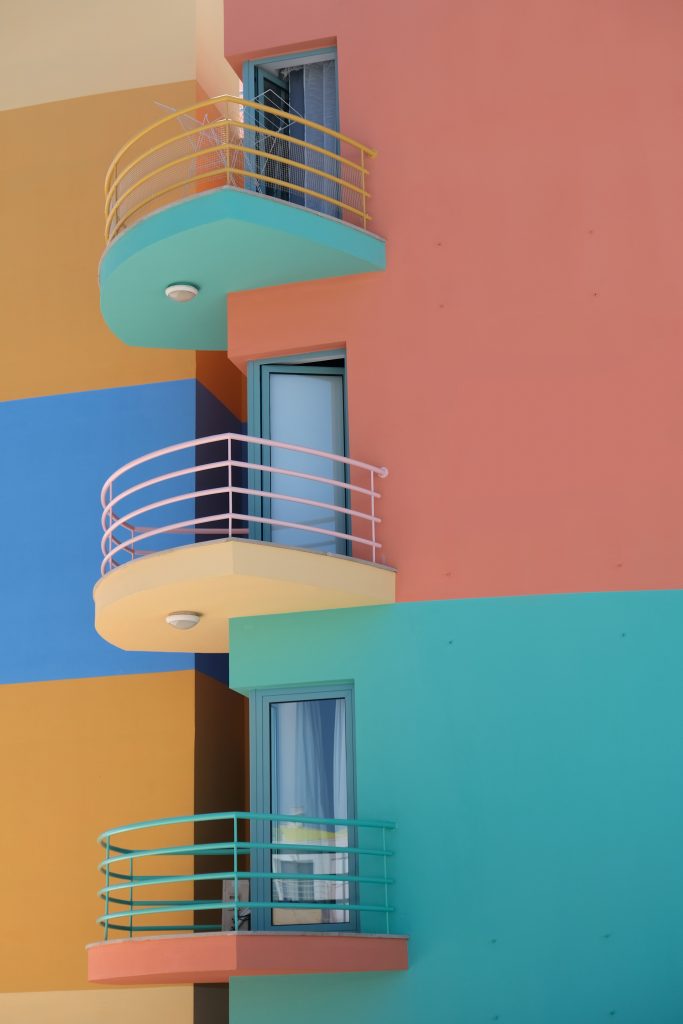 Regularly cleaning an exterior balcony wall helps ensure that it looks nice, remains in good condition, and prevents major repairs down the line. The best approach to cleaning exterior walls is often a combination of power washing, applying a low-pressure chemical wash, and going over stubborn stains with specialty stain removers.
Heavy pollutants should be removed first with a powerwash, and then you can scrub the walls with a detergent or cleaning solution. If you're trying to remove any paint or graffiti, it's important to consult a professional before beginning due to the risk of damaging the material.
Afterward, you should flush the walls with clean water until all soaps have been eliminated from sight, followed by vigorous rinsing and drying for optimal appearances.
🏠 Clean Balcony Windows And Glass Doors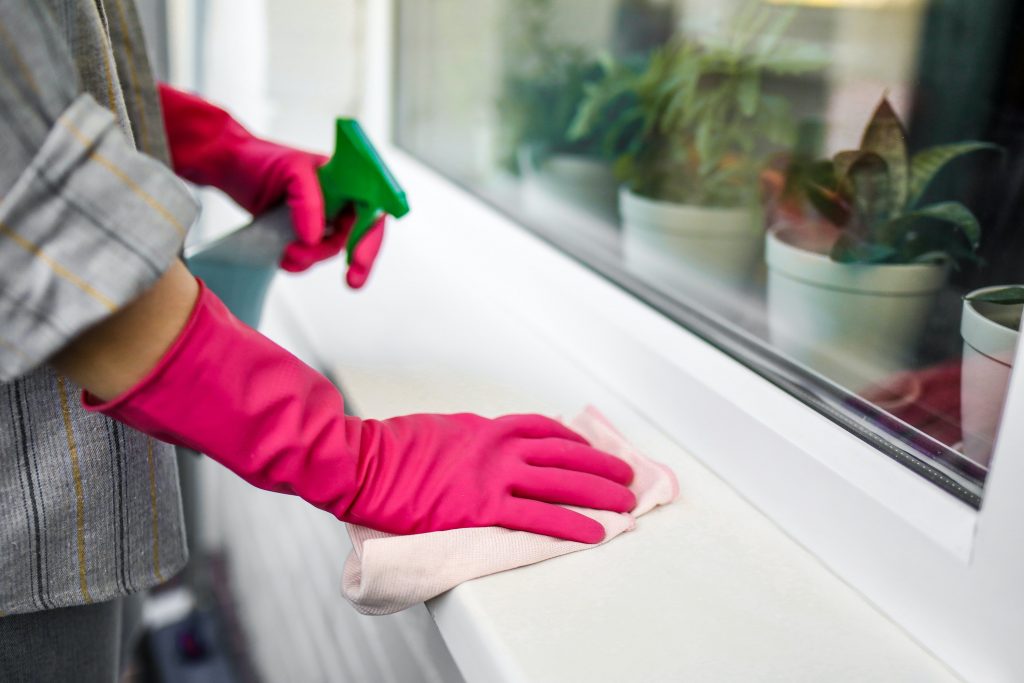 Like the floor of your balcony, your windows and glass doors can get very dirty over time. It doesn't take long for the accumulation of fingerprints, dirt, and other contaminants on your windows to become noticeable. It's unsightly, and the bacteria attached to your windows and glass doors could become a health risk if left unchecked.
It will require some elbow grease to clean the windows and glass doors on the apartment balcony.
Start by using a soft-bristled brush or microfiber cloth to remove dirt and grime. Afterward, use window cleaner, newspapers, or paper towels to buff away any remaining streaks. For particularly tough stains, you may need to use a scraping tool like steel wool or sandpaper.
It's important to remember not to press too hard and to clean the window afterward thoroughly. Finally, use a glass cleaner and a sponge or paper towel to finish off the job.
For extra convenience, you can use a hose to spray your balcony window panes before wiping them down.
🏠 Clean Balcony Railing
First, make sure you protect yourself from any debris by wearing safety goggles and protective gloves. Next, you'll want to use a pressure washer or a scrub brush and detergent to break down any dirt buildup.
Let these soak in for several minutes before rinsing them off with warm water. You should also remember to inspect your balcony railings after each cleaning session to identify any potential rust or repair issues that could arise.
🏠 Let The Balcony Dry
After cleaning your balcony, it's important to let the area dry thoroughly before using it again. To do this, you can use a fan or open up the windows and doors to allow air circulation.
Alternatively, if you have an outdoor drying rack available, hang any wet items like rugs and cushions there to air-dry. This will help to prevent the buildup of dampness and ensure your balcony is free from mold growth.
🏠 Finishing Touches
Once you've completed all the above steps, it's time to give your balcony something extra to make it shine. Start by adding a few potted plants and pieces of outdoor furniture that reflect your personal style.
These items can help achieve a more inviting atmosphere while also helping to spruce up any view from the apartment balcony. You'll also want to ensure you have enough outdoor lighting available to enjoy the space even after dark.
How to Maintain Your Balcony
It's important to maintain your apartment balcony clean as part of your regular cleaning routine. Yet, we acknowledge that it's unrealistic to perform all the above mentioned procedures daily, weekly, or even monthly.
It might be challenging to devote a significant amount of weekly time to cleaning their balcony. That's why we suggest you do the deep clean once or twice a month. If you're concerned about how to tidy up your balcony after a week of use, keep reading!
Here are some additional suggestions for weekly balcony upkeep that will keep it looking fresh and clean.
✅ Perform Frequent Vacuuming
Staying away from water is the quickest and easiest way to keep your balcony looking spotless. Instead of sweeping your balcony, vacuum it thoroughly to eliminate debris, dust, and pet hair. Apartment dwellers on higher floors can also benefit greatly from this strategy. Your neighbors probably won't thank you if filthy water drips over their decks.
Therefore, thoroughly vacuuming your balcony is an excellent solution to both problems. Once you've finished vacuuming, you can use a cleaner to get rid of any remaining grime or bird excrement you may have missed.
✅ Put Some Shelves Up
Even while this isn't a method for cleaning your balcony, putting shelves can do wonders for maintaining a clutter-free outdoor area. It also helps your balcony appear more put-together and neat. If you put up some shelves on your balcony, you may store and display a variety of items.
To begin with, you'll have somewhere to put your potted plants, gardening supplies, and other stuff that might otherwise be on the floor. This would make it easier to clean your balcony more frequently by vacuuming it.
Second, shelves prevent dirt from accumulating on the dusty balcony floor. You can keep your balcony neat and well-kept without sacrificing storage space. In addition, shelves reduce the number of things you need to remove from the balcony before cleaning it thoroughly.
✅ Conduct Regular Inspections
Finally, be sure to inspect your balcony on a regular basis. This will help you identify potential maintenance issues before they become serious problems.
Look for cracks in the railings, loose screws that need tightening up, and other signs of wear or deterioration. Inspecting your balcony regularly will make it easier to spot any issues that require immediate attention and prevent them from becoming more serious over time.
Frequently Asked Questions
Q: How can I remove rust stains from my balcony?
A: If you have rust stains on your balcony, start by scrubbing the area with a stiff brush soaked in vinegar. You can then use a solution of baking soda and water to make a paste that will help to remove the stain. Apply the paste directly to the rust-stained area and let it sit for 10-15 minutes. Finally, scrub the area with a brush before rinsing it off with water and drying completely.
Q: When can I use pressure washing to clean my balcony?
A: Pressure washing is best used when your balcony needs a deep clean, such as when you are preparing it for the summer season. You can use pressure washing to remove built-up dirt and grime from hard-to-reach places, but be sure to use a gentle setting so that you don't damage the materials on your balcony.
Q: Is there a balcony cleaning service I can hire?
A: Yes. Many cleaning services offer balcony cleaning services. They typically come equipped with all the necessary tools and supplies to give your balcony a deep clean in less time than it would take you to do it yourself. If you choose this option, make sure to ask what chemicals they will be using before they begin so that you can ensure they are safe for your balcony.
Q: What kind of cleaner should I use to clean my balcony?
A: The type of cleaner you use will depend on the materials used to build your balcony and what cleaning tasks need. Generally speaking, mild detergents or cleaners specifically for outdoor surfaces are best as they will not damage the materials. If you have doubts about which cleaner to use, consult a professional before beginning your cleaning project.
Q: How can I make sure that my outdoor space is properly ventilated?
A: Proper ventilation is essential for keeping your balcony clean and dry. Make sure to open the windows and doors when you are cleaning so that any airborne particles can escape outside. If necessary, use a fan or two to help circulate air more quickly. Plus, try to avoid using harsh chemicals in enclosed spaces as they may cause respiratory irritation.
Final Words
Having a clean balcony is essential for enjoying your outdoor space. Moreover, a clean balcony also helps to protect your property and its occupants from dirt, dust, and other contaminants. Therefore, it's important to take the time to clean your balcony regularly and thoroughly. By following the steps outlined above, you can keep your balcony in tip-top shape for years to come.