Cleaning a mirror and then seeing dust, dirt, and smudges are actually disgusting! The mirror returning to its smudgy appearance after it dries is really annoying. If you soak the mirror in cleaner, you could damage the frame and distort the reflection. Moreover, bathroom cleaning is never fun, especially if you glance in the mirror afterward and see streaks if you don't thoroughly dry the mirror after each usage. However, many things may go wrong when attempting to clean a mirror, it's incredible. Let's have a look at the best cloth to clean mirrors at your place.
Best Method for Cleaning Mirrors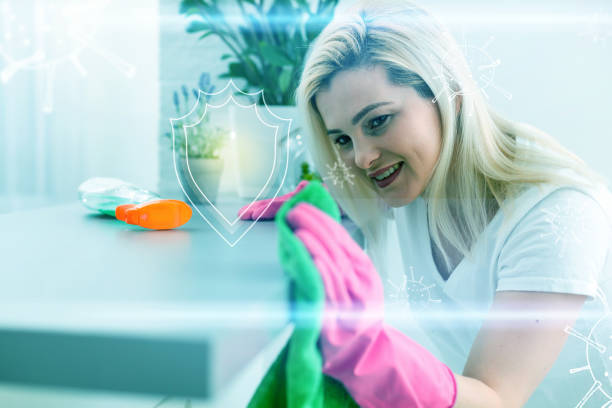 Let's discuss approaches, and then I'll suggest some products for cleaning. If you choose a commercial cleaner or make your own solution, the proper technique is essential for cleaning windows and other glass surfaces.
The nicest thing I've found to use on bathroom mirrors is a very fine microfiber fabric. However, you can use whatever you like. Cotton rags aren't lint-free, therefore they can leave behind more lint that needs to be removed.
➡️Remove Any Visible Dirt
To begin, use a cotton pad dampened with alcohol to wipe away any large debris or dirt particles from the mirror's surface. Spot-clean it before cleaning the room. Make sure you clean the trash out of the mirrors' edges as well. This way, you won't have to worry about smearing oils and dirt all over the mirror.
➡️Side-to-Side Surface Cleaning
Get started with a clean, dry microfiber cloth. Instead of spraying the cleaner on the mirror, spray it on a microfiber cloth with a flat weave. You can avoid having a cleaner pool in the crevices or trickle down the mirror this way. It doesn't matter which upper corner you start cleaning.
Just make sure to move your cloth from side to side. Make a little zigzag pattern as you move down until you reach the base of the mirror. If you want to prevent static electricity, you shouldn't wipe in a circular motion. It's best to avoid that area because of how much dust it seems to attract.
The List of the Best Cloth to Clean Mirrors
Today, many stores have a wide variety of cleaning supplies. The shoppers choose the most convenient form among the many available. Our top experts choose the microfiber glass cleaning cloths they use to clean glass based on a number of factors.
It looks at how well it cleans, how soft and absorbent it is, and how well the microfibers break apart. Also, how much polyester and polyamide are in it? Also, it has an antibacterial action.
Other factors like size, shape, and washability can boost our product's chances of success. Not only do they absorb oil and grease like some other types. However, their electrostatic properties also make them very good at attracting dust. Let's get into the specifics of our reviews of the best cloth to clean mirrors.
Best Cloth to Clean Mirrors: OUR TOP PICK
★ MR. SIGA Microfiber Cloth ★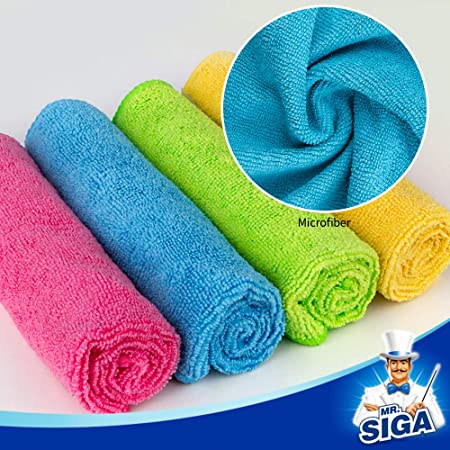 If you use this gorgeous, colorful towel to wipe off your mirror, your home will gleam like a sheet of polished glass. Its dimensions of 12.6 by 12.6 inches are just right, falling in the middle of the spectrum. At the moment, this is the most effective cloth for glass surfaces.
The absorbent is gentle and effective. It is perfect for dusting windows, counters, and shelves in the kitchen, as well as other surfaces that are hard to reach with a regular dusting cloth.
If you value a clean kitchen free of soap residue and sparkling glassware, read on. In case you were wondering, Mr. Siga's towels are made of 85% polyester and 15% nylon. It makes their structure flawless, without lint or streaks. You can test it out on any surface without worrying about scratching it, and it will prove to be a reliable ally in any cleaning task.
✅PROS:
Exceptionally gentle
Effectively snag any and all loose particles
It's compatible with any surface type.
Simple to obtain
It's also handy for washing dishes.
Easy care and quick drying times make it a good value.
❎CONS:
Its microfilament may break on rough surfaces.
---
RUNNERS-UP:
★Microfiber Cleaning Cloths
These miracle garments eliminate concerns over wind-borne debris and raindrops on the car glass. Both red and blue options are available for your branded bath towel. There are six pieces of blue clothing and two pieces of green clothing, both of which have subtle textural variations.
There is no stain or mark that these clothes can't get rid of without harsh chemicals. To clean a mirror, glass, or stainless steel surface, wet a blue towel and massage it gently in a circular motion. It is powerful enough to remove dirt and oil from sticky or grimy areas completely. That's why it's the top choice for a car windshield wiper.
Modifications to the conventional cleaning procedure are in order. To clean glass, first wet a blue rag and scrub it well. Then, once dry, wipe away any leftover grime using a green towel. This will leave you with a perfectly sleek, clean, and lint-free surface. The sole byproduct of these operations is water. Therefore, they are ecologically sound.
✅PROS:
Streak-free shine and lint-free
Two towels clean and dry the exterior, preventing cross-contamination.
Clothes now dry in a fraction of the time they used to.
Washable and cheap compared to tissues.
Easy to transport and store
Compatible with both slick and textured surfaces.
❎CONS:
Spend some more time washing and drying the area.
---
★Microfiber Magic Streak-Free Cloth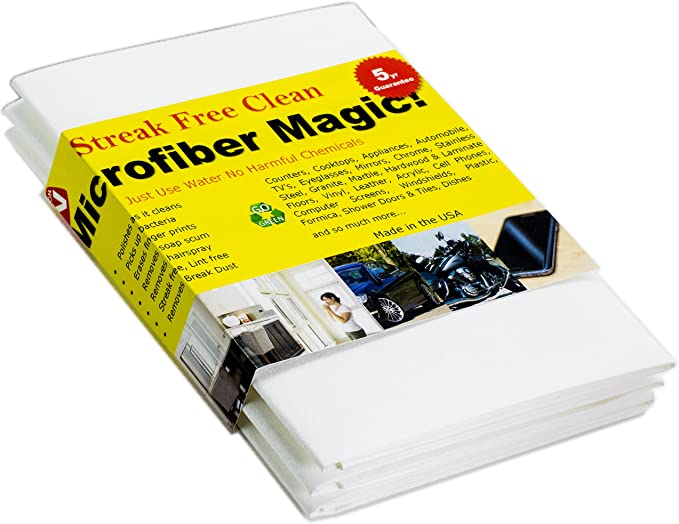 Its surface is not flat but is covered with millions of tiny wedges that collect dust and dirt. This cloth will leave your glass sparkling and streak-free, dispelling any doubts you may have about its cleanliness. These clothes can be used to clean the smooth top as well as other hard surfaces. Our research indicates that this is the best commercially available glass cleaner.
✅PROS:
Its surface is quite effective as a cleaning tool.
All-purpose use
Put in a lot of time in the office
Simple to clean
It's not just the kitchen and bathroom that are impacted.
❎CONS:
Similar to paper towels, but reusable after each use.
---
★E-Cloth Window Cleaning Kit
The green hue and distinctive texture of waffle weave window curtains provide a lovely aesthetic. Its stunning aesthetics of it demand attention. When cleaning large glass windows, an E cloth is your best bet if you own the house. E-cloth window cleaning kits are reliable and the best on the market.
Its large 1620 size makes it convenient for use on even the largest windows, and it is effective against any type of filth or dust. You've just sprayed it down with water and used it to clean the glass, window frames, and sill of your home. A flawless shine is achieved by using a glass and a polishing cloth. And that means every nook and cranny of your glass will be sparkling like the night sky.
✅PROS:
Superior for use in cleaning glass
Useful for marble, steel, bathtubs, and glass surfaces
To clean, all you need is water, not any kind of cleaner or chemical.
Friendly to the environment
Capable of cleaning the grime from the tiles and shower door
A quick drying time
❎CONS:
---
★Pure-Sky Window Glass Cleaning Cloth
In comparison to Norwex, eCloth, and Nano Towel, this cloth is outstanding. All that is required to clean the glass windows and mirrors is water. So, we don't let the environment be exposed to the many dangerous chemicals that are usually in cleaning products.
Reducing paper towels, chemical cleaners, and sponges saves money. It has a unique design with a double layer of cloth that gives it weight and makes it work better.
✅PROS:
Saves money
Easily does the polishing and cleans glass or mirrors
Durable
❎CONS:
Streaks still show on windows
---
What to Consider to have the Ideal Cloth for Cleaning a Mirror?
Most of us will grab any available cloth and start wiping down the mirror whenever the time comes. However, this approach is flawed. Use a specially designed cleaning fabric to collect dust effectively. There are many varieties of cleaning towels and cloths available from various manufacturers. The man is bewildered, and the question arises, "Which one is the best?"
1-Clean Environment
Choose new cleaning clothes with cleanliness in mind. Many harmful germs can be found in a sponge, making its use potentially hazardous to your health. The antimicrobial and antibacterial capabilities of today's contemporary microfiber cloths are second to none.
These garments are incredibly useful for cleaning a bedridden patient. There is no way to eliminate viruses with this method, but it can remove the junk in which infected cells have become embedded. The spotless glass panes let in plenty of light and contribute to the home's overall cleanliness.
2-Good Absorbent
It's important that a cleaning cloth be absorbent. The fabric cleaner's absorption properties ensured a spotless, streak-free finish.
3-Basic Material
Mirrors are fragile and should be treated with care. The job can only be done with a microfiber fabric, which has a soft feel and absorbs water very well. It also has high tensile strength. All stray particles are quickly snatched up by these features, leaving nothing but a crystal-clear, pest-free surface. The fabric is an 80% nylon/20% polyester blend. 90% polyester and 10% polyamide are cheaper.
4-Separated Fiber
The microfibers used in house cleaning might be made entirely of polyester or a combination of components like polyamide and nylon. Either woven or non-woven forms are acceptable. The fiber is divided into multiple strands during production, resulting in the highest quality multi-stranded fabric that may be used for cleaning. Under the microscope, a cross-section of torn fabric resembles an asterisk. Split microfibers are more than just soft cloth. They can absorb all polluted materials, from glass to dirt.
5-Test the Split Microfiber for Mirror
The back of your hand is a good place to test it out. Fragmented microfibers are extremely adhesive to skin flaws. Another easy test is pouring a tiny amount of water onto a firm and flat surface and pushing it with a cloth. When water is forced through a microfiber fabric instead of absorbed, the fabric does not fray.
6-Microfiber Cleaning Cloth Weave is an Essential Design Element
The chemical splitting of microfibers results in extremely thin fiber networks. Each type of fabric results from a unique weave pattern that includes these fibers. Dust on sensitive surfaces like a computer screen or camera lens can be easily sucked up by a cloth with a looped weave. More information is displayed on the delicate display. Waffle weave, on the other hand, has a larger pattern and is great for scrubbing and scraping uneven surfaces.
7-Size Of Cloth
When cleaning, it's crucial that the cloth is of sufficient size. Large pieces of cloth were needed to clean the window, but small pieces of cloth were needed for your eyes, mobile phone screen, and camera lenses. The diversity of sizes of these microfiber towels is a plus.
Frequently Asked Questions:
Q: What can be done to clear a fogged-up mirror?
When a mirror becomes foggy, it is usually because the grease has been accidentally wiped on it. I suggest using a soft cloth and rubbing alcohol to clean a hazy mirror. Use white vinegar and water to remove stubborn smudges. Once clean, dry the mirror with a microfiber fabric while it is still somewhat damp.
Q: Is it possible to simply use water to clean a mirror?
It depends on your attire, but probably, wiping with these microfiber cloths is easy because they don't leave behind lint or wet marks.
Q: How frequently should mirrors be washed?
A mirror in a heavily used room like the bathroom should be cleaned about once per week. Then, deep clean it every month or two and give it a good scrub. Regular cleaning is recommended for all other mirrors to keep fingerprints and dust at bay.
Final Thoughts
Woven fabric comes from a variety of fibers as a result of its form, fiber size, and polyester blend. We all give our mirror images a lot of thought and care. Our best microfiber cleans mirrors quickly and efficiently. Invest in the finest microfiber fabric available for streak-free window washing.