Our schedules are full to capacity for the majority of us. It's easy to let housework slide when life gets hectic with a 9-to-5 job, school, and extracurricular activities for the kids. An average of two hours per day is spent by Americans on cleaning and maintaining their homes. Hiring a cleaning service lets you spend more time with your family. Read more about how often to have house cleaned.
What's the Right Cleaning Schedule?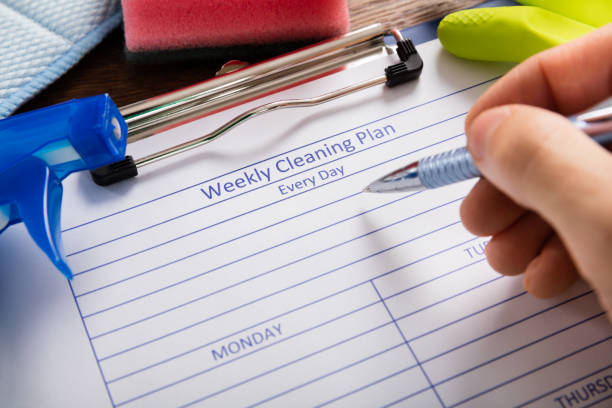 The most frequent response to this inquiry is weekly. Sweeping, mopping, vacuuming, cleaning the bathroom, and dusting. These are all tasks that most people perform on a weekly basis.
Therefore, most households would greatly benefit from weekly professional cleaning services, with the homeowner responsible for just light cleaning tasks. However, keep in mind that weekly cleanings may not be feasible for everyone. Like as weekly, biweekly, monthly, and one-time cleanings.
The frequency with which one should get one's home cleaned is not a question with a simple yes or no answer. Is anyone contemplating employing a cleaning service? However, they must first choose a time that is convenient for them. The frequency of professional house cleaning is determined by these.
Factor #1: How Big your Home
Needless to say, a five-bathroom house cleaning will take far longer than a one-bedroom city apartment. Just like historic homes, older homes have extra maintenance needs, like having to clean the fireplace more often, dusting the ceiling more, and polishing the floors.
Factor #2: Cleaning Requirements
Most people who hire cleaners want standard services, such as mopping the floor and disinfecting the toilets and sinks. Dusting, vacuuming, mopping, wiping down surfaces, and disinfecting sinks are part of regular cleaning. Also, tubs and toilets are all part of the standard cleaning services. Skirting boards, below furniture, and other hidden areas may require more time and effort.
Factor #3: Your Messiness
Do you prefer things to be in order, rarely have guests, and live alone? It's not necessary to clean as often as every other day. But if you have dogs or children (the dirty darlings), you may require cleaners more often to clean up their pet hair, crumbs, and general clutter.
Factor#4: Save Money
Think about how much money you can afford to pay a house cleaner. Many of our customers would rather pay for a cleaner to free up more time in their schedules. They might prefer to socialize and spend less time cleaning. To make money that more than compensates for the time spent cleaning. Having professional cleaners come into your home is a good investment. It gives you time to relax and do other things. Yet, you should only purchase what is within your financial means.
Exceptional Events
If you prefer to hold parties and gatherings at home but don't want to clean all day. Hiring a house cleaner for the day is a big help. You can do this ahead of time or on the same day. Knowing that your home is ready for guests is a great way to relieve stress.
In/Out
There's no need to add more chores to an already hectic moving process. Also, the strain of having to pack up your life, move, and begin again in a new location. You may also be dealing with job changes. It likes housing searches and financial strains.
Hiring maid services to come in and make your old place look like new once the move has begun can be a huge relief. Maybe you need to give your new house a good cleaning. In either case, having a helping hand can make this momentous occasion go more smoothly.
What Should Be Cleaned Daily
If you follow this routine every day, dirt, grime, and messes won't have a chance to build up. The daily cleaning up of small amounts of trash every day is easier than cleaning up big piles of trash less often. If everyone in your household is in the practice doing these things every day. The management of the household will become much less of a hassle.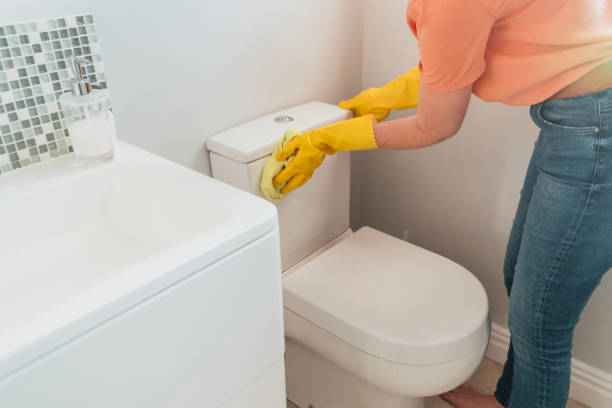 Washroom:
Always squeegee the shower doors after use.
It's important to clean up the kitchen after each use.
Easy-to-maintain restrooms
Towels and washcloths should be replaced (if needed)
Every Few Days
Sinks:
Maintaining clean pipes and drains in the bathroom and kitchen requires regular preventative care. For easier debris removal, take out any drain covers or stoppers that may have been installed. Every few days, pour hot water or vinegar over the sink drain to unclog the pipes.
Clutter:
Clutter collects allergens like dander, mold, and pollen in the air. If there's a lot of stuff laying around, it's more of a pain to clean the counters and floors. Clutter can quickly accumulate in high-traffic areas of the home. However, setting aside a few minutes once or twice a week will keep things manageable.
Carpets and Floors
The frequency of carpet cleanings is debated. If you don't have pets, weekly vacuuming of the carpets and floors should be plenty. Being constantly exposed to dust or bringing in a load of outside dirt into your home. It is still preferable to vacuum up the loose dirt before mopping the floor, even if mopping is necessary.
Showers, Tubs, and Toilets
The high humidity in bathrooms makes it easy for mold to grow in the grout, tiles, and shower curtains. How often should you clean your washrooms? At least every week, disinfect the toilet, sink, tub, or shower.
Bed Linen
By washing bed sheets once a week, you can get rid of allergens, pollen, dead skin cells, cat dander, and dust mites. Skin's delicate ecosystem can be upset by not changing sheets often enough. Linens should be changed every 3–4 days if you have allergies or sleep with pets.
Weekly Cleaning Routine
Dividing up your weekly tasks so that you can do one or two of them every day is the most efficient way to get them done. Establish a routine whereby you regularly clean the same areas or rooms. Cleaning will be more efficient on this timetable because you will only need to use the vacuum or mop once a week.
Bedrooms and Living Rooms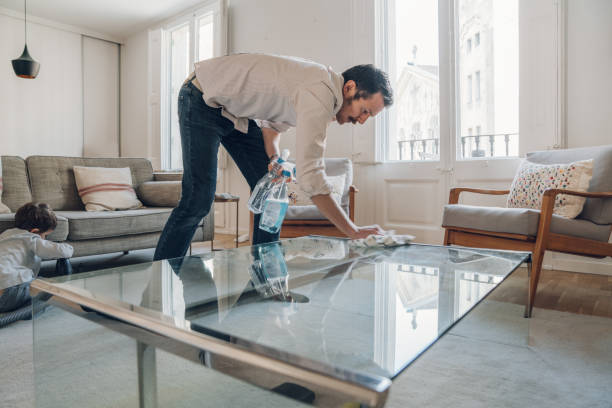 Sheet change
Vacuum or sweep the carpets and floors.
Clean and disinfect the TV remotes.
Upholstered items should be hand-vacuumed.
Wash the windows and other surfaces.
The fans, lights, and lamps in the room should be dusted.
Clean the televisions and other devices by dry-dusting them.
Office or Workspace
Prepare the mail and papers that have arrived.
Get rid of the waste and empty the shredder.
Remove dust from the keyboard by hand.
Clear the airspace of dust and wipe down all surfaces
Arrange your books and magazines and file your paperwork.
Every Few Weeks
Microwaves and Dishwashers
Once a month, clean your dishwasher and microwave to keep them spotless and in good working order. Your dishwasher has the ability to remove grease and unpleasant odors. It's as easy as taking out the garbage and running a heater cycle with a cup of white vinegar and a spoonful of baking soda. Disinfect microwave surfaces, handles, and touchpads to destroy bacteria.
Dusting
Occasionally, we get the question, "How often should you sweep the house?" from customers. You should clean the more accessible parts of your home once a month and the harder-to-reach parts every 3 to 6 months. Make use of a moist cloth, as a duster will only serve to disperse the dust about your home.
Monthly Cleaning Routine
Asya Biddle is the owner of The Dustbusters, a family-owned janitorial firm in Williamsport, Pennsylvania, and a member of the Angi Expert Review Board. She says, "Monthly cleanup of the home is a terrific method to preserve the overall cleanliness of your home." "In addition, battle rough handling on appliances, walls, and flooring." Monthly cleanup includes dusting hard-to-reach areas and appliance repair.
Sprout the dishwasher
It's time to clean the washer and dryer.
The ducts should be vacuumed.
You should clean the floor and the window sills.
Disinfect the door pulls and knobs
Wipe the door frames down with a damp cloth.
Clean the closets by vacuuming or sweeping inside them.
Empty the fridge and the cupboards.
Every Six-Monthly Cleaning
Seasonal shifts necessitate a reordering of the various cleaning tasks. Write down all the major, infrequently performed housekeeping activities that need doing. In addition to the smaller, more frequent ones, to get your home ready for the hot or cold months.
Rooms
It's time to toss and turn your mattress
Purge the mattress and dust the ruffle.
Clean the duvet cover and pillowcases. Laundry can be done at home or at a local laundromat.
Dry your throw pillows in the dryer.
Organize and clean the interior of your cabinets and drawers.
Vacuum under the bed and under the headboard if you can, which may require moving the frame.
It's time to rearrange the furniture and do some cleaning behind and under it.
Put the silverware in shining order and dust the ornaments.
Aside from the obvious gutters, walkways, and garages. You should also clean your windows and patio furniture when the seasons change.
Things to Clean Once a Year
Annual cleaning initiatives are time-consuming but can improve your home's appearance. If any of these sound like more effort than you're willing to put in, it's possible that you could benefit from hiring a professional.
Curtains and drapes should be cleaned or taken to a dry cleaner.
Vacuum and steam clean the furniture and floor coverings.
Disconnect from the wall, clean behind the appliances, and then reconnect them.
Remove the soot and have a professional chimney sweep the fireplace.
Exterior concrete, brick, and stone should be power washed.
Clear up your filing cabinets and shred old documents.
Donate the goods you no longer need from your closet to a charity.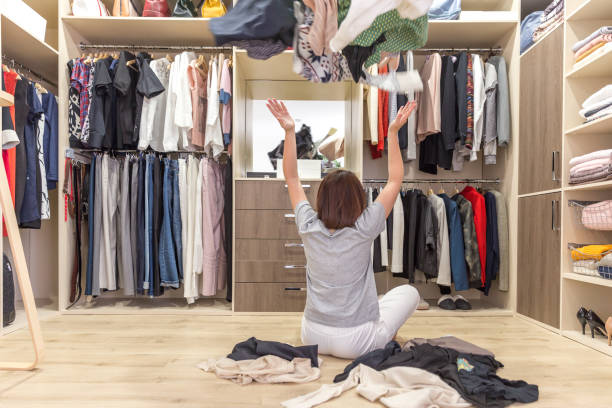 Occasionally
Shelves and Wardrobes
In order to take stock of your resources at the start of a new season. You should get rid of any perishable food that has passed its expiration date and donates any old or unused clothing. When you clean your pantry and closet, you get rid of dust and prevent pests from ruining your clothes and food.
Light Bulbs
Once a year is the recommended frequency for deep cleaning your home. The bulbs and light fittings are included. It sounds boring, but grime accumulates over time and reduces the brightness of the light.
Folds and Furniture
Dust and pet dander can be eliminated from curtains and upholstery by cleaning them once a year. Fabrics can become musty over time if they are not washed or deep cleaned on a regular basis.
Cleaning Tips from the Experts
We consulted experts to find out the best ways and how often to have house cleaned. Use these strategies to clean your home quickly.
1-Take the Time to Set Up a Plan
Debbie Sardone, owner of a maid service and a specialist in speed cleaning, argues that developing a strategy can cut cleaning time in half. That means cleaning one space at a time and beginning and finishing in the same area to save time.
Getting the time down requires consistency, as Sardone puts it. The same actions are performed repeatedly inside a cleaning process. Since the pace comes from routine rather than rushing. It is a more efficient approach to cleaning. True, you can cut your housework time in half. This is not a cheap marketing ploy.
2-Left-to-Right Cleaning
Cleaning the blinds before washing down the coffee table will prevent dust from settling back onto the table after you're done. To avoid duplication, Sardone recommends cleaning a ceiling fan first. A fantastic use of this notion is the "left-to-right" cleaning procedure. In this technique, you can cover all the ground in the room without missing a beat.
According to Sardone, the typical person cleans one object, looks up, and then cleans another. The dirt pours down on what they just cleaned. If you are clean from top to bottom, from left to right, you'll only have to do it once.
3-Have the Right Equipment on Hand
Spend less time cleaning because you have to get up and down from the sink to get the cleaning supplies you need. Sardone suggests using an apron or a tool belt and filling all the pockets. This could be difficult if you had to carry many huge bottles of cleaner. Instead, you could put the cleaners into smaller, reusable spray bottles.
Use a caddy or bucket to organize and save time. Sardone says you wouldn't tolerate a carpenter who climbed a tower every time he needed a nail. You wish he had all of his stuff with him at all times. Cleaning products work the same way.
4-Clean Windows Using Squeegees
What, Windex, and tissue towels aren't giving you enough shine? Expert speed cleaner and author Laura Dellutri likes to use a high-quality window squeegee. Squeegee the window clean after soaking it in a solution of one spray of dish soap per gallon of water. "Work from the top down, wiping the blade after each stroke," she instructs. It guarantees that your window will be spotless.
Dellutri suggests using a microfiber cloth and glass cleaner instead of a squeegee. Strokes should be horizontal, and cleaning should be done from the top down. If you want your windows streak-free, you shouldn't clean them by rubbing them in circles. You definitely shouldn't use newspaper or paper towels.
5-No Spraying Required for Dusting
It is easy to clean houses, blinds, photos, and crevices using a feather duster. When it comes to dusting, Sardone recommends ostrich feather dusters (which can be purchased for as little as $10) due to their effective combination of feathers and huge quills that prevent the tool from becoming dislodged. She recommends a feather duster that fits in your pocket. For excessive buildup, sweep or use a cloth first, then use the cleaner every two weeks.
6-Take Action
Preventing messes from starting is the easiest method to keep your house in order. To avoid the buildup of soap scum and other shower filth, Dellutri suggests utilizing a dedicated shower cleaner. They can just spritz it on and leave, she says. Spray it on before each shower to keep the water clean. Just spray it on, wipe it off, and go about your day. You shouldn't wipe or do anything else.
Frequently Asked Questions
Q: How much do professional house cleaners often charge?
The price of skilled house cleaning will depend heavily on the square footage of your property and the scope of cleaning you require. You'll get the final bill for your services before your scheduled visit.
Q: Is it worth it to hire a regular house cleaning service?
Yes! There are several benefits beyond ease that come with a deep cleaning. It's important to include professional service in your routine maintenance. A deep cleaning from a professional service will get your whole house (or the specific areas being cleaned) back to how it was when you first moved in. For consistent cleanliness, this is a solid foundation.
Q: Which cleaning routine is most effective?
The frequency with which each house must be cleaned is bound to vary. Biweekly cleanup may be plenty for a tiny house with three or fewer people. However, if you have a large family, young children, and/or pets, you may need professional service once a week or more often.
Final Thoughts
Everyday cleaning will go more quickly if you put items away and wipe down surfaces as soon as you're done with them. Creating a checklist and scheduling weekly cleaning reduces scheduling stress.