What is included in a spring clean? Are you ready to the work?
It's not surprising that you have thought about spring cleaning a lot over the past few weeks as the seasons have changed and the temperature has risen. But now that your work is taking off and you have kids to take care of, a sizable portion of you is probably wondering, 
Can I skip the spring cleaning this year? Isn't it possible to put it off?
In any case, cleaning the entire house from top to bottom is a massive undertaking, and the thought of it can be intimidating. But don't worry; spring cleaning doesn't have to be an overwhelming chore.
Whether you opt to hire professional cleaning services or plan to do the cleaning yourself, it's important to know what is included in a spring clean.
Below are some common tasks that you should include in your spring clean.
The Significance Of Spring Cleaning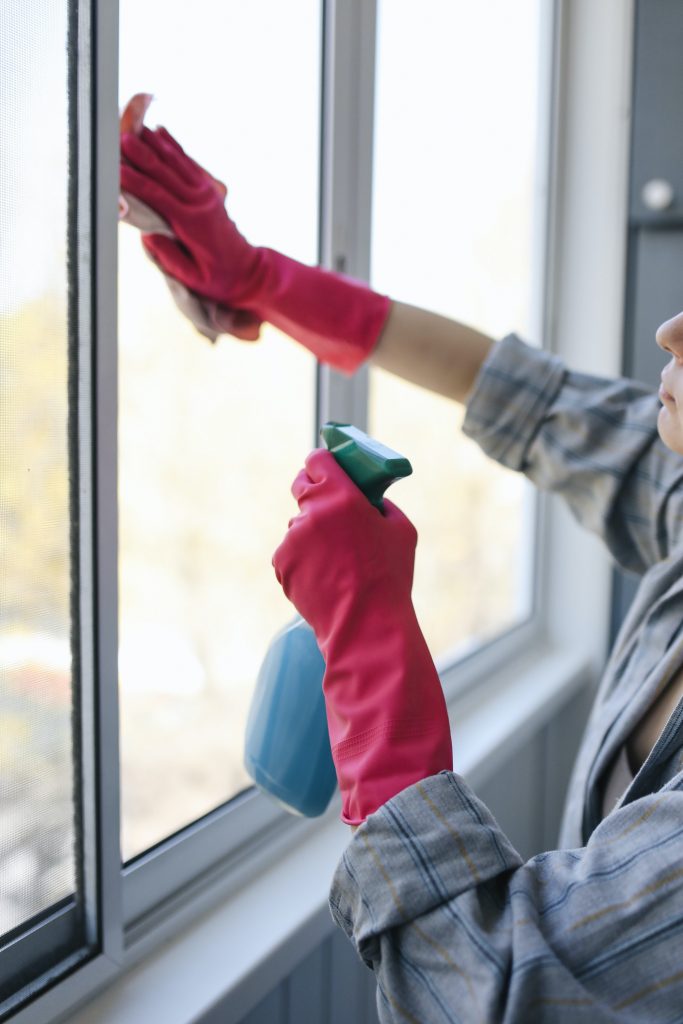 With a good spring cleaning, you may start fresh at home for the new year. It's the perfect time to perform the housekeeping jobs that have been bugging you or that you've been putting off. If, for example, you've been tossing and turning because you can't stop thinking about how long it's been since you cleaned your mattress, this season's cleaning may be just the push you need to get around to it finally. 
Also, if you do a thorough cleaning once a year, you can avoid major issues like mold growth in your grout. It allows you to clean hard-to-reach places that a vacuum cleaner nozzle normally wouldn't reach.
When you're done with spring cleaning, your home will have that new-home feeling that's good for the mind and the body.
Some maintenance tasks only need to be done once or twice a year, so spring cleaning is a great time to get them done. By associating them with the spring cleaning process, you're more likely to get around to doing them.
For example, the polishing and sealing of granite are maintenance procedures that significantly increase the stone's durability, use, and aesthetic appeal. Others, like removing lint from your dryer, are essential for your safety.
What is Included in a Spring Clean?
Spring cleaning is typically broken down into two categories: deep cleaning and maintenance. Below are some of the tasks you should include in your spring clean.
✅Deep Cleaning: This includes tasks like washing windows, scrubbing down cabinets and countertops, cleaning carpets, and dusting baseboards.
✅Maintenance: This includes tasks like changing air filters, checking for signs of water damage, replacing batteries in smoke detectors and carbon monoxide detectors, and cleaning out gutters.
Spring Cleaning Checklist
To make sure you have a successful spring clean, try creating a checklist that includes all the tasks you need to do. This will help keep you organized and ensure that you remember everything.
Some of the items on your checklist should include the following:
Kitchen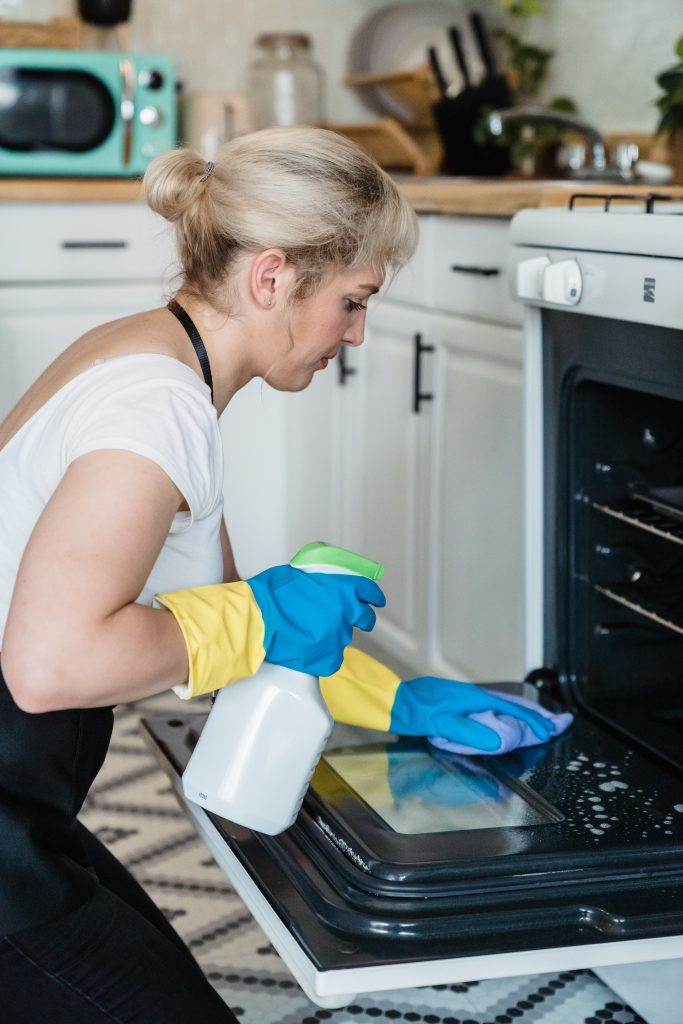 ✅ Clean Out The Refrigerator
The refrigerator is fundamental to keeping food safe and delicious in your home. Regularly cleaning out your fridge can save you time and money and help you stay healthy by avoiding expired foods or spoiled produce.
Start by taking everything out and wiping down shelves with warm, soapy water – pay careful attention to spots near the door that tend to accumulate spills. Separate what you will use from what must be thrown away.
Then put everything back, being sure to check expiration dates! Lastly, remember the freezer – it can be easy to forget about deep-freeze items if they aren't on rotation as part of your regular meal planning.
✅ Clean Out And Organize The Pantry
Taking items out of the pantry to discard outdated or unused food or foods you will no longer consume is important for deep cleaning. A good spring cleaning of the pantry should include tidying up shelves and wiping them down if needed. Grouping items together and devoting specific shelves to individual products further helps with organization.
Decluttering your pantry will also make stocking up easier when shopping for groceries as it can become more evident what's available and what needs to be replenished.
✅ Clean And Organize Drawers
The kitchen is full of drawers that can become cluttered over time. Spring cleaning is an ideal time to go through drawers and eliminate old take-out menus and expired coupons. It's also a great opportunity to sort items into categories like plastic bags, foil, and wax paper.
It's a good idea to add dividers if you don't already have them – this will help keep things organized and make it easier to find what you need when cooking.
✅ Deep Clean Oven
No one enjoys cleaning their oven, but it's essential to do it at least once a year. A deep clean of your oven will help remove stuck-on grease and food particles and restore the luster of your oven door. Start by removing the racks and cleaning them with warm soapy water.
Then use an oven cleaner to loosen any stuck-on food particles before scrubbing the interior with a sponge and soapy water. Once you have finished, replace the racks and enjoy your sparkling clean oven.
✅ Wash Kitchen Cabinets
Kitchen cabinets can quickly accumulate dirt and grime, but they may be overlooked when spring cleaning. Start by emptying the cabinets and wiping down the shelves with warm soapy water.
If needed, use a degreaser or wood cleaner for tougher stains. Don't forget to clean the cabinets' outside, including the hardware. Once you have finished, put everything back and enjoy beautifully clean cabinets!
Living Room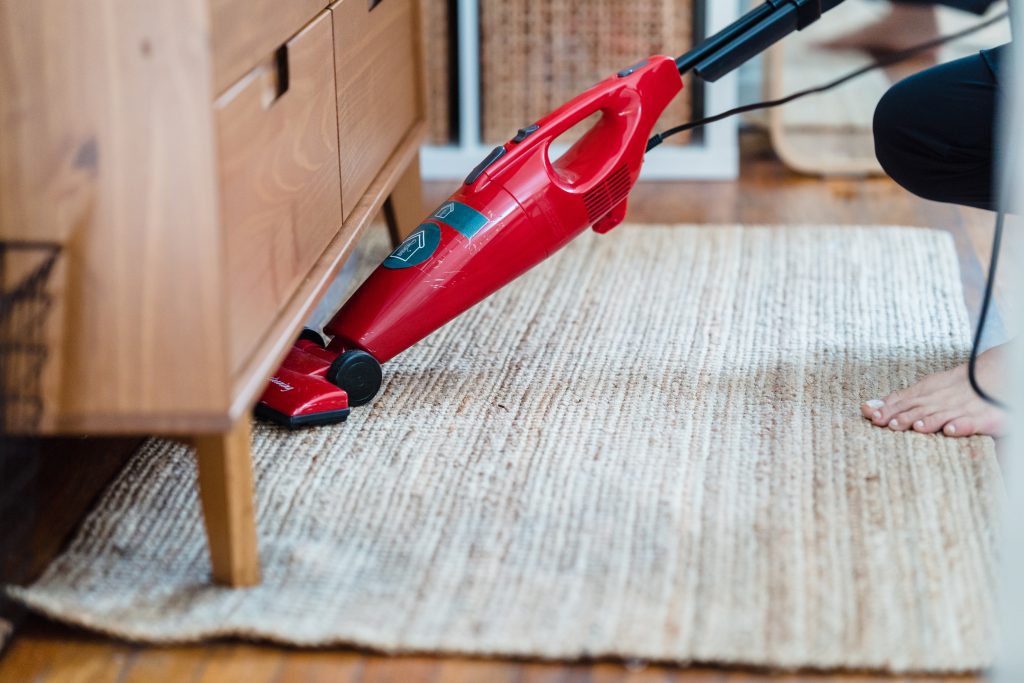 ✅ Vacuum All Upholstery
Spring cleanup is the perfect time to get rid of dust and debris that can build up on your furniture. Vacuuming upholstery helps remove dirt and allergens, keeping your living room looking like new. 
Vacuuming is also one of the best ways to reduce static electricity and prolong the life of fabrics. For best results, be sure to use a brush attachment when cleaning all of your furniture; this helps capture more dirt and will help protect the fabric from damage caused by abrasion.
Finally, move pillow covers and fabric cushions outside for a good airing out – it will go a long way toward freshening up your living space even further!
✅ Wipe Down Surfaces
Take a damp cloth and wipe down all living room surfaces, including tables, bookshelves, and window sills. This helps remove dust that can accumulate over time. Remember to wipe down the television and any electronic components – dust can get trapped in the crevices and cause damage over time. If you have blinds, be sure to dust them off as well.
✅ Vacuum Carpets
Carpets can quickly accumulate dirt and dust, so it's important to vacuum them regularly. Vacuuming not only removes dirt and debris but can also help restore the original sheen of your carpets.
To help keep them in top shape, be sure to move furniture around when vacuuming and use the attachments for tight spaces. Once you have finished, your carpets will be fresh and ready for the next season!
✅ Wash Windows
Windows can easily get smudged and dusty, so take some time to clean them thoroughly. Start by using a damp cloth or paper towel to wipe away any dirt and grime. Then, use a glass cleaner to get rid of any streaky residue.
For extra sparkle, use a newspaper instead of paper towels – the ink in the paper helps eliminate streaks and give your windows a crystal-clear finish.
✅ Dust Decorative Items
Take the time to dust off your decorative items, such as picture frames and figurines. This helps remove dust and allergens that can accumulate over time, giving your living room an extra touch of sparkle. Be sure to use a soft cloth or feather duster for the best results.
Bedroom
✅ Wash All Beddings
Allowing your bedding to accumulate over the winter can set you up for some serious sanitation issues. Spring cleaning should always include washing all your mattresses, sheets, pillows, and duvets.
Not only will it get rid of any dust mites that may have made a home in your drapes and linens for the past few months, but it can also help with unpleasant odors that tend to build up during colder weather.
Furthermore, regularly washing all bedding ensures your sleeping space is clean and hygienic.
✅ Clean Out The Closet
Take some time to go through your closet and remove any clothes you no longer wear. This is a great opportunity to donate items you no longer need or sell them if they are still in good condition. Getting rid of excess clothing not only frees up space in your closet but also helps declutter your bedroom.
✅ Clean The Cabinets
Spring cleaning is a great opportunity to deep clean places around the house that may often be neglected. One of these areas is your bedroom cabinets. Getting into these spaces and eliminating clutter can help you find items that have been lost or misplaced for some time.
From mild dusting to scrubbing away stains, cabinets enjoy thorough cleaning during spring cleaning season and periodically throughout the year. This practice can prevent further dirt build-up, ensuring all cabinet surfaces stay neat and new looking for longer.
✅ Flip Mattress
Flipping and rotating your mattress regularly can help increase its longevity and keep it in better condition. During spring cleaning season, make sure you flip and rotate your mattress to help evenly distribute wear and tear. Doing these simple steps will ensure your mattress remains comfortable for longer.
Bathroom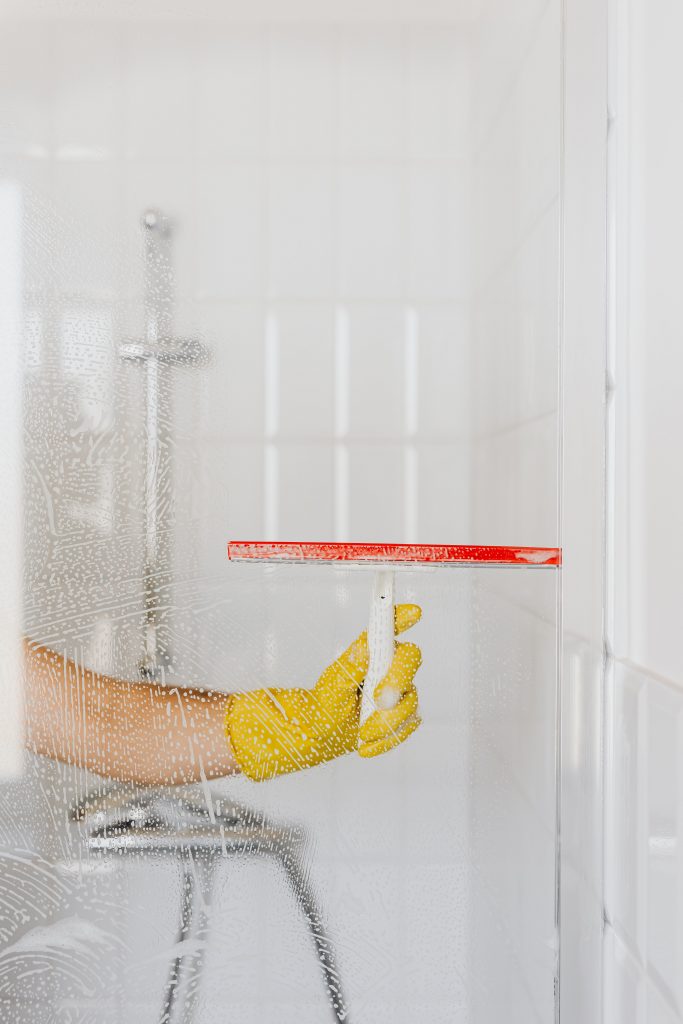 ✅ Clean And Disinfect The Tub And Shower
The tub and shower get a lot of use throughout the year, making it important to give them a deep clean at least once a year. To get started:
Scrub down all walls, carpets, and glass with a good non-abrasive detergent designed specifically for showers.
Pay special attention to soap scum and other known sources of germs.
Disinfect using standard bleach or a specialized cleaning agent guaranteed to eradicate pathogens.
Once you are done cleaning, spray any remaining areas with a disinfectant to help kill bacteria and keep your bathroom smelling fresh.
✅ Clean Out The Medicine Cabinet
Take some time to go through your medicine cabinet and dispose of any expired items. This will help ensure you don't accidentally take an outdated medication or use a product that is no longer effective. Additionally, this can help free up space and make room for new items.
✅ Wash Bath Mats
Properly caring for bathmats requires regular washing. To extend the life of fabric bath mats, use mild detergent and warm or cold water to wash them. If you have a rubber-backed mat, it should be washed separately from other items.
After rinsing, use the gentle cycle on your washing machine, and air dries the mat after washing.
✅ Dust And Replace Decorative Items
Spring cleaning is the perfect opportunity to give your bathroom a total makeover. Start by dusting off any decorative items that have been collecting dust for far too long. Replace any outdated pieces with fresh and modern options. This will give your bathroom an instant upgrade.
Your bathroom can often be overlooked in interior design, but making small changes such as switching décor adds a touch of sophistication to the room – without breaking the bank! Neutrals are always your best bet when decorating; they instantly refresh the room so you can enjoy one of the most important rooms in your home.
Home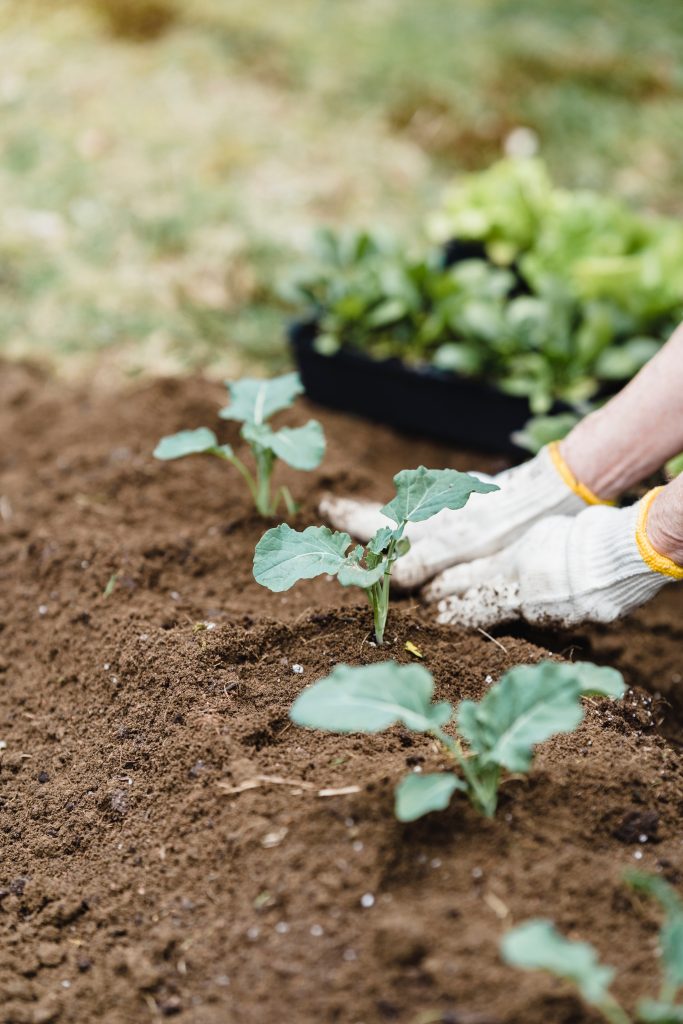 ✅ Store All Winter Items
During periods of spring cleaning, you should store all of your winter items properly. Doing so can save you a lot of time come autumn when you're looking for gloves and hats that are usually flown around the house. Consider packing up sweaters, holiday decorations, and thick blankets in reusable storage containers and storing them in an area like your attic or basement.
If you want to be extra prepared, label the containers with a list of contents once filled, so it's easy to find what you're looking for! Storing these winter items during your next spring cleaning will help future organization needs.
✅ Change Batteries
Changing your smoke detector batteries regularly is crucial for a safe home. During spring cleaning, take the time to replace the batteries in all of your smoke detectors and carbon monoxide detectors. Doing this can help prevent catastrophic accidents in the future. It's a small task that takes little time and can help ensure the safety of your home.
✅ Sweep The Porch
Spring cleaning is the perfect time to sweep your front porch and back deck well. Stuck-on dirt, fallen leaves, and debris can all build up over winter, making them an eyesore. Plus, these can attract pests if left unchecked.
Start by removing large debris with a broom or leaf blower and shake out mats, rugs, and outdoor cushions to eliminate any dust mites or stray insects that may have stuck to them over time.
Finish up by using a soft brush with water and gentle detergents to remove surface dirt – this will help to prevent mold growth.
✅ Check The Expiration Date on The Fire Extinguisher
Having a functioning fire extinguisher on hand is key in an emergency. It's important to check the expiration date of your fire extinguishers annually and replace them if they are expired. Spring cleaning is the perfect time to check this off your list.
You should also make sure that you have enough fire extinguishers for the size of your home and that they are easily accessible in case of an emergency. Doing this ensures that you can put out any small fires quickly and efficiently.
✅ Landscape Maintenance
Do you have a yard to take care of during spring cleaning? Spring is a great time for landscape maintenance, as the start of the growing season makes it easy to prepare your yard for a lush, vibrant summer.
To get ready for spring planting and lawn care, you should begin by clearing out any debris that may have accumulated over winter — from fallen leaves in the flowerbeds to broken branches.
Next, you'll want to assess any weed infestations and chemical abatement needed. For larger tasks, such as pruning trees or trimming shrubs, it's best to leave those tasks to an experienced professional with the right tools and safety equipment.
Cleaning Tips For A Smooth Spring Clean
Spring cleaning can seem a bit overwhelming, especially if you don't know where to start. Here are some quick tips to help make the process smoother:
☑Start from the top and work your way down; this way, you won't have to worry about cleaning what you just dusted off.
☑Always use a vacuum cleaner or microfiber cloth on hardwood floors to prevent scratches.
☑Be sure to dust baseboards, corners of walls, and ceiling fans.
☑Don't forget to clean behind the refrigerator, stove, and other large appliances.
☑Take the time to wash windows and mirrors for a streak-free shine.
☑Take out the garbage regularly so that your home won't start to smell.
☑Be sure to wash bedding and curtains, as these items tend to gather dust and allergens.
☑Finally, don't forget to clean your air ducts to help improve the air quality in your home.
Frequently Asked Questions
Q: What is included in a spring yard cleanup?
A: A spring yard cleanup typically involves removing debris, such as leaves and twigs; assessing any weed infestations or chemical abatement needed; pruning trees or trimming shrubs; and fertilizing your lawn. Furthermore, you can also include weed control on your landscape bed and driveway.
Q: Is regular cleaning necessary in addition to spring cleaning?
A: Yes! Regular cleaning is essential for the maintenance and health of your home. Spring cleaning is a more in-depth cleaning to ensure that all dust and dirt are removed from a particular area. Regularly dusting, sweeping, vacuuming, and mopping will help keep your home looking its best in between spring cleanings.
Q: Is leaf removal necessary when doing spring yard cleanup?
A: Yes! Leaf removal is an important part of the spring cleaning process. Leaves can clog up your gutters, attract pests, and create a muddy mess in your yard. Therefore, it's important to remove them before they have the chance to accumulate.
Q: Can I hire a cleaning service to do my spring cleaning?
A: Yes. You can hire a professional house cleaning service for your spring cleaning. They are experienced in the process and will ensure that your home is spotless after they are finished. Furthermore, they may also provide additional services such as window washing, carpet cleaning, and wall washing.
Q: What safety precautions should I take when doing my own spring cleaning?
A: Make sure to wear safety goggles, gloves, and a dust mask when cleaning. Plus, be sure to use the proper cleaning solutions for each surface in your home to avoid damage.
Final Words
During the changing of seasons, it's a great time to give your residence a deep clean and inspect both the interior and exterior of the home. A thorough spring clean can help to consolidate and organize items, allowing you to get a better sense of repair necessities that need tending.
Moreover, it creates a tidy environment that boosts productivity and moods! So, follow the tips and tricks above to help you make your home look great in preparation for the summer months ahead.