Are you afraid about the spill on your couch? Fabric couches, sofas, and chairs are incredibly popular due to their durability and comfort. But even the best-treated fabric will require occasional cleaning to stay in good shape. Most sofas should be professionally cleaned once or twice a year; Vacuuming once a month is recommended, as is treating spills & stains as soon as they occur.
Whether you're ready for periodic cleaning or need assistance avoiding an unexpected spill from creating a permanent stain, our Professionals know how to thoroughly clean fabric sofas and restore their luster. Here are some ways how to clean a spill on your couch.
What is a Couch
A couch, also called a sofa, settee, and chesterfield is a cushion piece of furniture designed to accommodate several people. It is usually seen as a bench with upholstery armrests and is frequently equipped with springs, customized cushions, and cushions.
Although a sofa is generally used for sitting, it may also be used for sleeping. The Couches are often seen in a house's family room, lounge room, den, and lounge. They may also be seen in non-residential contexts such as hotels, commercial office lobbies, waiting areas, and bars. Couches may also differ in terms of size, color, & design. Now before we continue knowing how to clean spills on couches, let us know first the types of couches.
How to Clean Spill on Couch
Don't allow difficult stains and ugly spills to ruin your look; follow this simple, step-by-step guide on cleaning a fabric couch using baking soda, cleaning detergents, and other products. Use the vinegar technique to swiftly remove dirt: mix a few drops of vinegar into a half-cup of water. Apply the solutions to the dirt area using a spray bottle. Blot the area with a dry paper towel without rubbing to remove the stain.
To get the greatest results, use one or a combination of these (see below for cleaning tips):
➼Using a dry brush
➼Vacuum
➼Baking powder
➼Steamer
➼Vinegar
➼Water
➼a dry towel
Knowing what you're dealing with while cleaning furniture, automobile interiors, or countertops is important. Checking the furniture care codes can assist you in determining which solvents or cleaners may be used; when you've found the right solution and applied the liquid to the upholstery, blot rather than rub.
☑️Cleaning Codes
🔹W- "Water-based cleaning." To clean the upholstery, just use a water-based cleaner. A water-based cleanser is a solution that mostly consists of water.
🔹S/W– "Solvents and water-based cleansers." Both solvents & water-based cleaners are safe to use.
🔹S– "Solvents." To clean the upholstery, just use a solvent. A solvent is a sort of solution that primarily contains a cleaning ingredient.
☑️Get to The Spill Quickly
As early as a spill or stain happens, begin cleaning it. Waiting too long before treating a stain, even for a few minutes, might cause the stain to solidify, making it more difficult to remove.
☑️Check the Manufacturer's Suggestions
Check the manufacturer's care instructions, which are normally available on the sofa's label, before applying any cleaning detergents or solutions. Using unsafe cleaning agents might result in permanently ruined upholstery.
☑️Use Dry Brush
To assist release stains & bring dust and grime to the surface, go over the whole couch with a stiff brush made of natural bristles.
☑️Vacuum
Use a hand-held vacuum to remove the crumb and other loose particles before scouring and cleaning your fabric couch. When it comes time to clean, this will make it simpler to spot and concentrate on difficult stains.
☑️Clean with Baking Soda
Baking soda is useful not just for baking but also for cleaning. Spraying baking soda over the whole sofa can assist in removing smells and loosening stains. Make a DIY baking soda solution for stubborn stains by combining equal parts baking soda & water in a basin.
Allow the baking soda to settle for 15 to 20 minutes for either the dry or wet solution. Once the baking soda has completely absorbed the stain, vacuum it out with a brush attachment. And, as with any cleaning product, carefully test a small area of the couch before thoroughly cleaning it.
☑️Spot the Treat
Begin washing your sofa using the product indicated. If you are unclear if the product meets the specifications, test a tiny area for discoloration before continuing. Follow the directions on the label whether you use a water-based cleaning or a solvent (or both). If the directions indicate it's OK, wipe away the solution using a soft cloth.
☑️Dry with a Soft Towel
Pat any wet spots with a dry towel to absorb any lingering moisture. With a gentle brush, remove any remaining cleaning solution.
☑️Air Dry
Allow the upholstery to air dry overnight, and wake up to a clean couch.
How to Clean a Fabric Couch with Couch Cleaner and Steamer 
A steam cleaner for upholstery. Before using, ensure that the manufacturer's instructions specify that it is safe for a fabric sofa. Also, just because your couch is water-resistant does not mean it is heat-resistant. Read this guide for cleaning.
🔹Read the instruction handbook– A steam cleaner comes with directions for a reason. Before you begin, carefully read them.
🔹Vacuuming your couch– or anything else – before cleaning makes the job much simpler. Dirt, dust, and other loose particles will not get in the way, providing a clean canvas for your steam cleaner to operate on.
🔹Keep the air moving– For a powerful cross breeze, turn on a fan & open all of the windows in the room. This will assist in maintaining good air circulation, reducing moisture accumulation and residue.
🔹First, try a small area– This is a critical stage that bears repeating. To test the cleaner, choose a tiny concealed area, such as the back or the inside of the sofa's skirt.
🔹Allow the couch to air dry– If it is still damp, do not sit on it. Keep the windows open to help the room dry out. It is possible that leaving the unattended couch overnight will allow it to dry completely.
🔹Last but not least, vacuum- After you've steamed the upholstery, vacuuming again will eliminate any dirt the cleaner releases. Just remember to vacuum when the couch has dried fully.
▶️How to Disinfect a Couch
Need a quick DIY fabric disinfectant spray? Mix a diluted essential oil recognized for its antibacterial characteristics (tea tree is an excellent one) with rubbing alcohol in a spray container. Spray your couch lightly, let it rest for a few minutes, and then vacuum over the surface.
▶️Cleaning a Polyester Couch
Cleaning a polyester (and most other synthetic materials) couch should be kept simple (using too many chemicals or thoroughly permeating the fabric with water will ruin the sofa's appearance and feel). The easiest technique to clean a polyester sofa is to use a lightly wet sponge and gently brush it around the stain region.
If it's a grease stain or one that won't come out with only water, diluting a little dish soap can help cut through the discoloration. You won't have to worry about harming the polyester if you keep your brush strokes gentle and avoid pushing or squeezing the sponge.
▶️Removing Water Stains from a Couch
Spilling a glass of water all over a seat cushion may make anybody mutter under their breath, but we're here to inform you that it's not as awful as you think. Your couch will be OK as long as you respond soon to the spill:
🔹To begin, vacuum the spill- Set your cleaner to a liquid option and use it to absorb as much moisture as possible.
🔹Consider a dilute vinegar solution- If the vacuum does not remove the stain, it implies that water is trapped in the couch's fibers. If there is a visible water stain, it signifies that water molecules were attaching themselves to the fibers & particles of the sofa, including concealed dust and filth. If you dilute this and spray sparingly, vinegar may be a potent force in breaking it up.
🔹Using a dry cloth, blot the spill- Use a microfibre towel instead, which is incredibly absorbent and can hold at least seven times its weight in water.
▶️How to Remove Spill Grease from Couch
While we would prefer that all spills include just water, this is not always the case, and grease stains may develop. While more difficult, they can be removed. Sprinkle baking soda on top – baking soda is your buddy when it comes to grease stains! Baking soda is very absorbent, and placing a few over the stain will help attract and raise the grease to the surface. Allow the baking soda to soak up the stain for twenty minutes before vacuuming and wiping any leftover residue with an absorbent cloth.
▶️How to Clean Couch Cushions
Machine washing detachable covers of couch cushions are the best method to clean them, but only when the tag instructions state that this is safe. If the cushions do not have detachable covers, you might try gently spraying severe stains with vinegar (or the above-mentioned combined solution), then vacuuming the cushions. If the cushions are wet, remove them from the couch and leave them in an open area to dry.
▶️Washing Couch Cushion Foam
The spill may sometimes sink deep through the couch, beyond the upholstery lining. In this case, removing the upholstery and getting to the discoloration in the foam itself is the best way. To hand-wash the foam inside the cushions, make a vinegar solution (approximately a half-cup of water along with a few drops of vinegar) and apply it with a towel; wipe the area of filth very, very gently, then leave it out in an airy location to thoroughly dry. If the upholstery cover cannot be removed, just follow these procedures on the upholstery.
▶️Cleaning Fabric Couch Without Water 
Baking soda is one of the greatest methods to remove grime and stains, particularly on moist spots. Sprinkle over the affected region and set aside for 20-30 min. To remove the baking soda, vacuum it up.
Dry cleaning cloths may also be used to remove dried-on stains. These cloths are pre treated with a dry cleaning agent and are useful to have on hand. Follow the label's directions. Some dry cleaning cloths dissolve down stains by gently rubbing them. If the cleaning solution requires heat activation, use a dryer to heat the area.
▶️Deep Cleaning Upholstery
Sometimes even the finest at-home efforts are insufficient. If you spilled a whole glass of wine on a fabric sofa, a cat had an accident on a fabric couch, or anything equally heinous has gotten the better of a fabric couch, you should take it to professional cleaning. Allowing the professionals to tackle the stain may cost extra, but it will relieve tension and guarantee that your couch receives the finest possible treatment.
▶️Shampoo a Couch
Using a carpet or specialized sofa cleaner is the most convenient method to shampoo a couch. Begin by thoroughly cleaning the couch to eliminate any loose dirt. Fill the cleaner using water and detergent according to the instructions. Keep from getting your couch too wet since this may lead to dampness and mildew issues if it doesn't dry quickly enough. Use the cleaner's suction mechanism to remove as much water as possible.
Once you've completed cleaning, dab away any extra water using old towels to expedite drying. Allow the couch to dry completely before reinstalling the cushions. A fan may assist in accelerating this process by quickly circulating air.
▶️Cleaning a Couch that Smells
Baking soda, like numerous other materials & features around the home, may help eradicate scents in your couch. After being sprayed onto the fabric of your couch, this miraculous chemical quickly begins absorbing smells and loosening spots. Baking soda may be used on your cushions, arm, backrest, or even crevices. You may wish to pay closer attention to spills.
If you remove small scents, let the baking soda remain for 20 minutes. You may leave it for an hour if you have a strong stink. Now get out the vacuum cleaner and hose everything down. Finally, remember that baking soda is not a replacement for truly steam or blot cleaning your couch. These procedures successfully remove spills and grime embedded in the fabric fibers.
Additional Couch Cleaning
🧤Leather Conditioner and Soap
If you have a leather sofa, you may use leather soap & conditioner to keep it looking fresh and clean. You may also wipe down my leather furniture with a moist, clean cloth once a week.
🧤Lint Roller
If the fabric on your couch attracts lint, hair, and dust, have a lint roller on hand that you may only use on your couch. This procedure is great for a little de-linting of a couch, but it may also be utilized for larger operations. Huge pieces of packing tape could be used to de-puppy the sofa in a hurry.
🧤Steam
If the fabric of your couch can be cleaned with a water-based solution, use steam to release dirt and stains. Grab your iron, turn it on "steam," & wave it back and forth over any difficult places on your sofa.
Types of Couches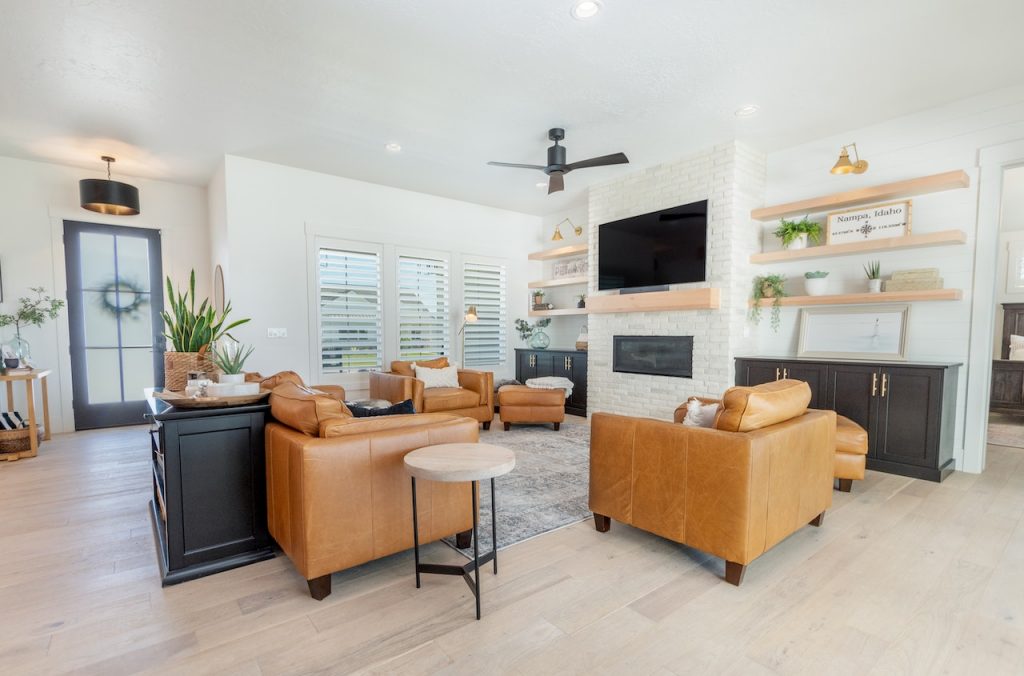 Couches are where we unwind, read, socialize, and sometimes fall asleep. Despite their familiarity, couches in all their different guises may be perplexing. Couch styles include high-back sofas, corner sofas, modular sofas, and loveseats. Traditional couches, modern sofas, and occasionally a hybrid-part-traditional couch part-contemporary couch are available. Now that we know how to clean spills on couches, let us know the types of couches. Here are the types of couches.
🛋Traditional Couches
Traditional couches value high hand-rendered workmanship, elaborate ornamental decoration, and curved, sumptuous forms. Traditional couches include rolled arms, deep buttoning, fringing, tassels, and other ornate trimmings, wood frames, curved wooden skirts, legs, and feet, and extravagant textiles such as brocades, chintz, and tapestry.
Couches are sometimes labeled as traditional if made using traditional upholstery methods. Historically, this couch was seldom bigger than three or 4-seaters; nevertheless, classic components may now be adapted to larger, contemporary couches.
🛋Chesterfield Couches
The Chesterfield couch is a famous formal sofa style and one of the most recognizable couch forms. The elegant couch design dates from the 18th century. It has a relatively low, rolling back that extends to the armrests, producing an even-height appearance, generous seat cushions, and deep buttoning.
Vintage Chesterfields were often portrayed in rich leather, with deep tones highlighted by deep button-tufting; however, current Chesterfields come in various materials, each with its style.
🛋Camelback Couches
The camelback couch is distinguished by a prominent hump on the seat back. Slender rolling arms are the conventional option, but current designs often utilize the more modern shelter arm, as shown above. Straight Marlborough or cabriole legs are the most conventional leg forms, whereas bracketed legs are more contemporary.
This couch, designed by furniture master Thomas Chippendale in the 18th century, has preserved its refinement.
🛋Day Bed
The daybed couch is a relic of the Middle Ages. Modern examples include occasional chaise-like forms and commonly used beds with headboards, backrest-like panels, or mattress foundations. They are often made of upholstered, wooden, or iron frames. Trundle daybeds are space-saving workhorses often seen in children's and adolescent bedrooms to be utilized when friends visit. Daybeds with storage are ideal for adult-friendly usage in tiny loft areas.
🛋Knole Couches
The Knole couch is the most distinctive sofa form. Its clever design is shown by its capacity to drop its separate sides in a leaf-like way. These folding panels are kept upright by a set of hinges and beautiful corded ties, which contribute to the piece's practical beauty. Knole couches are seldom updated with current materials and accents due to their collectability and designer credit. However, the latest versions do exist with modern materials & accents.
🛋Contemporary Couches
In contrast to their ornate traditional counterparts, contemporary couches are concerned with a simplified design. A modern sofa's structure receives less attention; the frame is nearly entirely hidden behind the covering.
Straight, straightforward, uninterrupted silhouette lines, platform bases or basic legs, and non-patterned textiles are popular. Their design often utilizes cutting-edge technology and materials to create the slimmest version conceivable, and they may be made in practically any size and form.
🛋Lawson Couches
The Lawson is a well-known couch design, although it is surprisingly difficult to characterize due to its multiple makeovers and reincarnation in the past. A real Lawson is a well-stuffed couch with rolling Lawson and sock arms (which may be recessed and flush to the front of the couch) and separates loose seat and back cushions that give the sofa its distinctive comfort. It's a popular option for family rooms and may be conventional or contemporary.
🛋Mid-Century Modern Couches
Mid-century couches have recently become quite trendy. While there is no one-size-fits-all definition for a Mid-century couch, there are a few obvious design Mid-century characteristics to look for. Boxy forms or long straight planes with rounded edges, round bolster cushions, splayed legs, or even a platform base are all iconic Mid-century design elements. Also fashionable are shallow linear button tufting, pastel hues, exposed wood frames, and exotic wood coverings.
🛋Tuxedo Couches
This couch is distinguished by its high square arms that wrap around the full back of the sofa, as well as its crisp and fitted fabric. It is, by definition, a more formal couch design, but it also works well in various contexts. The couch is ultra-glamorous when covered in rich velvet; channel-tufted, the design is Mid-century modern, and left plain, a tuxedo sofa appears ultra-modern.
🛋Family Couches
Family couches are made for two reasons: comfort & seating capacity. They are often huge couches with a simple design, deep soft seats and cushions, and solid construction. In family rooms or casual living areas, family couches are popular.
🛋Sectional Couches
This modern couch design is normally built as a single piece (or with just one connection) and resembles a standard sofa with a long chaise added at one or both ends. This positioning dictates whether the couch is left- or right-facing, or U-shaped. Many couch models have been sectionalized, so you may be able to discover your chosen sofa style in this arrangement.
🛋Modular Couches
"modular couch" refers to its linked, replaceable parts or modules. Due to their numerous configurations and unlimited possibilities, sofas may be constructed differently using distinct combinations of constituent components. They might be U-shaped, curved, or freeform. Sectional couches in the center of a living room with seats on all sides have recently become trendy.
Frequently Asked Questions
Can You Clean a Couch with a Carpet Cleaner?
Yes, a carpet cleaner may be used on a sofa. Upholstery, especially couches, may be cleaned using carpet shampooers. Simply double-check the cleaning code on the label attached to the couch to ensure that the cleaner you're using is safe for your specific couch.
What should you do if you spill your couch?
In a small bucket, mix equal parts water & white vinegar to make a cleaning solution. Dip a microfiber cloth into the solution until it is moist but not soaked. Wipe down the sofa, washing the cloth often. Dry the sofa with a cleaned, dry microfiber towel.
How can you quickly dry a damp area on a couch?
You can accelerate drying rates by adding heat to a drying environment utilizing the consumer's HVAC system or bringing in warmer (low-humidity) outdoor air. Make the air move. The more warm, drier air you can circulate over wet surfaces, the faster those materials evaporate.
Is it possible to preserve a wet couch?
The outsides of the cushions or padding will dry first as the furniture dries, leaving the center section moist. This causes mold and mildew to grow before they can entirely dry off. As a result, even if the water that harmed the furniture was clean, cushioned furniture is often unsalvageable.
How how long it takes to dry a couch?
Many elements influence dry time, so each instance is unique, but we suggest waiting 4-6 hours before resting on your sofa. You may also use a fan to assist in speeding up the drying process or bring a humidifier into the room until the couch is completely dry.
Final Thoughts
Did you know how to clean a spill on your couch properly? A spill on your couch does not have to be a catastrophe. Although upholstered furniture may seem difficult to clean, with the Pros on your side, it is simple! Furthermore, washing your sofa as part of a regular spring cleaning practice will help prolong its life and maintain it looking fresh for years to come.