As convenient vacuum cleaners are, they aren't the quietest. After all, all that suction power has to exude its power somewhere ­— and most vacuum cleaners today do that via sounds —loudly. Although this shouldn't be a constant issue, not everyone has the freedom to use a vacuum cleaner. Luckily, many quieter models are available on the market today and all you need to do is find the quietest upright vacuums and see which works best for YOU.
I've tested over 40 vacuum cleaners to see which displayed the lowest decibels and the best cleaning performance. See which upright vacuum cleaner can meet your low-volume needs.
---
What are the Top Quietest Upright Vacuums?
OUR #1 CHOICE
OUR TOP PICK: BISSELL's MultiClean Lift-OFF Allergen Pet Slim Unit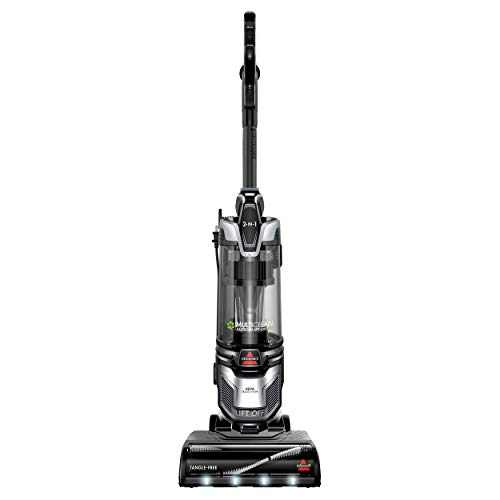 BISSELL's MultiClean Lift-OFF Allergen Pet Slim Unit is the best quietest upright vacuum unit, producing low-level volume output while ensuring a durable performance. What's impressive about this vacuum cleaner is its brushless motor, allowing for quiet operations, no matter how long you vacuum!
Thanks to its low-noise operation, you can vacuum your space around your sleeping toddler or pet without bothering them. Moreover, its built-in HEPA filter allows you to enjoy top-quality and breathable indoor air, keeping your home — and your health in pristine condition. It filters 99% of allergens, gathering them from the escaping air through the vacuum cleaner's exhaust post. With this, the upright unit can function at its fullest without producing too much noise.
Another impressive feature of this upright vacuum cleaner is that it's incredibly flexible, making different cleaning tasks manageable. Whether you're searching for a foolproof way to deal with pet dander and vacuum other parts of your home with minimal to no noise — BISSELL has you covered!
Moreover, this upright unit uses a 2-in-1 cleaning design, allowing you to convert it into a portable vacuum cleaner, allowing you to reach tight spots and corners. And with this, you can use it to suck excess debris from your stairs, ceilings, and other out-of-reach areas. But it doesn't end there, as this BISSELL upright model comes with a quick-release wand, providing you with an extended 12-foot cleaning reach.
Finally, this BISSELL product is incredibly quiet, functioning at a low sound threshold of 60 decibels. So, choose BISSELL for balance, functionality, and relaxation — guaranteeing more enjoyable and quiet vacuum sessions!
Summary
Choose BISSELL Multiclean lift-off upright vacuum cleaner for a more powerful, convenient, and quiet vacuuming experience. The upright unit handles all kinds of debris well, leaving no traces — and keeping your floors spotless. But the downside of this quiet upright vacuum cleaner is that it doesn't have a retractable cord, making it difficult to manuever the unit, producing unecessary noises. Still, this isn't much compared to regular and louder upright vacuums emitting unbearable, piercing sounds.
---
RUNNERS-UP
KENMORE BAGLESS QUIET UPRIGHT VACUUM CLEANER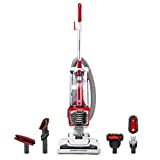 Are you looking for a quiet upright vacuum cleaner that guarantees convenient manueverability? Look no further than KENMORE's Bagless Upright vacuum. It's among the few corded upright units with an extended 30-foot power cord, ensuring easy use and movement. And best of all, the upright model can run without interruption thanks to its use of direct electricity.
You needn't worry about the recharging the upright vacuum unit and its limited battery power. Hence, if you often clean high-traffic or expansive areas and wish to clean continually, KENMORE has you covered — guaranteeing a non-stop cleaning experience!
Aside from the guaranteed non-stup run time, this upright unit also runs with minimal to zero noise. And it's all thanks to the model's brushless motor, keeping the sound treshold below 75 decibels, making it one of the quitest upright vacuums available. With a quiet upright vacuum cleaner, users with small children or pets can vacuum their space without the worry of bothering them.
Moreover, the upright unit's suction power is incrediblly impressive as it boasts a suction power of 20kPa powered by a 200 W vacuum motor. And with this, the upright vacuum can clean pet dander and thicker debris from different surfaces without issues! No one can resist a multi-care upright vacuum that's powerful and quiet — giving users the complete vacuuming package.
Aside from those, KENMORE's upright vacuum cleaner is incredibly versatile, coming with an upholstery tool, a HandiMate, a rotating tool, a 10-feet detachable wand, and combination tool. Hence, this upright unit lets you clean any surface, whether hardwood or vinyl — KENMORE has your floors covered!
But what made the KENMORE upright vacuum cleaner stand out is its LED lights, bringing all the obstructed spots to light, allowing for a more thorough vacuuming session. And you needn't worry about manueverability as this unit has a swivel steering system that glides the cleaning head, reaching all corners and hard-to-reach spots without issues.
---
HOOVER Hushtone Commercial Upright Vacuum Cleaner with Quiet Operations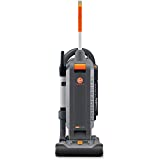 The last contender for the quietest upright vacuums is HOOVER's Hushtone Commercial upright vacuum cleaner. It's a bagged upright unit with a massive 40-foot power cord, making it the ultimate cleaning machine — reaching hard-to-reach spots like it's nothing. And boosting this upright unit's performance is its powerful and flexible motor complete with two speeds, guarenteeing accurate vacuuming sessions.
No matter how stubborn the dirt and debris on your floors are, HOOVER's Hushtone can handle it thanks to its incredible cleaning and suction power. And you don't need to do much on your end as all this upright unit asks for is choose the right cleaning power for the surface you're cleaning.
Power and convenience aside, this upright vacuum unit uses IntelliBelt for improved durability, making it a valuable long-term investment. And not only does this upright vacuum cleaner guarantee quality performance, but also clean air — trapping 99% of allergens and debris in its dust canister. It filters those with its built-in filtration system combined with advanced Hexaguard technology — guaranteeing safe indoor air worth breathing.
What's impressive about this upright vacuum cleaner is its quiet operations, considering it has a powerful motor and extended cord. It maxes at 69 decibel, one decible short of the regular sound treshold of regular, loud vacuum cleaners. And adding more to its quietness is its built-in shutdown feature, switching off the upright unit once its brush-rool jams.
You can enjoy all of this quiet upright vacuum cleaner's features without much effort, considering it doesn't need no equipment during maintenance. And due to its quick-change build, there's no need to use a tool to replace its extended power cord. With this, you get to enjoy a valuable investment and long-term reduced costs!
---
What to Consider When Searching for the Quietest Upright Vacuums?
Since there are many quiet upright vacuum units available, choosing one can be challenging. Look into the following features and specifications to find the best quietest upright vacuums on the market — and make your search more manageable:
✔️ Noise Canceling Technology
A premium feature you need to prioritize when searching for the quietest upright vaccums is noise-canceling technology. These units use microphones and speakers to dampen sounds, decreasing high-pitched noises made by vacuum cleaners during their cleaning cycles. But note that most upright models with noise-canceling technology are pricy, often racking up to the thousand-mark.
Either way, investing in an upright vacuum cleaner with noise-canceling technology is ideal for long-term use. With this premium feature, you don't need to worry about getting disturbed by a vacuum cleaner's loud noises again.
✔️ Bagged vs. Bagless Upright Vacuum Cleaner
Differentiating bagged and bagless upright vacuum cleaners can make your search for the quietest models more manageable, considering the construction has a huge impact on how noisy a unit can be. Generally, bagless upright vacuum cleaners produce louder sounds than those with bags as their motors are near the casing. Hence, whenever you use the unit, its motor's vibrations will rattle the case — exuding more noise.
Meanwhile, bagged upright vacuum cleaners have better acoustic features, muffling the sounds alongside an upgraded filtration system. Their combination makes the whole operation of a bagged upright vacuum cleaner quieter and more relaxing.
✔️ The Upright Vacuum's Motor
Besides the difference between expansive and compact motors, where obviously the size difference affects the volume output of an upright vacuum cleaner — you also need to consider the motor's design. In this regard, the motor's power is what can make the difference with the noise levels.
Generally, high-powered motors produce louder sounds, requiring more energy to run the upright vacuum cleaner. Meanwhile, low-powered vacuums tend to be quieter, considering they don't require a lot of power to run. Aside from that, the vacuum's suction quality and airflow produced can influence the volume output.
Hence, it's best to choose an upright vacuum cleaner with better suction power and airflow backed by a low volume output than those running under a high-powered motor. You can differentiate them by measuring the upright unit's power in watts (W) and suction power via air watts (AW).
More manufacturers are now releasing battery-operated upright vacuum cleaners since they tend to be quieter. Aside from that, they're more lightweight and compact, consuming less power. As a result, you'll have an easier time vacuuming with your upright unit – no matter how messy your flooring is.
Motor size and design aside, you must consider those specifically developed to be silent. Some upright vacuums have motors engineered to run on a low volume output. They employ alternative materials to reduce noise or add insulation to absorb excess sounds incorporated into them.
✔️ Components that Reduce Energy Consumption
Additional components in the upright vacuum cleaner that help with energy reduction can reduce noise. For instance, some upright units have an automated shut-off mechanism that turns off the motor while it's not in use. And removing the need to switch off the device yourself can reduce volume output level.
Aside from an automatic shut-off function, upright vacuums can lower noise levels with a built-in low-power mode or if it's using an energy-efficient motor.
Finally, a feature that lets you control the upright vacuum's speed settings is an excellent way to minimize noise production. After all, it lets you use a lower speed for soft surfaces, keeping the volume at an all time low. And you can readjust its speed for rougher surfaces for better cleaning.
✔️ Nozzle Design
Upright vacuum cleaners can have various nozzle designs, with some being quieter than others. Some units have interchangeable nozzle assemblies you can switch out for varying tasks. And this, in turn, assists in reducing noise by guaranteeing the upright vacuum has the best nozzle for surface. But if you don't want the trouble of handling different nozzles, simply choose an upright vacuum with the most suitable nozzle design for your specific needs.
✔️ The Upright Vacuum Cleaner's Suction Power
When evaluating an upright vacuum cleaner's noise levels, its suction power is an essential feature you must prioritze. After all, the more powerful the vacuum is, the louder its volume output will be. Generally, you'd only need an upright unit with a robust suction power performance for high-traffic areas and "special" debris, like pet heir. So, unless you have a furry friend at home or often have guests over, settling for a weaker suction power for a lower sound output is ideal.
✔️ The Upright Vacuum's Decibel Level
If you value quiet cleaning at home, consider the upright vacuum cleaner's decibel level. Generally, the sound treshold of upright units stand at 70 decibels, which is the standard for most vacuum cleaners — and we all know how loud they can be! Thus, it's best to settle for an upright vacuum with a treshold between 50 and 60 decibels, keeping your vacuuming sessions quite and peaceful.
✔️ Filtration System
Considering the upright vacuum cleaner's filtration system is crucial if you want quiet operations. Besides keeping your indoor air clean and breathable, it can determine how high or low the unit's volume output will be. And since air escapes from the unit through its exhaust port, it will naturally produce sounds. Generally, those with a substandard filtration system aren't too noisy, and shouldn't be any louder than 70 decibels.
✔️ The Vacuum Cleaner's Weight
An upright vacuum cleaner's weight can determine how loud or quite the unit will be when in use. Of course, the lighter the upright model is, the less sound it'll make, considering its motor will be more compact and less powerful. Aside from minimizing noise, a lightweight upright vacuum lets you move it from one place to another without wrecking havoc, guaranteeing easy maneuverability.
Generally, we can consider any upright vacuum cleaner weighing 14 pounds and below to be light. It shouldn't produce as much as noise as other units, ensuring a smooth and quiet vacuuming session. Besides that, upright models at that weight range often have "portable designs," doubling as a quiet and easy-to-handle handheld vacuum cleaner.
Regardless, you can see why it's crucial to consider an upright vacuum cleaner's weight when searching for the quitest upright vacuums.
✔️ Manueverability
Vacuuming isn't the easiest task if you're doing it in rooms with many obstructions, and all this moving will eventually lead to noise. Hence, it's crucial to find an upright vacuum cleaner that's easy to maneuver around furniture and other possible obstructions in your cleaning path. It'll let you reach hard-to-reach spots without issues, keeping noise levels low.
Generally, upright vacuum cleaners with a swivel steering system is ideal for quiet vacuuming as it guarantees easy maneuverability — allowing you to glide its cleaning head around your furniture smoothly. Moreover, this premium system lets you clean areas around tight areas and corners without issues, keeping your struggles and noise levels low.
Although pricy, purchasing vacuum cleaners with a swivel steering system is a wortwhile investment if you want quiet vacuuming sessions and easy manueverability at home.
✔️ Upright Vacuum Cleaner Price
An upright vacuum cleaner's price is a crucial factor to consider since it varies a lot, depending on the unit's features and quality. Hence, it's best to decide how much you're willing to spend on an upright unit before you shop for one. Once you've decided on a price range, look for a quiet upright vacuum cleaner with the best features without going over the budget!
✔️ Warranty
Finally, check the warranty policies of the upright vacuum cleaner to guarantee the best value. After all, it lets you know how long the manufacturer will cover costs for repairs or replacements. Generally, the longer the warranty offer for the upright vacuum cleaner, the better value for your money. You can expect the warranty to last between 1 and 5 years, which is the standard for vacuums.
---
How to Stay Quiet When Vacuuming?
The volume output level made by the vacuum cleaner is the component that differentiates quiter models from louder, standard upright units. Generally, the quietest upright vacuums release between 50 and 60 decibels, making them more low-key than your regular noisy models. Meanwhile, standard upright units can be incredibly loud, producing noise levels as loud as 70 decibels — or beyond.
Aside from the lower volume output, here are more reasons why you should consider getting a quiet upright vacuum cleaner:
Quiet Upright Vacuum Cleaners Use a Smaller and Lighter Motor
An upright vacuum cleaner's motor ia a factor that contributes to the sound output differences among various models. And since larger motors are likely create more noise than those with smaller motors, the latter often produces quieter sounds — making your vacuuming sessions more manageable.
The Quietest Upright Vacuums Have a More Ergonomic Design
An upright vacuum cleaner's construction or design can affect its noise output level. Modern units today have sound-absorbing insulation or advanced noise-canceling technology to minimize its loudness. Hence, you'll notice quiet upright vacuums to have a lower sound output than their standard counterparts that don't have these specialized features.
Upright Vacuums Producing Low Volume Output Are Worth the Investment
Although quiet upright vacuum cleaners are expensive due to their complex features and components, they are worth the investment. Firstly, upright models can last longer than their standard, louder counterparts. After all, they're less likely to get affected by the loud vibration and noise emitted by regular, noisy upright vacuums. Hence, it's easy to see why the quietest upright vacuums often have a more extended lifespan.
Another benefit of investing in an upright vacuum cleaner is its boosted resale value. After all, these specialized vacuum units have a higher selling point for potential buyers. And since noise can be a massive issue for many homeowners and apartment dwellers, expect your quiet upright vacuum unit to sell out fast.
Moreover, quiet upright vacuum cleaners tend to be more adaptable than the standard noisy ones. After all, they can handle more vacuuming tasks without bothering other occupants of your home — or your nosy neighbors!
Finally, using a quiet upright vacuum will be more convenient and fun than using regular, loud ones.
An Upright Vacuum Cleaner Is More Convenient
Expanding on its convenient design, a quiet vacuum cleaner will be easier to use as you can use them 24/7 without worrying about waking up your house's occupants. And quiet upright vacuums can be especially helpful for busy parents trying to clean up after their small children — or apartment dwellers wishing to vacuum without disturbing their next door neighbors.
It is Pet-Friendly
Despite its lighter and simpler design, a quiet upright vacuum cleaner tends to be better for pets. A quiet upright unit lets you clean up after your furry friend's hair without waking it up, keeping your pet calm and less anxious. And we all know how scary loud vacuum cleaners can be for our furry friends!
Upright Vacuums Are Ideal for Individuals with Anxiety or Severe Stress
Like with pets, a quiet upright vacuum cleaner can help with individuals with anxiety or stress. After all, the unit lets you vacuum your home without the screeching noise common in regular upright vacuums. And this, in turn, can boost your quality of life entirely outside of cleaning!
Quiet Vacuum Cleaners Promote Better Productivity
Having a quiet upright vacuum cleaner can boost your productivity, allowing you to work more at home. After all, the low-volume unit lets you clean your house while you're on the job, minus the piercing sounds of a regular vacuum getting in your way.
Quiet Vacuum Units Are the Best for Large-Scale Events
A quiet vacuum cleaner can be incredibly beneficial for those who often host parties of events at home. It won't make it difficult for individuals to converse with each other or ruin the vibes, allowing your guests to hear one another better!
Quiet Vacuum Cleaners are More Flexible than Regular Units
Although equipped with simpler components, quiet upright vacuum units are more versatile than regular, noisy vacuum cleaners. And you can use them in different tasks — from vacuuming carpeted floors to furniture upholstery. With this, you'll be able to explore the low-volume vacuums more without worrying about disturbing others in your home.
Quiet Upright Vacuums are Better for Individuals with Hearing Issues
Individuals with hearing issues tend to have more sensitiv hearing, making loud sounds a no-go. Hence, quiet upright vacuum cleaners can help them plenty! After all, it lets them vacuum their space without having to deal with the piercing noise regular vacuum cleaners exude.
Overall, a quiet upright vacuum cleaner producing minimal to zero noise is the best choice if you're looking to maintain peace and quiet in your space. This way, you'll be able to vacuum away without worrying about bothering anyone.
Besides investing in the quietest upright vacuums, it pays to know how to minimize noise during vacuuming sessions for the best results. Here are a few foolproof tips in reducing volume output when using an upright vacuum cleaner:
Switch the Vacuum Cleaner's Motor Position
If your upright vacuum cleaner is producing a lot more noise than usual, it might be because of its motor. Switching its position may help tone the motor down, minimizing your upright vacuum's volume output. But unless you have experience with working with vacuum cleaner motors, choosing a suitable motor for your upright unit can be challenging.
Aside from changing the motor's location, you can try adding melamine foam or a new post-motor filter near your vacuum's motor to achieve commercial level of quietness.
But if you don't want to risk ruining your upright vacuum cleaner and wish to see which is the best for you, talk with a professional cleaner or check customer reviews about the quiet upright unit — and decide from there.
Run it Under the Low Power Setting
If your vacuum cleaner is still making loud sounds despite being plugged in correctly, adjust its power setting. I recommend lowering the upright unit's RPM to tone it down first, and if that doesn't work, enable the built-in "low power mode." As its name suggests, the upright vacuum should be able to run under lower power, minimizing noise output.
Regularly Empty Out the Dirt and Debris from the Upright Vacuum's Dirt Receptacle
A vacuum cleaner's dirt receptacle can gather dirt, allergens, and other debrist fast. As a result, it can produce a high volume output, which can be annoying and dangerous for your ears long-term. Thus, make it a habit to empty your upright vacuum's dirt receptacle often. If not, prepare to suffer from the consequences of a dirt-riddled dirt receptacle.
Properly Fit the Upright Vacuum Attachments
Maintaining your upright vacuum cleaner's condition is crucial for its performance and its volume output. It's crucial to follow the unit's manufacturer's instruction to guarantee you install the right attachments and remember to clean these often to keep your upright unit running minus the piercing sounds!
But if your upright unit is still producing loud noises, you can try installing more sound filters. Or if you can afford it, purchase an "acoustic" model that'll let you vacuum your space with minimal to zero noise.
Use Small or Medium-Sized Vacuum Cleaner Motors
A vacuum cleaner's sound output can distrub any peaceful home. Luckily, you can imply a couple of measures to minimize your upright unit's noise level — making it less intrusive. Aside from that, vacuuming from a higher position can help you tone its volume down as it reduces the debris hitting the floor.
Aside from that, switching off dust bins before cleaning removes the annoying rattling sounds. And lasty, adjusting its built-in filter decreases clogged suction, leading to louder vacuum motor noise. If that's the case, your best option will be using a vacuum cleaner under low power to keep agitation low, producing lesser noise.
Moreover, running your vacuum cleaner at a low speed while emptying its dirt receptacle minimizes vibrations that may cause unecessary racketing sounds.
Address All Issues You Encounter with Your Quiet Upright Vacuum Cleaner
Dealing with problems with an upright vacuum cleaner can be frustrating as leaves you with two things to solve — a loud unit and a possibly broken one! But relax, after all, you can take extra measures to troubleshoot the problem and have your upright unit working like its brand new again.
Aside from that, check if the upright unit's filters and hoses are clean and are well-fitted. And finally, if your vacuum cleaner is still producing too much noise, there might be filter or motor issues you need to deal with, which you'll need to bring for professional servicing.
Invest in a Specialized Quiet Vacuum Cleaner
If you've tried everything to keep your vacuum cleaner's volume output low, it might be time to invest in a new unit. But before that, remember to try the tips mentioned to keep sounds low and your vacuuming sessions peaceful. You can put a piece of cloth over the vacuum's intake tube to minimize dust accumulation and muffle its sounds.
---
Frequently Asked Questions
Q: Is it possible to wash the filters of the quietest upright vacuums?
A: Washing an upright vacuum cleaner should be possible as some models have multi-stage filtration systems. These consist of a pre- and post-motor filter complete with an inner cyclone separator. Also, remember that you'll only be able to wash the pre-motor filter and the sepatrator considering the post-motor filter isn't detachable. But note that not all upright vacuums are washable as other units only a single stage filtration system — and these aren't often removable.
Q: What are the best brands that make the quietest upright vacuum cleaners?
A: Many brands develop upright vacuum cleaners with quiet operations, but the most famous ones include Bessill, Dyson, Tineco and Hoover. Other honorable mentions for low-volume vacuums are Dirt Devil, Eureka, iRobot, Miele, and Kenmore. You only need to check which brand offers the most convenient features meeting your unique cleaning needs.
Q: How loud are quiet upright vacuums?
A: Quiet upright vacuum cleaners should have a sound threshold between 50 and 60 decibels to qualify as a "low volume" model. Note that the standard threshold for an upright unit stands at 70 decibels. Hence, any upright vacuum cleaner producing over 70 decibels goes beyond the requirement of being a "quiet" unit. So, remember to go below 70 decibels when choosing a low-noise upright vacuum cleaner.
Q: Is it possible to clean most surfaces using a quiet upright vacuum cleaner?
A: As long as you have the proper cleaning equipment alongside your upright vacuum cleaner, it should be able to clean any surface. For instance, if you want to clean wooden flooring, you'll need bare-floor cleaning items besides our upright vacuum. Meanwhile, some upright vacuum units let you shift its cleaning function to "hard floor mode," adjusting its output for the chosen surface.
Q: How effective is an upright vacuum cleaner's filtration system and is it noisy?
A: An upright vacuum's filtration system can remove up to 99.99% of debris — from dust to allergens. Unfortunately, as powerful as it is, the filtration system can be loud. After all, it traps most debris from the air exiting through the exhaust port. As a result, it leaves the air inside the are clean and safe for breathing, while exuding a "grinding" sound, which can be distracting.
---
Final Words
The quietest upright vacuums are those with at least less than 40 to 50 decibels volume levels. Although the estimate is quite loud, it's one of the lowest for vacuum cleaners available. With this range, you'll be able to enjoy your upright vacuum cleaner without worrying about burying yourself in those loud and piercing sounds! And any of the mentioned units should guarantee quiet and top-quality cleaning — no matter the surface you're cleaning.