Keeping your bathroom spotless and hygienic starts with finding the best mop for bathroom floors. Whether you want to clean regularly or deep-clean, there's a tool out there that can make it easy on you. All while providing great results. And although numerous mops are available in markets, only certain features will be considered the perfect one for your bathroom floor needs.
So we will discuss some qualities you need to consider when shopping for the best mop for bathroom floors.
Types of Mops in the Market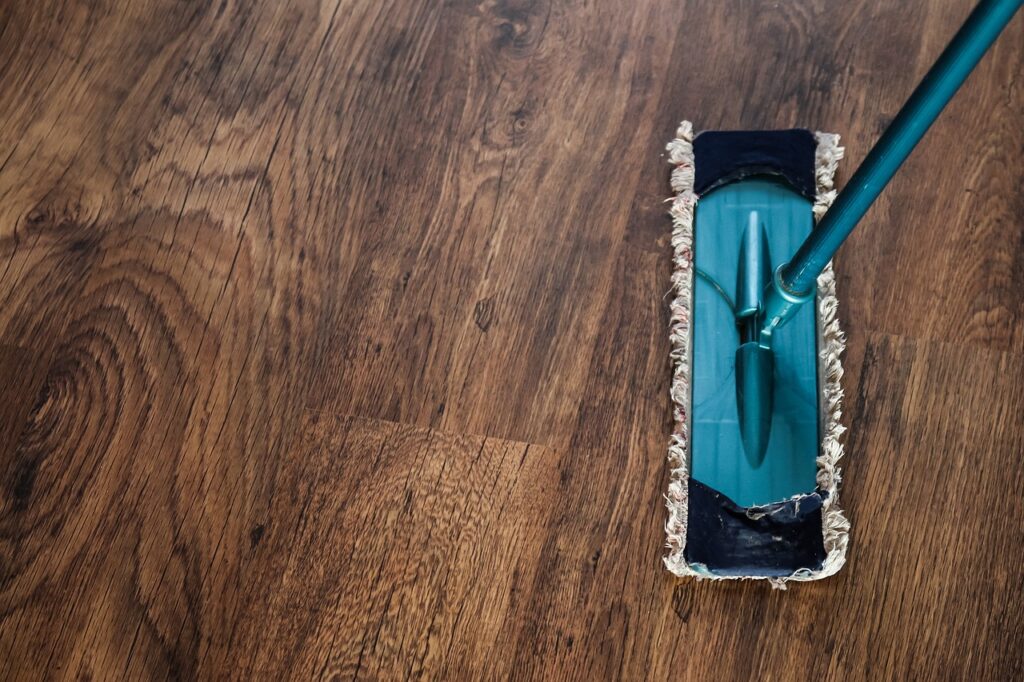 Before going into the features you need to look for in a mop, it is important to know the available types. Generally, there are five main categories of mops: string mops, spin mops, spray mops, flat mops, and steam mops. Let's take a look at each one and see their purpose and features:
✾String Mops
String mops are an age-old solution for cleaning. They offer users a simple yet effective design and are best known for being perfect for mopping up bathrooms. String mops feature long strings, typically made from cotton or nylon, fastened to a flat metal or plastic frame. These strings are great for deep-cleaning grout lines and picking up dirt embedded in the crevices between tiles.
These not only make bathrooms look spotless, but they also boast some serious durability. Because of this, many people swear by string mops as the best choice to keep their bathroom floors as clean as possible.
✾Spin Mops
Spin Mops Spin mops offer the latest and most advanced cleaning technology available! They are incredibly efficient, and their easy-to-use design makes them an ideal choice for keeping floors spotless. Thanks to the spinning head with a microfiber cloth attached, dirt is quickly whisked away – no matter how big or small of a mess you're dealing with.
Furthermore, the water tank storage grants you effortless access to rinse between uses without having to refill your sink or use a faucet. With an effective spin mop, cleaning up your bathroom floors will be as easy and stress-free as possible.
✾Spray Mops
Spray mops have recently experienced a surge in popularity due to their ability to clean thoroughly without needing tedious buckets or dangerous chemicals. They are perfect for regular use and can be used on all floors, including vinyl, laminate, stone tile, and linoleum.
The power of a spray mop allows you to clean your flooring with the push of a button effortlessly. Plus, its adjustable handle guarantees that even hard-to-reach areas will sparkle and shine – behind furniture or around the toilet bowl included.
✾Flat Mops
Flat mops come in various excellent material choices and are among the most common floor-cleaning tools. The flat mop head is built with a thick fringed end that is effective for dusting and absorbing stains. It's usually constructed with durable materials like cotton or microfiber, which make it last a long time when properly cared for.
Many flat mops have an adjustable handle that you can use to reach difficult spots. Plus, the removable mop pads are easy to clean, often nicely fitting into standard washing machines. And since flat mops don't need electricity or batteries, they are a great eco-friendly choice for a bathroom cleaning tool.
✾Steam Mops
If you utilize the power of steam to sanitize and deodorize surfaces thoroughly, steam mops eliminate 99.9% of germs without using harsh chemicals. They also feature various useful attachments such as scrubbing pads, grout brushes, and details nozzles that make light work of even the toughest stains or dirt.
Perhaps best of all, they are easy to use with a straightforward handle design that allows you to glide over different surfaces with little effort. Steam mops also have adjustable water settings and an auto shut-off feature to save energy. It makes them a great choice for large bathroom spaces requiring regular cleaning.
So if you're looking for the best way to keep your bathroom floors clean, these five types of mops all provide amazing results. For deep cleaning, string mops work best. Spin and spray mops are great for everyday use, while flat and steam mops offer a more intensive clean that will leave your bathroom spotless.
Types of Mopheads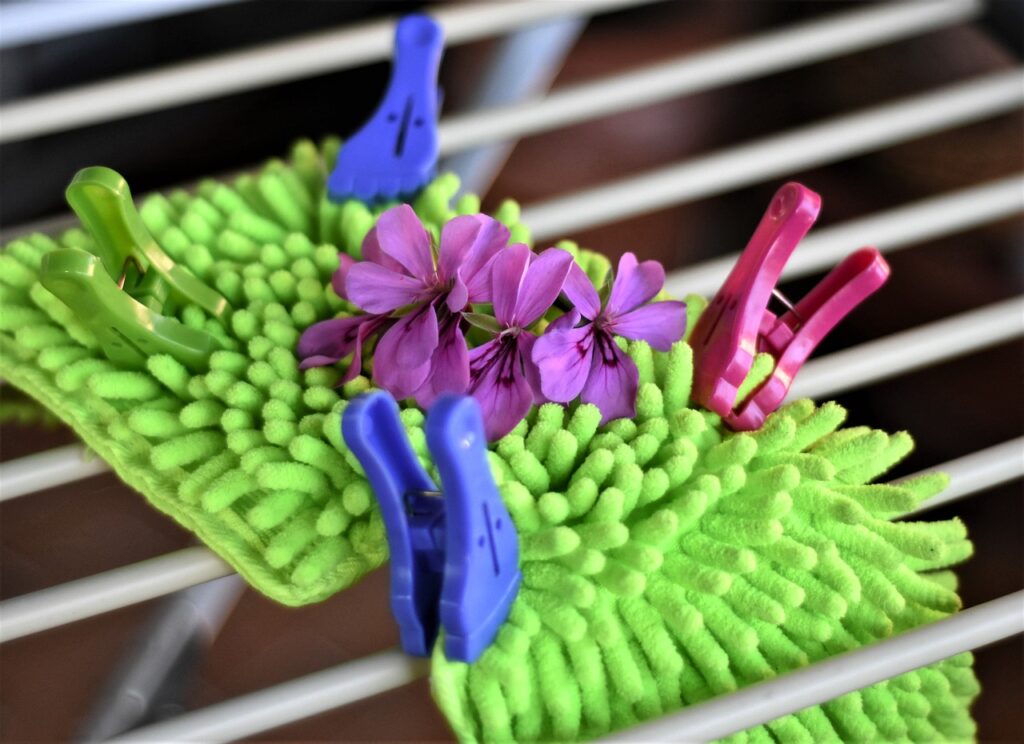 When it comes to picking out the right mophead for your cleaning needs, there are a few factors that you'll want to consider. Different types of mopheads feature different materials, absorbency levels, and designs that can help make your cleaning job much easier.
👉Synthetic Mops
The first mophead type is made from synthetic materials such as polyester, nylon, or rayon. Synthetic mops are often more affordable than other mops and offer excellent absorbency. They are also great for removing tough dirt and dust from your floor surfaces.
However, synthetic mops cannot be washed in hot water because they will shrink and lose their shape. Additionally, these mops can leave lint behind on your floors.
👉Cotton Mops
Cotton mops are one of the most popular types of mopheads due to their superior absorbency and softness. These mops are especially good at absorbing liquids and retaining their shape even after many washes in hot water.
However, cotton mops tend to be heavier than other types of mops. So they may be more difficult to maneuver around tight spaces or corners. They are also more expensive than other mopheads due to their higher quality material.
👉Sponge Mops
Sponge mops are made from a combination of materials such as steel mesh, foam rubber, sponge, or cloth material. Sponge mops offer excellent absorbency and durability while lightweight enough to maneuver around tight spaces easily. Additionally, they can easily be cleaned by running them under hot water and wringing out any excess moisture before use.
The downside to sponge mops is that they may not last as long as some other types of mopheads due to their weaker materials over time when exposed to heat or detergents used for cleaning them regularly.
👉Microfiber Mops
Microfiber is another popular material used for making high-quality mopping systems today. Microfiber is an extremely durable material that is highly resistant to tearing or fraying even when exposed to regular use over time or harsh chemicals used for cleaning purposes.
Additionally, microfiber is lightweight yet highly absorbent, making it ideal for picking up dirt and dust quickly while remaining easy to maneuver around tight spaces without difficulty. The only downside is that microfiber tends to be quite expensive compared with other materials used for making mopping systems today due to its superior quality and overall durability.
No matter which type of mophead you choose, read the instructions carefully before use and take good care of your mop by washing it regularly with warm water and mild detergents.
Handle
After all, if the handle isn't well-built or doesn't suit the size of your hand, mopping your floor can easily become an unpleasant task. Additionally, you should choose a handle made from durable materials such as plastic or metal so that it can be used for many years without needing to be replaced.
In addition to comfort and stability, look for extra features like ergonomic grips and adjustable heights. It will make it even easier and more enjoyable to clean up. Moreover, remember to factor in how easy it is to store your new mop away when not in use. Especially if space is at a premium.
Wringing Mechanism
A great mop should have an easy way to evenly wring out excess water to avoid streaky, wet floors after mopping. The most popular wringing mechanism is the simple press-to-wring, where you press down your mophead into a wringer.
This type of wringer is typically found on bucket mops but can also be included in some standalone mop systems. Other wringing mechanisms include foot pedals, cranks, and levers. These wringing systems are more advanced and usually more expensive but make moistening and wringing your mophead easier than ever before. So it is crucial to consider the wringing system of a mop before making your purchase. As this will make a huge difference in your overall mopping experience.
Maneuverability and Adjustability
Buying the mop of your dreams is no good if it can't reach the hardest-to-clean spots. Many mops have adjustable handles that let you customize their length, so think about what kind of surfaces you'll be cleaning before you invest in one. Consider things like washable pads, easy storage features, and ease of use.
In addition, you should check how easy it is to maneuver the mop around furniture, corners, and other tight spaces. A lightweight mop with a swiveling head will make the job easier and more enjoyable overall. In order to get the most out of your mop, ensure it has a good balance of maneuverability and flexibility.
Additional Features
When you're searching for the perfect mop to clean your tile floors, a few extra features can give you just what you need. Many of today's most efficient mopping solutions come with multi-use functions and other beneficial add-ons. Some steam-cleaning mops may even have grout-cleaning capabilities! Keeping an eye out for these bonus components will guarantee that your purchase is maximized to its fullest potential.
Get the most out of your cleaning with a vacuum and mopping device combined. These flat, microfiber mops include an all-inclusive dust mop pad that eliminates dirt while polishing tile flooring. Plus, it can even be used for walls and ceilings! With its extra-long handle, you'll have far more reach than any regular duster.
When selecting the ideal mop for your tile floor, consider how frequently you need to replace the heads and what they cost. These items are expendable, so you'll have to change them at some point. Remember this fact, as it can help guide your choice toward one that fits your needs and budget best.
Best Mop for Bathroom Floors in the Market
Now that you know what to look for in a mop, let's look at some of the best mops for tile floors currently available on the market. There are many options, but we have narrowed it down to four top picks:
Shark S5003D
The Shark S5003D is easily one of the best mops on the market for bathroom floors. It starts quickly, with steam appearing in merely 30 seconds after it's plugged in, and its easy-to-follow directions make proper use a breeze. It also has a generous water reservoir, so you don't have to refill it often.
And a unique downward-pumping handle that makes it easy to get under hard-to-reach places. Its blue light also serves as a helpful indicator when your steam is ready. All this aside, the Shark S5003D isn't perfect. It can be rather bulky for smaller bathrooms and not practical for carpets – but it stands above most mops when it comes to spotless bathroom hardwood floors or tiles.
BOSHENG Mop & Bucket
Are you tired of scrubbing your bathroom floors by hand? The BOSHENG Mop & Bucket System is a revolutionary mop designed to make deep cleaning of those hard-to-reach areas fast and easy. Thanks to its built-in squeezer, you can clean and wring out the mop pads with no mess or fuss, but that's not all. The exclusive bucket design allows for easy storage, and the microfiber mop pads are ideal for even the toughest job. Cleaner home bathrooms start with the BOSHENG Mop & Bucket System – simple, reliable, and effective.
OXO Spray Mop
The OXO Spray Mop is the perfect bathroom mop for the any-size job, big or small. It features a detachable scrubber and a microfiber mop head. You can easily switch from general cleaning to tackling tougher messes. With its ergonomic design, the contoured handle provides optimal comfort as you work—so saying goodbye to bathroom dust is easier than ever! Although it has great versatility and convenience, the one drawback with this mop is that the handle may be too short for those with larger bathrooms. Nevertheless, it's practically perfect for smaller bathrooms—a top-of-the-line cleaning solution.
Sweeper 2-in-1 Mops
The Sweeper 2-in-1 Mop is the perfect tool for cleaning your bathroom hardwood floors or tiles. Unlike traditional mops, this product comes with 90% more refills, making it a great value on top of its excellent performance. Not to mention its heavy-duty design allows you to tackle tough messes. While the wet mop capability means you can quickly clean up spills without waiting.
And what's even better is that the Swiffer refills are recyclable! This mop has covered you regardless of the dirt or mess. So why settle for anything less than the best? Get peace of mind and make sure your house is spic and span with this incredible mop.
Rubbermaid Spray Microfiber
Rubbermaid Spray Microfiber Mop is a perfect choice if you want a mop that makes cleaning bathroom hardwood floors or tiles a breeze. All you need to do is fill the refillable bottle with water, spray, and mop your bathroom floor for spotless cleanliness. With 50% more dirt pickup than traditional mop heads, this mop does a great job of picking up even deeply embedded dirt from any floor surface without harming them.
It is also applicable for multi-surface use and comes with machine-washable pads that make cleaning easy as ever – all without needing batteries! Take one of these amazing mops homes today and let it do all the hard work for you.
These are just a few of the most popular bathroom mops you can find on the market. With such a wide variety of options, you're sure to find one that fits your needs and budget.
Tips for Using Bathroom Mops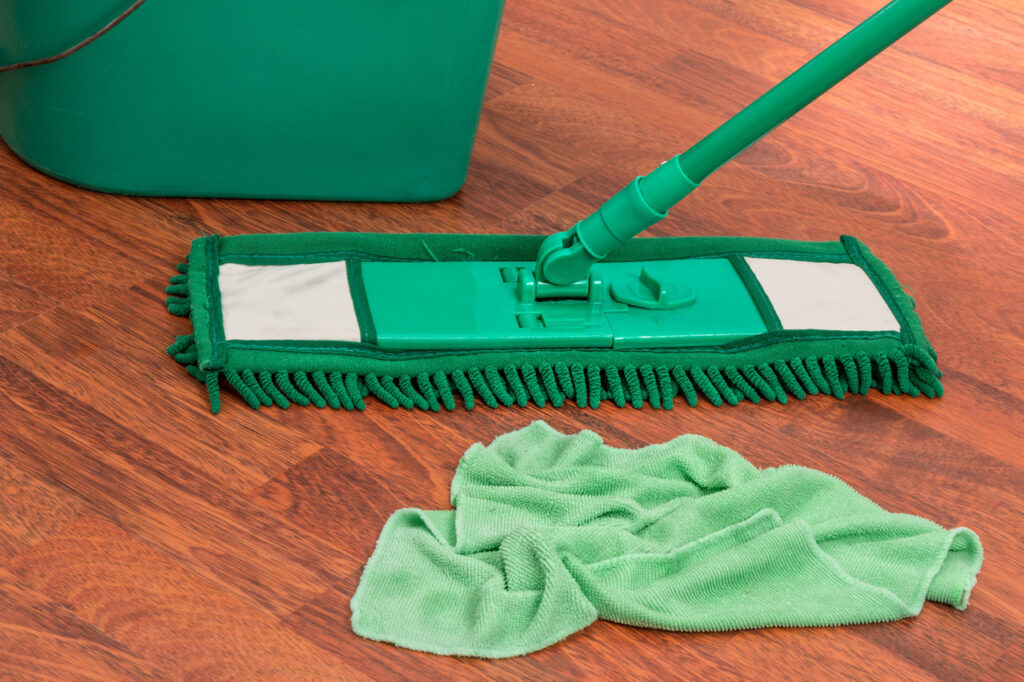 No matter which bathroom mop you choose, following these tips will help ensure better performance and longer life for your mop:
✔️Always Read the Manual First
Before you use any cleaning tool, it's important to read through the manual that comes with it. It helps you understand exactly what kind of mop you have and how to use it properly. Reading through the manual also gives you an idea of any safety precautions to take when using your mop. It's always better to be safe than sorry!
✔️Start Cleaning from Farthest Corner
Start moving your bathroom floor from the farthest corner and work toward the entrance. It ensures that dirt or grime residue is pushed away from where you will enter instead of towards it. Taking this extra step will save you time in having to go back over areas contaminated by dirt or debris while walking across them later.
✔️Rinse and Wring Out Your Mop Head Regularly
When cleaning dirty floors, it's important to rinse and wring out your mop head regularly. Not only does this help keep dirt from spreading around the room. But it also prevents your mop from becoming clogged with grime buildup. Rinsing off your mop head every few minutes is a great habit to get into so that you can be sure your bathroom floor is getting as clean as possible with each pass of the mop.
✔️Don't Forget To Rinse Off Your Mop Bucket After Each Use
After each use of your spin mop and bucket, it's essential to take a few moments to rinse off any residual dirt or debris before putting it away again. It helps prevent contamination between uses and keeps mold or mildew growth at bay in damp bathrooms. Not only does this help keep your cleaning tools in top condition, but it also extends their life.
✔️Change Water Frequently When Mopping
In order to ensure that no contamination is spread from one area of your bathroom floor to another, change out the water frequently when mopping. Avoid crossing over an area that has already been cleaned. So that dirt is not transferred elsewhere in the room. It will help keep everything sanitary and reduce the time spent scrubbing down surfaces after mopping up messes!
✔️Store Your Mop In A Cool, Dry Place
When you're finished mopping up messes in the bathroom, store your mop in a cool, dry place like a closet or laundry room, so mold or mildew do not grow on its bristles over time. It will help extend its lifespan and make sure it's ready whenever you need it next.
These are just a few tips to keep in mind when using bathroom mops. With the right cleaning tools, you can ensure your bathroom stays clean and germ-free for years.
Frequently Asked Questions
What is the best mop material for tile floors?
The best type of mop for tile floors is microfiber or cotton. Microfiber is absorbent and lint-free, making it an ideal choice for tile floors because it won't leave streaks or residue behind. Cotton is absorbent but may leave streaks if not wrung out completely before mopping. In addition, both materials are machine washable, which makes them easy to care for and reuse multiple times.
How often should the bathroom floor be mopped?
It depends on how often you use the bathroom and how much dirt accumulates on the floor. Generally speaking, it's a good idea to mop your bathroom floor at least once a week or every two weeks if you don't see much dirt buildup. For high-traffic bathrooms that get used more regularly, such as in an office building or school, consider mopping more frequently to keep the area sanitary and clean.
What is the most hygienic mop?
The most hygienic way to clean tile floors is with a disposable microfiber pad that can be thrown away after each use. This will ensure that no bacteria or germs are spread from one surface to another when cleaning and reduce waste from reusable cloths that need frequent washing and drying cycles to remain clean and hygienic.
Can I mop with vinegar on the tile?
Yes! Vinegar is a great natural cleaner that can help break down dirt and grime without leaving behind any residue or streaks, as some chemical cleaners do. Just make sure to dilute your vinegar solution with water before using so that it doesn't leave any damage behind when applied directly onto tiles surfaces.
What is the most sanitary way to clean floors?
The most sanitary way to clean tile floors is by using hot water mixed with detergent or soap to break down dirt particles and remove any bacteria or germs left behind by previous occupants. After cleaning, make sure you dry off surfaces completely so that there isn't any moisture left which could promote mold growth over time.
Final Words
In summary, the best mop for bathroom floors should be easy to use and appropriate for the type of floor surface. It should also have good cleaning capacity, be easily maneuverable, and require minimal cleaning effort. Ultimately, the choice is yours, your needs, and your budget. With the right mop, you can ensure your bathroom stays clean and germ-free for as long as possible. Good luck!