Have you accidentally spilled some red wine over your lovely cream couch? Have your adorable dog's dirty paws ever touched your white couch? In that case, you should research vacuum couch cleaners. When you need to remove a spill and stain from your Couch's upholstery or similar soft surface, you can use a portable device, spray, wipe, or cream. It would help to use caution when utilizing one for the first time to prevent accidentally harming your prized possessions.
A clean, organized Couch is necessary for a pleasant, healthy living environment. Finding the ideal vacuum cleaner for cleaning your Couch may be a difficult chore, though, because there are so many various kinds of couches and materials. Your sofa may be effectively cleaned of dust, filth, and debris with the help of a high-quality couch vacuum cleaner, leaving it feeling and looking brand new. Thanks to technological breakthroughs, the market offers several products specially made for cleaning sofas, couches, or other upholstery.
In this post, we will examine the top couch vacuum cleaners now on the market & provide you with a thorough guide to aid in selecting the finest one for your requirements.
Types of Couch Vacuum Cleaners
Vacuum cleaners come in various designs for cleaning couches or other upholstered furniture. Several of the most typical types are listed below:
Handheld Vacuums
Small, compact handheld vacuums are ideal for cleaning couches or upholstered furniture. Being lightweight and portable, they have several attachments that let you access all the corners of your furniture.
Stick Vacuums
Stick vacuums are portable and simple to operate, and they frequently include upholstery cleaning attachments. They are perfect for swiftly and simply cleaning sofas and other furniture.
Canister Vacuums
Canister vacuums have greater power than handheld & stick vacuums and a wider selection of accessories for various cleaning tasks. They may be used for couches and bigger surfaces like carpets and floors, where they are used for cleaning.
Robot Vacuums
Robotic vacuums are becoming increasingly common; many versions now have upholstery cleaning attachments. For those who wish to get their couches or other furniture cleaned without getting to do it yourself, they are perfect.
Upholstery Cleaners
Couches and other upholstered furniture will be cleaned with upholstery cleaners. They frequently include specialized attachments and cleaning agents to remove stains and debris from the upholstery. A built-in vacuum feature is included in certain versions to help clear the dirt and cleaning solution off the furniture.
Ultimately, your cleaning requirements and tastes will determine the kind of sofa vacuum cleaner you select.
How to Clean a Couch
Regular vacuuming will reduce the time needed to clean your couches, making it a simple addition to your yearly thorough cleaning schedule. Here are some steps for cleaning the couches.
Brush
Use a stiff brush to remove any caked-on dirt from your Couch. Your vacuum may complete the remainder of the task.
Vacuum
Regardless of the material, it would be best to vacuum your Couch routinely. Use the crevice tool on your vacuum cleaner to fit into small spaces and the couch attachment or brush attachment for surfaces of the Couch. To see the crumbs and dust below a cushion, lift it. This is a wonderful opportunity to rotate your cushions if you need a full clean.
Take off the Coverings
If your slipcovers are fortunate enough to be machine-washable, you may unzip and wash them. Please read the care instructions on the care tag & adhere to them. Generally, you should use a moderate detergent and cold water to wash all zipped-up coverings. Let them air dry outside.
Return the covers to the sofa and cushions when they are almost dry for a better fit. While cleaning the slipcovers, you may let the cushions air out on a bright day. You will only need to wash the coverings once a year if you routinely vacuum & spot-clean your Couch.
Deodorize
If your slipcovers aren't detachable, baking soda is another option for cleaning your Couch of odors. Although practically any fabric couch will work with this technique, always try in a discreet location first. Sprinkle baking soda over the entire Couch and wait 30 minutes. Finally, vacuum everything well to get rid of the baking soda.
The Best Couch Vacuum Cleaner
Many couch cleaners on the market and in our residences were the subject of extensive investigation and testing, with each one for its portability, efficacy, and overall quality. We have many choices to keep your home clean after studying our observations. Let's look at it!
BLACK+DECKER 20V
20-volt lithium-ion batteries, power tools, and household appliances in the BLACK+DECKER 20V series. In addition to drills, saws, and leaf blowers, the BLACK+DECKER 20V Max battery is compatible with cordless vacuums and other home appliances.
The 20V Max battery delivers a longer lifespan and superior performance than earlier battery technologies. Moreover, it is lightweight, making operating and moving the instrument's powers simple. Tools from BLACK+DECKER 20V Max are well-liked by DIYers and homeowners because they offer a cordless and practical alternative to conventional power tools.
WORX WX030L 20V
The second item we tried is a really useful vacuum. We could comfortably clean the area with this Worx Power Share Portable Vacuum for Couch. We effectively pick up anything from the sand on cereals & pet hair. Some hair, though, got caught on the head connection. Thus, if you've got pets in your home, we won't advise you to buy them.
Its vacuum hose is thin and rather long, enabling us to clean, especially between couch cushions. It scooped off all the sticky crumbs in a flash. Remember that we tested everything while using the vacuum on its highest settings, which will quickly deplete the battery. The suction force was considerably stronger when we switched to the regular setting. This option enables the cleaner's battery to last a little while longer. It worked effectively in this environment for approximately 25 minutes at the same vacuum rate.
Also, when testing this vacuum, we always felt comfortable cleaning the Couch. Thanks to the ergonomic handle, we had a fantastic grasp to hold and move it around. Even though the heavyweight was a challenge, this cleaner also fixes it. Innovative design was creating the form so we could move it around and set it down on the Couch. It didn't even tip over once, and the performance remained unaffected.
BLACK+DECKER Furbuster
BLACK+DECKER Furbuster is a series of pet grooming supplies intended to assist pet owners in maintaining the cleanliness and wellness of their animals. Pet hair vacuums, rollers, and grooming brushes are just a few of the products in this category. The BLACK+DECKER Furbuster pet hair vacuums were designed to rapidly and conveniently remove pet hair from carpets, upholstery, or other surfaces. They have powerful suction and specific attachments for entering tight spots and eliminating hair from furniture and staircases.
The pet hair roller is an easy and efficient tool for eliminating pet hair from clothes and other materials. Pet hair and other garbage are easily collected by sticky adhesive sheets, which are easily replaceable when full. The pet grooming brushes assist in maintaining the healthy and glossy coat of your pet. In addition to gently removing dirt, dander, & loose hair, their smooth bristles also stimulate the skin to encourage healthy blood flow. Overall, this BLACK+DECKER Furbuster series provides various helpful products for pet owners who want to maintain a clean and healthy environment for their homes and animals.
Shark WV201 WANDVAC
A cordless handheld vacuum cleaner made for fast cleanups & spot cleaning around the house or workplace is the Shark WV201 WANDVAC. These are the main characteristics of this product. The Shark WV201 WANDVAC is small, portable, and weighs only 1.4 pounds, making it simple to move about and utilize in confined locations. Strong Suction: The Shark WV201 WANDVAC has a high-speed brushless motor that produces strong suction, despite its compact size, efficiently removing dirt, dust, and debris.
Cleaning Many Surfaces: The vacuum has a crevice tool as well as a multi-surface tool that lets you clean a range of surfaces, such as carpets, upholstered furniture, and hard floors. Rechargeable Battery: The lithium-ion battery within the WV201 allows continuous cleaning for up to 10 minutes on a single charge. Simple Emptying: The trashcan may be quickly and conveniently removed at the touch of a button. Washable Filter: The vacuum has a washable filter, making it more cost- and environmentally conscious.
The Shark WV201 WANDVAC is an easy-to-use, adaptable piece of equipment for rapid cleanups & spot cleaning around the house or workplace. Anybody looking for a quick and simple cleaning solution will find it a terrific option because of its portable and lightweight design, strong suction, and variety of equipment.
Bissell SpotBot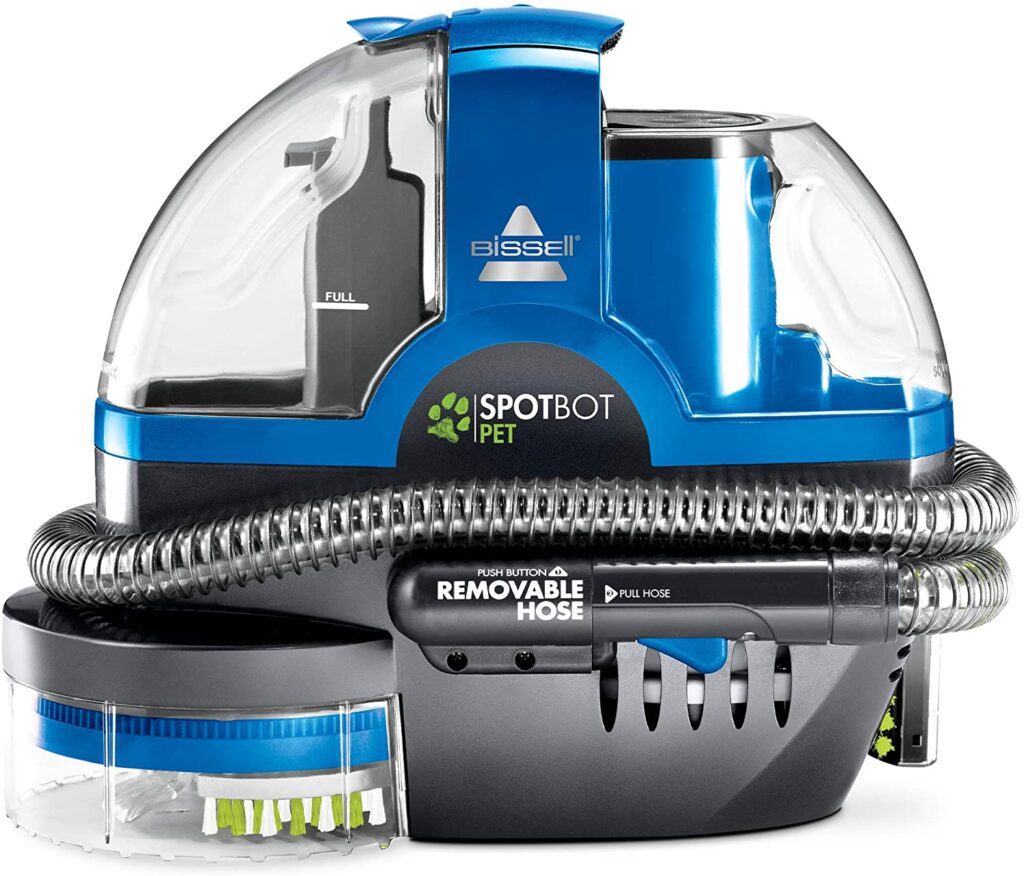 The Bissell SpotBot is a handheld deep-cleaning device that removes stains, spots, and other messes from carpets, upholstered furniture, and other places. To get stains and filth out of your carpets and upholstery, it has an automatic cleaning system it sprays, brushes, or suctions. Depending on the amount of soiling on the surface, you may select between the Bissell SpotBot's two programmed cleaning cycles, Fast Clean and Deep Clean. Moreover, it has a hose & tool attachments for cleaning stains or hard-to-reach spots.
The Bissell SpotBot's capacity for hands-free cleaning is one of its primary characteristics. You must only fill the clean water tank and add the cleaning solution before positioning the machine over the stained or dirty area. The stain will then be automatically removed by the SpotBot using spray, scrape, and suction. Using this function, you may multitask while the machine is cleaning. Overall, the Bissell SpotBot is a practical and efficient tool for removing difficult stains and maintaining the appearance of your carpets and upholstery.
Bissell Pet Hair Eraser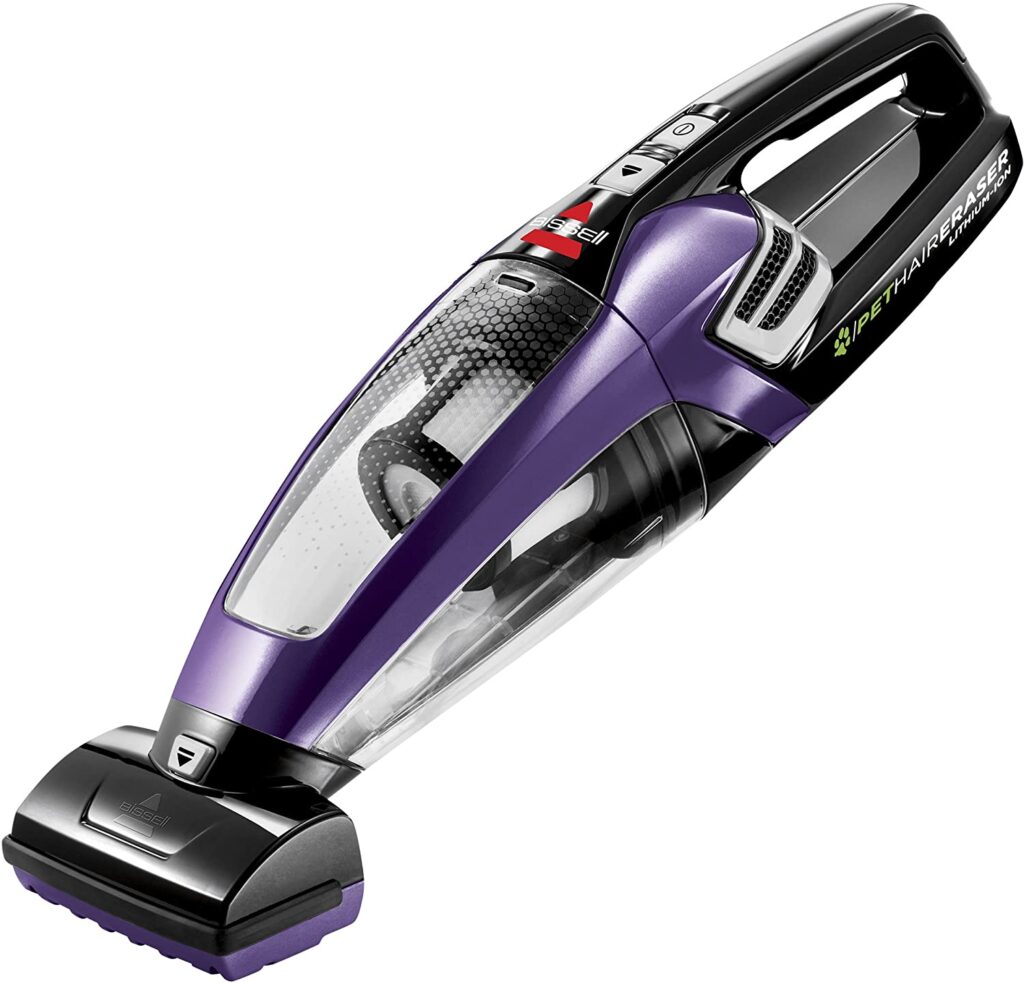 An exclusive vacuum cleaner for pet owners is the Bissell Pet Hair Eraser. This device may remove pet hair, grime, and debris from carpets, upholstered furniture, and other surfaces. The Pet Hair Eraser's specialist pet hair cleaning device removes hair and debris from surfaces. Moreover, it includes a strong suction mechanism that can easily remove entrenched dirt and debris.
The Bissell Pet Hair Eraser is a powerful cleaner offering several useful functions for pet owners. For instance, it incorporates a tangle-free brush roll to prevent hair from wrapping around the brush. Also, it contains a container for pet hair that makes it simple to get rid of pet hair as well as other trash.
What to Look for in the Best Couch Cleaning Vacuum
Runtime
For maximum convenience, people are switching from corded to cordless devices. Hence, investing in a cordless, battery-operated handheld vacuum is essential. But, you must take the battery's duration into account. The longest duration possible is one hour. However, this is extremely uncommon.
Thirty minutes is typical, though. Depending on the battery's strength, several cleaners also have a 15-minute duration. All varieties, however, are appropriate until they allow the vacuum cleaner to cover the entire space in a single round. Depending on how many upholstery pieces you clean at once and how big your sofa is. If not, you must stop cleaning in the middle and charge the vacuum to resume later.
Attachments
To reach the confined spaces on the sofa, the portable vacuum for upholstery has to have a crevice tool. In addition to this need, getting a vacuum cleaner with a few extra attachments would be advisable to get the most out of your money. For instance, essential items include dusting brushes, hose attachments, an extended wand, etc. The motorized brushes on portable cleaners with rubber bristles may successfully remove pet hair from couches.
Dust Cup
There are several factors to consider when choosing a vacuum, especially if you want to use it to clean couches. The first need is to be huge; an ordinary dust cup might do if not. Even a small container can be useful if you don't have to clean big regions in a single turn. You can determine the dustbin size by considering the size of the area you need to clean.
For instance, if you're cleaning your entire home's upholstery, a big cup is required. Similarly, a dust cup with a little capacity would be sufficient to fill little spaces. The container should be large and simple to detach so you can empty it fast. In this situation, a push-button mechanism is an ideal option. Moreover, certain vacuum cleaners need filter removal before emptying. It is preferable to avoid such cleaners altogether unless they offer the finest functionality within a given price range.
Weight and Size
Since that, you must raise the vacuum cleaner to clean couches. Its size and weight are crucial. A large model might put stress on your wrist. Since you can only hold the cleaner briefly, it reduces the cleaning efficacy. It would be preferable to get a portable vacuum. In such a case, the cleaner ought to have a flat design that you can move around and set down on the sofa.
Switch
Moreover, ensure the vacuum's power switch is on or off and doesn't need to hold a button down the entire time you're cleaning. The latter approach can hurt your hands, so we don't like it. It is preferable to get a vacuum that works after switching its button & vice versa.
The Importance of Vacuuming the Couch Regularly
An essential step in keeping your house clean is routinely cleaning your Couch. It removes the dust and dirt particles that might trigger allergies and respiratory issues and helps keep the Couch's fabric stain-free. With time, the accumulation of dust and dirt can result in ugly stains & odors, making the sofa more difficult to clean and shortening its lifespan.
Regular cleaning of the Couch will keep it looking & smelling good and stop the buildup of debris and dirt that can cause health issues. Hence, spend some time vacuuming your Couch at least once a week to enjoy a more hygienic environment.
The Advantages of Using Vacuum for Couch Cleaning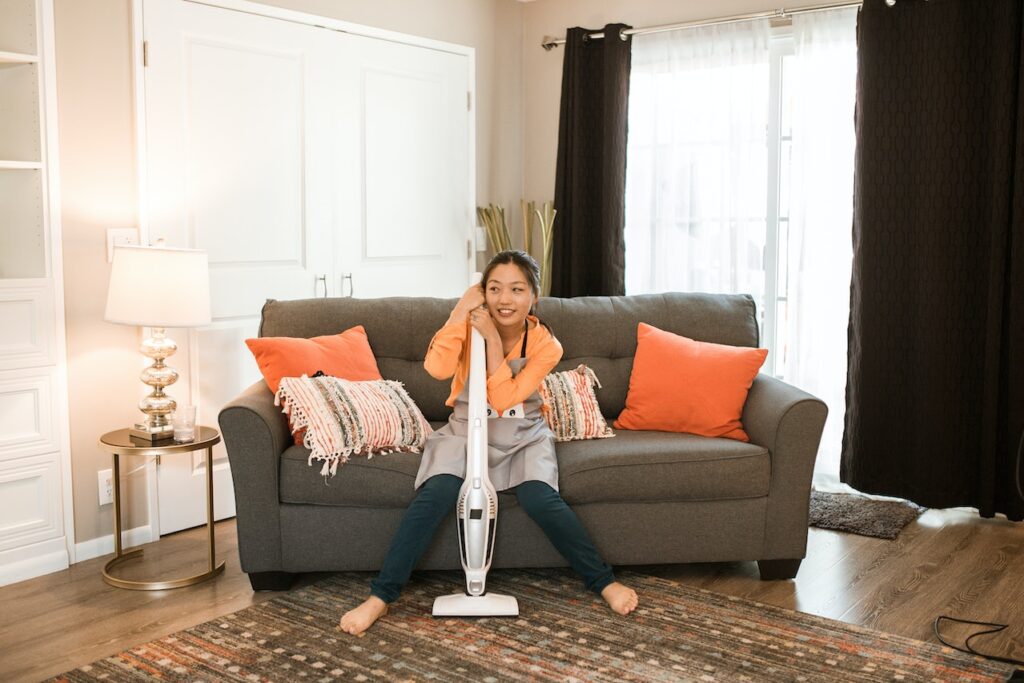 Vacuuming your Couch provides several benefits. First off, vacuuming aids in removing dirt, dust, and other particles that collect on the Couch's surface. This not only maintains the sofa appearing fresh and clean, but it also works to stop the accumulation of allergens that can lead to respiratory issues in certain cases. Second, vacuuming can help the sofa last longer by reducing the buildup of dirt and particles that could lead to early wear and tear.
Moreover, vacuuming is a quick and simple cleaning technique that needs little work and can be done frequently to keep the Couch clean and hygienic. Vacuuming your sofa is a practical, efficient, and cost-effective method to keep it looking and feeling fantastic for years.
Frequently Asked Questions
What is a couch vacuum?
A couch vacuum cleaner is a small, handheld, stick vacuum cleaner made specifically for cleaning upholstery, such as on sofas, chairs, or other furniture. They have several attachments to get rid of pet hair, dust, & dirt, and they are lightweight and simple to handle.
Why do I require a sofa vacuum?
If you have pets or use your Couch regularly, the fabric is probably heavily encrusted with hair and dirt. A couch vacuum is ideal for thoroughly cleaning your sofa without harming the upholstery.
What characteristics should a couch vacuum have?
Get a lightweight, portable sofa vacuum to avoid any hassles. To efficiently clean diverse surfaces, it should contain a variety of attachments, including an upholstery tool, crevice tool, & dusting brush. Additionally, consider the battery life, suction power, and simplicity of maintenance.
Can I vacuum my Couch with a standard vacuum?
While you can use a standard vacuum cleaner on your sofa, it might be better at removing embedded dirt than a dedicated couch vacuum. A normal vacuum cleaner's brush head can also harm sensitive upholstery textiles.
Is there any other purpose for a couch vacuum?
Indeed, additional tiny spaces, including automobile interiors, staircases, and beds, may be cleaned with a soft vacuum. A portable mode is even available on certain models for cleaning confined places.
What advantages does utilizing a Couch vacuum offer?
By removing allergens, dust, and grime from upholstered furniture using a sofa vacuum cleaner, you may improve air quality and lower your chance of developing respiratory issues. Also, using a sofa vacuum regularly may keep furniture appearing fresh and clean.
Final Thoughts
Considerations for the best couch vacuum cleaner, including attachments, suction power, size, and mobility, should be seriously considered. The best couch vacuum should be able to remove pet hair, grime, and debris from your sofa without causing any harm to the fabric. Also, it should be adaptable enough to clean different surfaces, including carpets, staircases, and drapes. The ideal sofa vacuum will ultimately rely on your requirements and tastes. When purchasing, it's critical to read reviews and evaluate characteristics to ensure you get the best product for your house. Try to read what to clean first in a messy house.